Press Releases
FESPA Eurasia 2016 attracts international audience of investment-ready buyers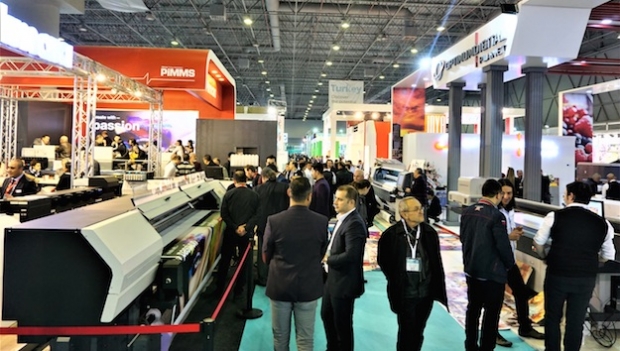 FESPA Eurasia 2016, from 8-11 December 2016 in Istanbul, welcomed 8,232 individual visitors, with total attendance across the four days reaching 9,774 visits.
The exhibition was very successful in terms of buying behaviour: 44% of visitors were final decision makers and 81% of attendees were involved in the decision-making process, highlighting that FESPA Eurasia is a strong 'buying' show.
Murat Öztürk, Partner of Summa Istanbul, commented on the quality of visitors: "FESPA Eurasia is always a very professional show. The visitors to the exhibition include professional buyers and professional companies, and so for us FESPA Eurasia is always the number one."
There was an increase in International attendance compared with FESPA Eurasia 2015, further illustrating the importance of FESPA Eurasia within the region. The top 10 countries attending outside Turkey include: Iran, Bulgaria, Algeria, Greece, Tunisia, Jordan, Ukraine, Iraq, Lebanon and Germany.
Complementing FESPA's line-up of international and local exhibitors, FESPA Eurasia included a host of free visitor features.
Participation in the educational conference remained strong throughout, underlining demand for sector specific education in the Eurasian region with sessions including: Digital Pigment Printing, Screen Printing, Garment Design, 3D Printing for Garments, Nano Applications for textile and many more.
Elsewhere at the event, Ivan Tenchev won FESPA's live World Wrap Masters competition, sponsored by Hexis. Ivan comments: "I am very honoured to have won the Wrap Masters at FESPA Eurasia 2016 and to be recognised for my skills and for doing something that I enjoy.
The Wrap Masters 2016 was very impressive, there were many local contestants who were very good, so I can say that I competed against the best. I am now looking forward to competing at the World Wrap Masters Final at FESPA 2017 in Hamburg."
FESPA's Turkish member Association, ARED, hosted the second edition of its Signage Awards, celebrating creative and innovative examples of signage production in Turkey. The winner, who was voted for by visitors onsite, was Alper Tenşi, Rekmar Reklam, who received 45% of the votes and will now go on to compete in FESPA's global Awards programme at FESPA 2017 (8-12 May 2017).
Michael Ryan, Group Exhibition Manager at FESPA, comments: "FESPA Eurasia 2016 has once again confirmed the value of FESPA's event content to rapidly developing markets, with positive feedback from both exhibitors and visitors. This exhibition continues to serve the Turkish print community, as well as visitors and exhibitors from the wider region."
"I was delighted with the positive feedback from our exhibitors with many commenting on the volume of sales directly at the show. International suppliers such as Aleph, Mimaki, EFI and Canon were just a few of the global brands to introduce new products at the show."
"Feedback from our visitors highlights that 68% believe that FESPA Eurasia is the region's most important wide format exhibition, confirming the demand for an event of this calibre and focus."
Exhibitors commented on the success of FESPA Eurasia 2016:
Alessandro Manes, Managing Director at Aleph SRL comments: "This is the first time we've exhibited at FESPA Eurasia and we've had a great show and sold four machines."
Ender Yılmaz, MertDijital comments: "2016 was our first experience of a FESPA Eurasia event and we had a very successful show with strong interest from visitors to our stand. We see FESPA Eurasia as an effective platform for showcasing the latest technology and attracting the right target audience."
Ismet Özdemir, Marketing Manager at Canon B2B products commented: "I can sincerely say that FESPA Eurasia 2016 really exceeded our expectations and we confirmed a number of sales! We are very happy with our participation at FESPA Eurasia 2016."
Nurten Ergün, Owner of BTC, noted: "At FESPA Eurasia 2016 we presented our new technologies, which attracted a great deal of interest from our customers. FESPA Eurasia 2016 was a great show."
For more information on FESPA and its global exhibitions visit: www.fespa.com
Interested in joining our community?
Enquire today about joining your local FESPA Association or FESPA Direct