Press Releases
FESPA Digital plays host to a number of exciting new exhibitors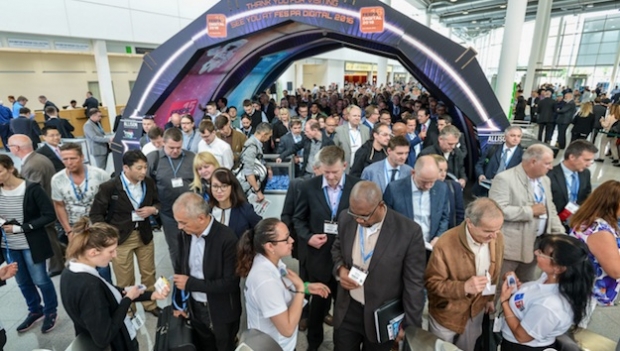 First speciality print event of 2016 is the perfect venue for global product launches.
In just three weeks, the global wide format and signage community will gather at FESPA Digital 2016 to see what the industry has in store at the 10th anniversary of the Digital show. With a host of new exhibitors and exciting product launches on the cards, it's set to be an unforgettable event.
Roz McGuinness, Divisional Director, FESPA comments: "With four sold out shows and the largest FESPA Digital and European Sign Expo events to date, an extended range of applications covered in FESPA Textile and the return of Printeriors, there's certainly a lot for visitors to discover."
"There are over 20 new exhibitors across the four events with in excess of 30 product launches, which highlights the value that the FESPA exhibitor community places in our events as the perfect platform for their global product launches."
At the largest FESPA Digital event to date, covering 42,000sqm (gross) of exhibition space, visitors will be able to see global players such as HP, Canon, Mimaki, EFI, d.gen, Avery Dennison and Roland, alongside a host of first-time exhibitors including: Ricoh, ATS Colore Digitale, CWT Tools, Excel Plastics, FH-Union UK, Holacolor Technology Co., IMpronta Gadget, Lusher Tschudi, Kohlschein GmbH & Co. KG, Provis, Pals Print, Netlink imaging PnTec Co., Ltd, Pratrivero S.p.A, Technotape and Tesoma GmbG.
Visitors will also have the privilege of experiencing first-hand a multitude of product launches from both big and smaller industry players. Printers looking to invest in new hardware will see the very latest equipment
Printers looking to invest in new hardware will see the very latest equipment including: EFI's VUTEk GS3LX Pro; Inkcups Now Corporation's Helix inkjet printer, and the new generation of T-REX 3200 roll-to-roll digital printing machine from Lüscher-Tschudi GmbH.
First-time exhibitor Ricoh will launch the new Pro L4100 series with Ricoh AR (Aqua Resin) inks, and Roland DG will show its new VersaUV LEF-300 LED UV inkjet flatbed printer.
New substrate highlights include: 3A Composites' most recent paperboard, DISPA; Arlon Graphics' new cast digital film; and Aslan's range of transparent digital printing film for glass applications. First time exhibitor bsmart media & displays will present its latest range of rigid foam PVC, while Grafityp will display coloured films for its automotive and deco ranges.
There will also be launches from ink manufacturers, including Nazdar's latest solvent base digital inkjet inks, and SunTex, the new range of inks for textile and soft signage applications from Sun Chemical.
Visitors looking to diversify into printed interiors should check out Digidelta's decal wallpaper and A.P.A S.p.A's latest generation of films for interior decoration applications, while Neschen will launch its unique Green Wall wallpaper range.
Visitors interested in digital textile printing will be able to explore two packed halls of dedicated textile solutions, now incorporating even more applications and technologies than ever before.
Sitting alongside some industry stalwarts like Kornit Digital, Durst, Kiian and MS Printing Solutions new exhibitors will include: VAVAtex; Fersan Textile Trade Industries; Elkotb Textiles and Zschimmer and Schwarz Mohsdorf GmbH.
With such a robust line up of industry players across the two halls, there is inevitably a number of textile focused product launches taking place at the show including: a new material handling system from Bullmer GmbH; TRANSJET Eco II sublimation papers from Cham Paper Group; and new pigments and sublimation inks from Kiian Digital.
Polyprint SA will showcase its latest DTG printer which is smaller, lighter, faster and more affordable than previous versions, while Premier Textiles Ltd will present washable pigment pre-treat and pre-treated fabric for latex inks.
Roz continues: "Besides our dedicated textile halls, we're aware that a number of exhibitors throughout FESPA Digital will also have textile solutions on their stands, so we have implemented a textile trail which will be steered by our very own superhero Textilewoman to highlight those exhibitors who are not in FESPA Textile (halls 4 and 5)."
"By doing this, we are aiming to make visitors' – in this case with an interest in digital textile – time at the show as easy as possible, and enable them to visit all the stands that could have something relevant and interesting for them."
At the biggest ever European Sign Expo (ESE), which expanded into a second hall and sold out in record time, sign-makers and signage buyers will also be able to explore the very latest information on the show floor. This year joining M&T Displays, Yellow Tools, Cosign and Mouse, will be new sign-ups including: Artiteq BV, Ceres Display, Hitechled Srl and Doganer Architectural Signage Systems.
A number of the newcomers will be launching products, once again recognising how ESE is seen as a key launch platform for signage solutions. Artiteq BV will showcase its new flexible picture hanging systems; Hitechled SRL will launch a new line of LED modules and Doganar will display its ADA compliant interior and exterior signage systems.
Other product launches will include: Comhan Holland BV's heavy duty tensioning outdoor system; CoSign will display a number of new products including its range of suspension systems and a revolutionary new banner system.
Exposure Systems Europe will present its M-series, a new modular exhibition system, which can hold sheets and textile prints with silicone edges; RightLEDs will highlight its LED module for light boxes, and SloanLED Europe will showcase a new generation of LED signage modules.
To guide visitors with a particular interest in signage solutions to the most relevant stands for them, there will also be a sign trail highlighting signage solutions across all of the halls. The show catalogue will provide all the necessary exhibitor information and floor plans to make sure visitors don't miss out.
With such a large number of exciting new additions to the floorplans for all shows, a star-studded line-up of exhibitors, as well as the opportunity to experience a range global product launches as they happen, and many more still to be announced, FESPA Digital (8-11 March, Amsterdam)is a must-attend event in 2016.
For more information about FESPA Digital, FESPA Textile and European Sign Expo, and to register for free entry, using code ADOZ0116, visit: www.fespadigital.com
Interested in joining our community?
Enquire today about joining your local FESPA Association or FESPA Direct