Press Releases
FESPA Asia 2018 set to be the year's key event for the ASEAN wide format printing community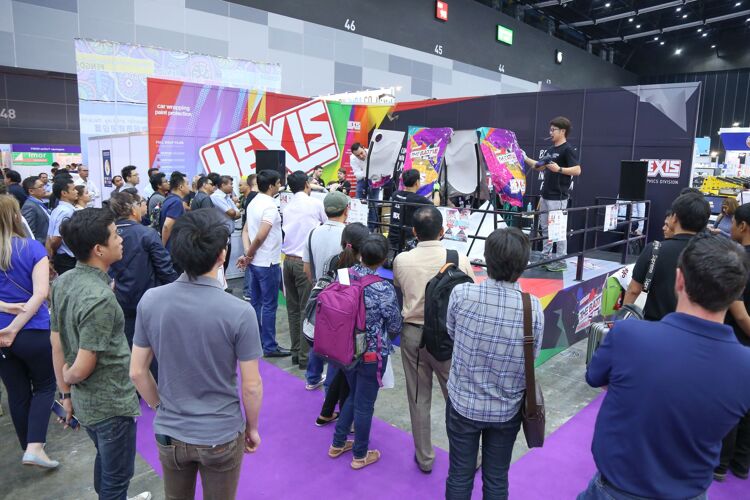 FESPA Asia 2018 will connect the screen, digital, textile printing and signage communities across the ASEAN region.
FESPA is bringing together the ASEAN region's screen, digital and textile printing and signage communities for FESPA Asia 2018, at the BITEC exhibition centre in Bangkok, Thailand, from 22 to 24 February 2018. Over the course of three days, the exhibition will provide print service providers (PSPs) and sign-makers an invaluable opportunity to discover the latest products and technological innovations that the speciality print industry has to offer.
Among the 160 brands with a presence at the show, FESPA Asia 2018 will welcome a host of first-time exhibitors, such as Stahls, Inkcups, Chemica, INktech and Monti Antonio. The Bangkok location also means this will be an important event for Thai companies exhibiting at FESPA Asia 2018, which includes Fujifilm (Thailand) Ltd., Epson Thailand Co Ltd., T.A.O. Bangkok Corp Co Ltd., Thai Techno Plate Co. Ltd., and many more.
Roz Guarnori, FESPA Divisional Director, is keen to highlight the expanded seminar schedule that will run throughout the show adding value to each visitor: "Our seminars will cover a wide variety of topics, providing visitors direct access to industry thought-leaders and granting valuable insight into current and emerging trends affecting wide format and its tangential sectors."
Comprising 23 individual sessions in both Thai and English, the FESPA Asia 2018 conference schedule will run from 11.00am to 14.30pm every day, between Thursday 22 February and Saturday 24 February.
The seminars most recently added to the schedule will focus on:
The 3rd e-commerce revolution in the textile industry
A session which explores the impact e-commerce has had on the fashion industry, hosted by Amit Dayagi (Product Marketing Manager – Kornit Digital).
Heat Transfers in the Garment Manufacturing Market
A look into the new production trends in garment manufacturing, demonstrating the best practices of heat-transfer materials, by Marco De Rossi (Managing Director - Siser - Asia/Pacific Pte Ltd.).
Hybrid Printing for interior decoration
Cholakarn Visutipitakul (Marketing and Creative Director - Bodhi Tree Décor) illustrates what effects can be achieved with both screen and digital printing techniques that can create a unique selling point for businesses and put them ahead of the competition.
Strategic Direction of Textile Printing
This presentation by Stewart Johnston (Head of Consultancy for Europe, Middle East and Asia - Smithers Group) covers the strategic direction of the textile printing space while also identifying key trends and opportunities within the ASEAN region.
Trends of on demand packaging for online shopping and online food delivery in Thailand
Supanee Sawangnet (Food Packaging Solutions Sales Manager - Thai Paper Co. Ltd. SCG Packaging) takes an overview of the online shopping market in Thailand and examines the country's related packaging trends and customer needs.
The full FESPA Asia 2018 conference programme can be viewed at www.fespa-asia.com.
Making its triumphant return to FESPA Asia will be the World Wrap Masters competition, showcasing the skill and creativity of international vehicle wrappers and demonstrating the creative ways in which vehicle decoration can prove to be an eye-catching promotional tool.
The 2018 edition will see 16 competitors - half of which hail from Thailand and the rest from Japan and Russia - take part in four competing rounds. The wrappers will be tasked with wrapping cars and other items using vinyl from World Wrap Masters Sponsor Hexis. The winner of the Bangkok competition will automatically qualify to enter the final series competition to take place at the FESPA Global Print Expo 2018 in Berlin, Germany.
Show visitors are welcome to attend live daily workshops and demonstrations taking place every day of the show, while also being given the opportunity to meet with expert wrappers at networking events and professional workshops.
FESPA kindly invites those who wish to attend the exhibition to register online by Wednesday 21 February. For more information on registration and FESPA Asia 2018 in general, please visit www.fespa-asia.com. For free entry to the exhibition, register online using code: ASAM804
Interested in joining our community?
Enquire today about joining your local FESPA Association or FESPA Direct