Press Releases
FESPA announces conference programme for FESPA Asia 2018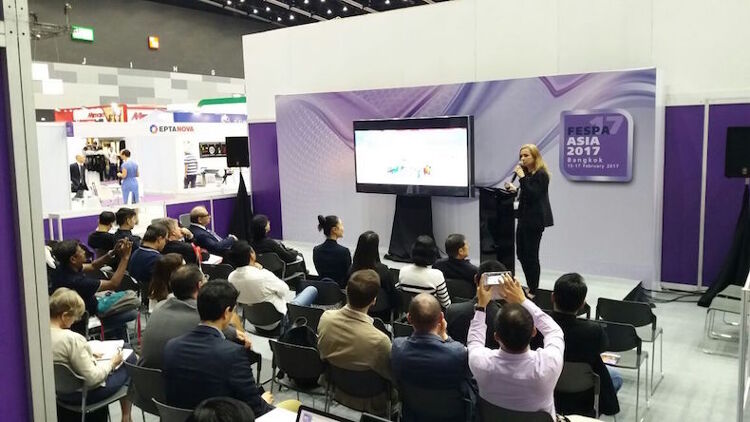 FESPA Asia has released details of its conference programme ahead of the event taking place at the BITEC exhibition centre in Bangkok, Thailand, from 22-24 February 2018.
The conference programme has been created with the needs and interests of wide format print service providers (PSPs) and sign-makers in mind and will deliver key insights and market knowledge across digital, screen, industrial, textile and interior décor printing industries, as well as signage.
Delegates attending the seminars will hear exclusive insights from leading local consultants, listen to inspiring stories from end users, as well as pick up practical advice from respected industry leaders who will provide invaluable knowledge across a wide portfolio of printing applications.
Visitors can attend the seminars, which will be presented in English and Thai, free of charge with a valid FESPA Asia 2018 entry ticket.
The FESPA Asia 2018 conference schedule compromises 23 individual sessions, starting at 11.00am on Thursday, 22 February and running until 14.30pm on Saturday, 24 February.
Seminars will include:
Trends of on demand packaging for online shopping and online food delivery in Thailand by Supanee Sawangnet, Food Packaging Solutions Sales Manager, Thai Paper Co.,ltd (SCG Packaging)
Hybrid digital technology (merging screen print and digital) by Mark Gervais, Director of Screen Print, Ningbo Shenzhou Knitting Co., LTD
Gift and promotional product opportunities in the market by Mr Jiraboon Vityakraisign, President, Thai Gifts Premiums and Decorative Association
How to start a successful direct to garment printing business by Dmitry Sarbaev, Managing Director, Fluxmall DTG Vietnam
Hybrid printing for interior decoration by Cholokarn Visutipitakul, Marketing and Creative Director, Bodhi Tree Décor
The full FESPA Asia 2018 conference programme can be viewed at asia.fespa.com/seminars-2017
FESPA divisional director Roz Guarnori commented: "Our comprehensive seminar schedule at FESPA ASIA will provide visitors direct access to industry experts in a variety of fields. There is something for everyone – whether they're a wide format print service provider in the gift and retail sector, in the textile print business, or working in interior décor."
"Our visitors will be able to attend sessions and discussions that are most relevant to their business, while being inspired by insights from the wider print industry. It's a fantastic opportunity for our industry in the ASEAN region to come together to learn, collaborate and discuss the vision for the future of speciality printing."
World Wrap Masters Asia 2018
The Asia leg of the World Wrap Masters Series will return to Bangkok in 2018, where the best wrappers from around the world will showcase their skills to compete to win the title of World Wrap Master Asia 2018.
World Wrap Masters Asia will be one of the main highlights at the event, and the contest is still open for entries. The winner, announced on Saturday 24 February 2018, will proceed to the World Wrap Masters Final at FESPA Global Print Expo in Berlin, Germany, from 15-18 May 2018 and will compete against the regional winners from Eurasia, Africa, Europe and Mexico.
For more details about the competition, visit asia.fespa.com/wrap-masters
This year's competition introduces the new World Wrap Masters judge, Vichai Nuchpoom, who has set a goal of using the global competition to help boost the knowledge of wrapping in his native Thailand. Nuchpoom is an expert in the field, with his company, Dang Sticker, regarded as one of the top wrapping businesses in Thailand, having been providing services for more than 40 years.
Visitors to the World Wrap Masters Asia also have the opportunity to network with professional wrap experts, as well as discuss the technical aspects of wrapping. Attendees will be able to enjoy free, live daily wrap demonstrations and workshops from tinting and wrap expert Ole Solskin Ravn who will share practical advice on cutting with knives and knifeless tape, wrapping with chrome, cold pre-stretch and triangles, as well as material considerations.
For more information on FESPA Asia 2018, visit www.fespa-asia.com. For free entry to the exhibition, register online using code: ASAH815.
Interested in joining our community?
Enquire today about joining your local FESPA Association or FESPA Direct