Press Releases
FESPA 2017 announces seminar programme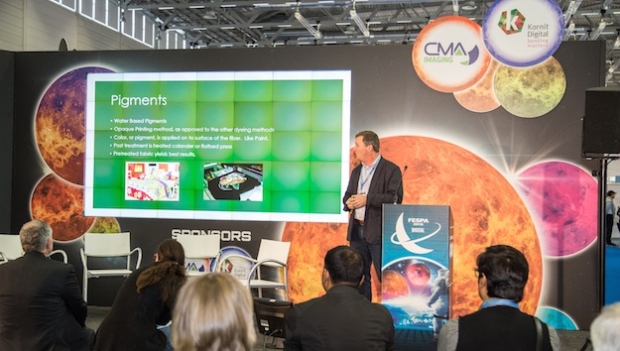 This year enjoy unlimited access to over 100 free seminars across 5 days of FESPA 2017. Sit in on compelling sessions from experts and be inspired by cutting-edge industry developments.
FESPA has announced its comprehensive seminar programme for FESPA 2017, delivering key insights and market knowledge across the sign-making, digital, screen, industrial, textile and interior printing industries.
Developed with some of the leading experts within the industry, the FESPA seminar schedule offers educational content from key note speakers, which will be delivered daily in one seminar theatre.
Through inspirational content FESPA is able to provide delegates with a varied schedule of bitesize seminar content created with speciality printers and sign-makers in mind.
The seminar programme, which visitors can attend free of charge with a valid FESPA 2017 entry ticket, covers a range of topics, focusing on the use of digital, screen and textile print technology in a variety of scenarios.
Delegates attending these seminars have exclusive access to and will benefit from specialist learning opportunities, insights and discussions with respected industry figureheads who will be on hand to provide invaluable knowledge and understanding across a wide portfolio of printing applications.
"This year we have consolidated our educational offering into one main seminar theatre. The theatre, located on the show floor, will address the needs of visitors to FESPA 2017, European Sign Expo and Printeriors,"says FESPA head of events Duncan MacOwan.
"Consolidating the theatres also means that visitors can plan their visit to FESPA efficiently and do not have to worry about missing out on valuable content due to clashes."
Seminars will kick-off from 2pm on Monday 8 May and run until 1pm on Friday 12 May. Sessions throughout the event will include:
Direct to garment printing - Should we or shouldn't we? by Scott Donovan, Principal of BleuPrintCreative.
How to create a great retail experience by Mal MacGowan, owner of McGowans Print.
A Designers' creative journey to market by Debbie McKeegan, creative director of Digetex.
European Sign Code of Practice by Luc Steegmans, owner of ELBO Signs And Technology.
New measurement method of light emission by Ralph Hug, engineer of Swiss Association VWP.
"Providing a unique knowledge sharing hub, the FESPA 2017 seminar programme allows like-minded industry professionals to gain access to and discuss a mix of technical and business knowledge, ensuring individuals have the tools to take their print business to the next level," added MacOwan.
"Covering topics from direct-to-garment and promotional products to industrial inkjet and business solutions, the programme is specifically tailored to the needs of attendees, delivering professional insight that can help to shape and transform industry practice moving forward."
Elsewhere on the show floor will be the return of the World Wrap Masters Series, where the best wrappers from around the world will showcase their skills to compete to win the title of World Wrap Master.
On Monday 8 and Tuesday 9 May, the competition will see 36 wrappers battle it out to be crowned European Wrap Master 2017. The winner and runner-up will then go on to participate in the final, taking place on Wednesday 10 and Thursday 11 May, where they will be joined by regional and national winners from past Wrap Masters events.
During the Wrap Masters final, the wrappers will wrap a speedboat, with the final design being created by the winner of FESPA's Wrap Design Competition, which is running ahead of the exhibition.
For more information on FESPA 2017, to register and to view the entire seminar schedule please visit: www.fespa2017.com.
For free entry to FESPA 2017, European Sign Expo and Printeriors use code: FESG702 when registering.
Interested in joining our community?
Enquire today about joining your local FESPA Association or FESPA Direct