Press Releases
Dare to design different at Printeriors 2017 Hotel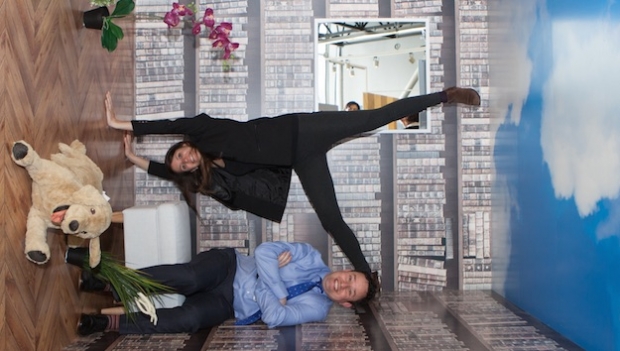 FESPA has announced Printeriors 2017, an interior design showcase, illustrating how print can be used to create stand-out interior design applications.
This unique event, presented in the style of a hotel, will show print service providers, sign-makers, interior designers and architects how they can realise the potential of print and develop new business opportunities by producing striking, cost-effective, bespoke interior décor applications.
Through room sets created using a combination of screen, digital and textile print technology, visitors to Printeriors 2017 will be presented with endless opportunities in the form of printed flooring, wallpaper, soft furnishings (including bed linin and curtains), ceramics, glass, mirrored surfaces, furniture and decorative textiles, all using the latest printing techniques.
The showcase, which will run for five days in hall B2 lower, will be complemented by a paid for half day conference on Thursday 11 May. The conference, for interior designers and architects, will explore the benefits of using print as a medium for interior design and how it can transform interiors, whether for hospitality, residential, retail or corporate purposes.
Conference delegates will also be able to join a guided tour of Printeriors by curator Jennifer Castoldi, CEO and chief creative director, Trendease International LLC, who will demonstrate how the tools and insight they've heard in the conference can produce real life applications.
By registering for Printeriors 2017, visitors will also benefit from co-located events, FESPA 2017 global print expo for speciality print and European Sign Expo for non-printed signage.
Roz McGuinness, Divisional Director of FESPA, comments: "We introduced the hotel concept at Printeriors 2016 and received fantastic feedback from visitors to the event. Being able to show how print can create interior décor applications in one environment helps visitors, whether interior designers or PSPs, see print's true potential in this space."
"Printeriors 2016 only featured digitally printed applications; however, as Printeriors 2017 is co-located with FESPA 2017, our flagship global print expo, it will cover both screen and digital processes, meaning an even greater variety of applications."
"Our 'Dare…' campaign theme across all three events, was imagined to inspire businesses to look beyond their current market sectors and to explore new possibilities."
"Printed interior décor is an exciting new sector in the industry and we want to show the global print community how, by daring to design differently through the use of materials, inks and equipment, they can expand their opportunities. We want visitors to come to Printeriors with open eyes to explore the creativity that is possible."
Taking place at the Hamburg Messe, Germany, 8 – 12 May 2017, visit Printeriors 2017 and meet leading interior designers and architects specifically sourcing new innovative printed products and materials.
Sit in on compelling educational seminars and conferences with topics such as environmental benefits of using print in interior design, the workflows between design and print, understanding the print supply chain and pricing structures along with many more.
Register now using code PRNH710 for your free 5-day visitor badge.
Interested in printer interior décor?
Check out the Top 20 interior prints that have helped set design trends during the past 12 months.
Interested in joining our community?
Enquire today about joining your local FESPA Association or FESPA Direct