Podcasts
Personalisation with Mike Horsten from Agfa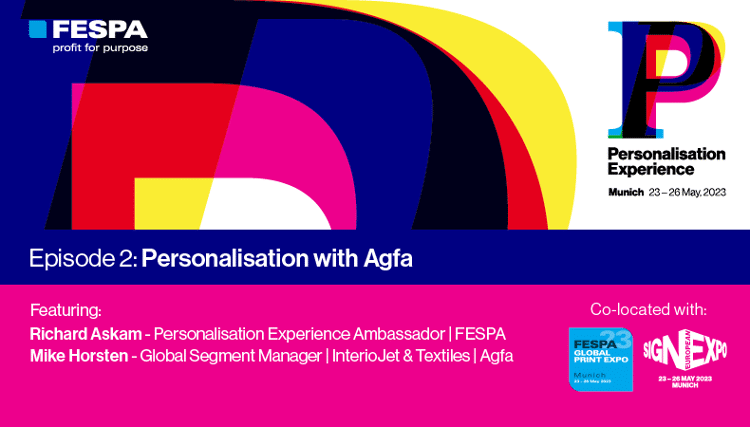 FESPA's Personalisation Experience Ambassador, Richard Askam speaks to Mike Horsten, Global Segment Manager, InteriorJet & Textiles at Agfa about personalisation. Mike shares how he perceives Personalisation.
Mike explains that over the last 20 years Personalisation has grown and evolved, in the past it was a bespoke, individualised and an expensive service which offered a "one-off" product. Whereas today, personalisation is affordable and there is the ability to create numerous copies of a personalised product.

Discover the Personalisation Experience taking place alongside FESPA Global Print Expo 2023 and European Sign Expo 2023 from 23rd May – 26th May 2023 at Messe Munich. The Personalisation Experience will bring together 3,500 stakeholders from retailers, brands, agencies to printers and fulfilment houses, connecting them with software providers and OEMs to explore the potential of personalisation in sportswear, packaging, product, loyalty and custom interiors. Four one-day conferences, plus an application showcase incorporating Printeriors, will bring this core topic to life.

Interested in joining our community?
Enquire today about joining your local FESPA Association or FESPA Direct