Industry
Zünd UK refreshes demo suite with new technology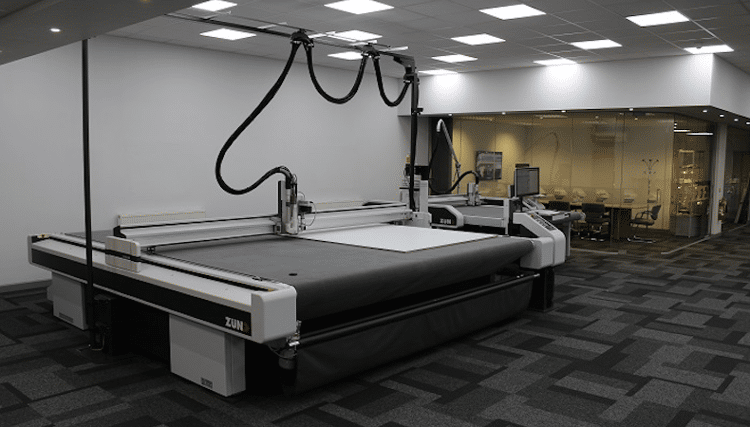 Zünd UK has expanded its technology showroom to feature the latest digital cutting innovations.
The enlarged showroom in St Albans provides demonstration space and houses the company's newest offerings, including the Overhead Cutter Camera (OCC) and Laser Module unveiled at FESPA 2017.
In a separate move, Thomas Scott has joined the Zünd UK team from large graphics and vehicle livery company CGI Bedford, where he was an operator of Zünd systems – making him perfectly suited to the role of Sales Technician, which will include applications and demonstrations.
"We're delighted to welcome Thomas Scott to Zünd in St Albans, where he'll be guiding visitors around our stunning new dedicated showroom," commented Stuart Cole, managing director, Zünd Plotting Systems (UK).
Demonstration suite
Visitors to the larger, refurbished Zünd UK demonstration suite will receive a tour from the Zünd UK team and an in-depth introduction into Zünd's newest features. As well as the most up-to-date cutting machines, the latest advancements on display include an over-cutter camera and a laser cutting module, both unveiled at FESPA earlier this year.
"Zünd's engineers and designers in Switzerland are constantly making improvements to our cutting tables and their complementary software, tools and modules so it's important that our users can see the latest equipment here in the UK, in friendly, quiet surroundings away from noisy trade show floors," said Mr Cole.
"We're leaders in automation, speed, accuracy, safety, flexibility, robustness and more, so our users are always welcome to have a comprehensive look under the hood of our machines."
New technology
The new Zünd Overhead Cutter Camera (OCC) is a single camera mounted over the bed to target and capture all the register marks on a substrate at once, boosting the productivity of cutting processes by up to 30%.
Available for the Zünd G3, the new Laser Module is a 100W CO2 laser system able to accurately cut and seal polyester textiles in one step. This eliminates the time-consuming manual processes normally necessary to avoid fraying in soft signage, and therefore brings textiles up to 2mm thick in line with paper and PVC for POS applications, the company reports.
Zünd UK is planning a number of open-house events in 2018 with this technology on show, but businesses interested in investing in the new modules or a whole new system prior to these events are invited to get in touch to arrange a one-to-one visit.
Interested in joining our community?
Enquire today about joining your local FESPA Association or FESPA Direct