Industry
Zünd UK evolves with new name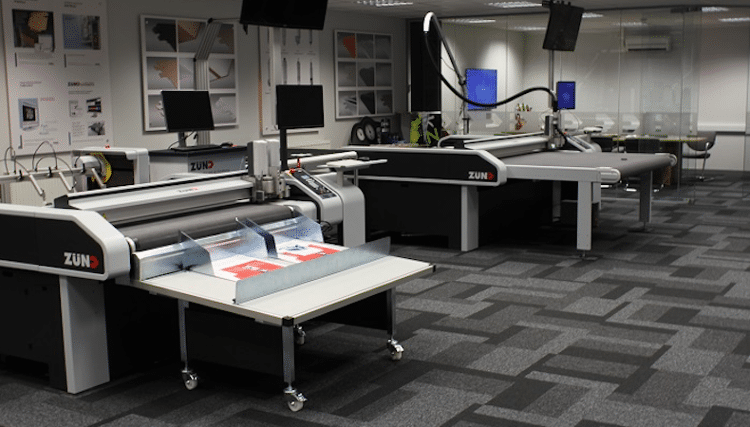 Zünd Plotting Systems (UK) has officially changed its name to Zünd UK, after the business was acquired by Zund Systemtechnik AG earlier this year.
"Becoming a subsidiary of Zünd Systemtechnik AG this year has enabled us to make big changes here at Zünd UK Ltd, including streamlining our name," commented Zünd UK managing director Stuart Cole.
In May, Zünd Plotting Systems, which sells and distributes Zünd kit to the UK market, was acquired by the Switzerland-headquartered manufacturer of digital finishing equipment, and it officially became a subsidiary, having been founded as a private UK reseller by Tim Taylor in 1993.
Taylor is now commercial director and former Hybrid national sales manager Stuart Cole has been at the helm of the business since mid-March.
Since the acquisition, Zünd UK has taken on a number of new staff. James Newnham, Paul Whitford and Steve Rowbotham have all been appointed sales account managers, while Thomas Scott is new sales technician.
The company's new technical innovations will be on show at Zünd UK's dedicated demonstration centre in St Albans, UK, following a forthcoming refurbishment. New Zünd machines fitted with over-cutter cameras and laser modules – both of which were unveiled at FESPA 2017 in Hamburg – will be on display for customers seeking in-depth looks at Zünd technology.
Zünd UK is also planning to hold a number of open house events next year, introducing more people to the cutting-edge range.
"Our demo centre is getting a revamp with our very latest innovations that make digital cutting processes even faster, more automated and more efficient, while our customers will see new faces in our sales team."
"We're looking forward to meeting new and existing Zünd users both at our demonstration centre in St Albans and at forthcoming trade shows – with plenty more events planned for 2018," concluded Cole.
Interested in joining our community?
Enquire today about joining your local FESPA Association or FESPA Direct