Industry
Zünd to demonstrate modularity at FESPA 2017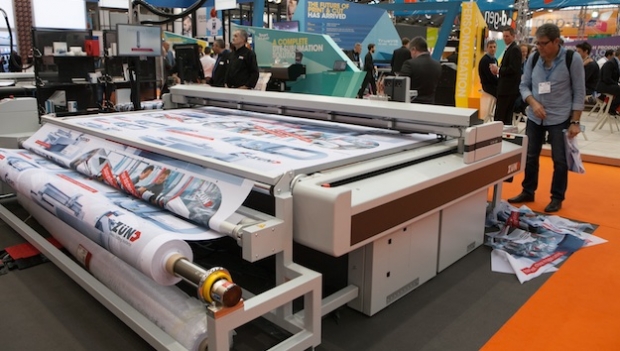 Digital cutter manufacturer Zünd will use FESPA 2017 to show the modularity and the diverse uses of Zünd digital cutting systems.
Solutions specifically designed to meet the needs of the sign & display markets offer various levels of automation for every application.
If there is one thing that stands out in the sign & display market, it is the extraordinarily wide and diverse range of substrates being used, from acrylics to cardboard to fabric. Just as diverse as the materials are the methods and parameters for processing them.
To complicate matters even further, print service providers are faced with the growing demand for customised and personalised products, economically manufactured in small and even "micro" production runs. And with ever shorter times to market.
This is where Zünd can offer technology solutions that meet, according to the company, all these requirements and provide maximum productivity and profitability.
At FESPA 2017, which is taking place from 8-12 May at the Hamburg Messe, Zünd will showcase the G3 3XL-3200 cutting system, which is equipped with new technological advances designed to facilitate advancing and processing of rolled fabrics.
Also on display will be the new D3 digital cutter with Board Handling System (BHS) that will demonstrate the productivity of Zünd's dualbeam system in combination with fully automated board handling.
The firm said that the cutter will improve production by around 100%, mainly due to these two newly-installed beams, which allow for smoother loading and unloading between jobs. The cutter is also available in four different sizes.
"For us it is the combination of the loading and unloading that is the major upgrade," commented Zünd product manager Roman Hasler.
"We want to increase automation so that the customer can have more efficiency to produce, say, corrugated material for packaging and so on."
Each beam, equipped with up to three different tools/modules, processes the material simultaneously but independently of the other. Depending on the cut file and specifics of the job, this can up to double production speed and volume.
"With another G3 cutter, Zünd displays the latest in high-powered, fully automated routing technologies. The high-capacity RM-L router spindle delivers up to 3.6 kW of power and 0.7 Nm torque. This level of routing force is unprecedented on a multifunctional flatbed cutter and opens up vast new potential in terms of performance," Hasler concluded.
With the ARC, Zünd is offering a way for users to completely automate the routing process. Combined with the automatic tool changer ARC, the RM-L router module is capable of routing acrylic, Dibond, Forex, or MDF with great speed and productivity.
Zünd's modular design allows for tailoring and adapting cutting system configurations anytime to meet specific production needs. This is true for all aspects of the system, including cutting method, tooling, and material handling.
Register for free to visit FESPA 2017
Industry members that are keen to learn more about the latest finishing solutions from Zünd can visit the manufacturer on the stand D30 in the Hall B7 at FESPA 2017.
Taking place from May 8-12 at the Hamburg Messe, in Hamburg, Germany, the exhibition will play host to many major brands from across the global market.
For more information on the event, the companies that will exhibit and to sign up to attend as a visitor, please visit: www.fespa2017.com
Delegates can save 70€ entry fee to the exhibition by registering via the website and quoting reference code: FESG702. Discover how a visit to FESPA 2017 can benefit your business and register today.
Interested in joining our community?
Enquire today about joining your local FESPA Association or FESPA Direct