Industry
Zünd at FESPA 2022 – Smart solutions help optimize production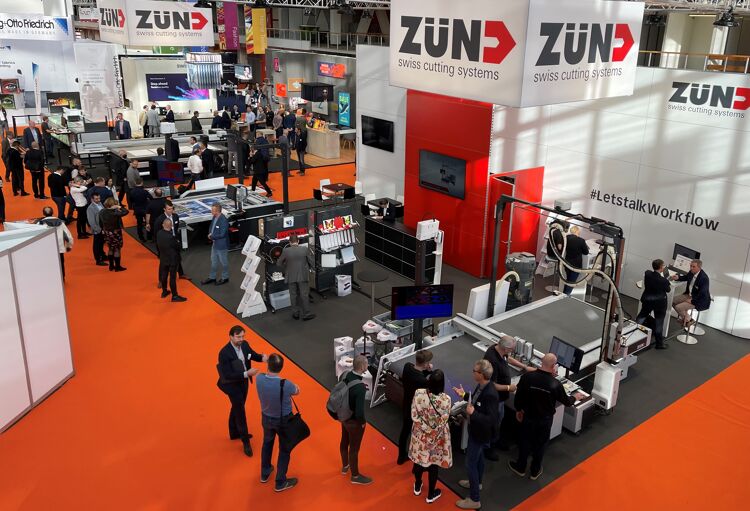 An automated, digital print&cut workflow is essential for standardized manufacturing processes and economical production. At FESPA Global Print Expo 2022 in Berlin, Zünd exhibits solutions that help effectively automate graphics production.
There are many ways to optimize production and make it more efficient and profitable. Zünd offers automation solutions for many different scenarios. They are designed to automate and standardize the preparation of print and cut files. They support PSPs by providing tools for production monitoring and analysis and for facilitating the removal and logistics of cut parts.
The Zünd exhibit at Booth C20 in Hall 1.2 illustrates how smart production automation offers great savings potential even for smaller graphics manufacturers, for instance by eliminating the potential for errors. Attendees will be introduced to PrimeCenter, the control center for generating print and cut files. In live demos, Zünd will be showing how the Pick&Place interface option controls robotic devices and fully automates the removal of cut parts and their placement at pre-defined locations.
To create additional efficiencies in parts removal, job tracking, and even logistics, Zünd is also showing the Visualizing Option, another component of the Zünd Cut Center user interface and workflow software. Besides assisting the user during parts removal through projection, this option offers capabilities for labeling cut parts. Printed and affixed QR-Codes help streamline and facilitate logistics.
For anyone looking to determine what aspects of their production workflow may have potential for optimization, Zünd offers the web-based monitoring and analytics software Zünd Connect. It captures performance and availability KPIs from cutters integrated in the Zünd production workflow and uses this data to calculate Overall Equipment Efficiency (OEE). Zünd Connect uncovers productivity losses and provides key performance indicators that help users further optimize their digital cutting operations.
Attendees are invited to request personal live demonstrations of any of these workflow solutions directly from Zünd personnel at the booth.

Discover the latest innovations and trends in cutting at FESPA Global Print Expo 2022, Europe's leading print and signage exhibition will reunite key industry professionals, enabling valuable networking and business building opportunities, supporting face-to-face conversations with suppliers and providing the opportunity to see the latest innovations and trends in speciality print. Register now and use the code FESG201 to receive a 30 euros discount and pay only 50 euros for your registration.

Interested in joining our community?
Enquire today about joining your local FESPA Association or FESPA Direct