Industry
UPDATED - FESPA Digital 2016 preview: stand by stand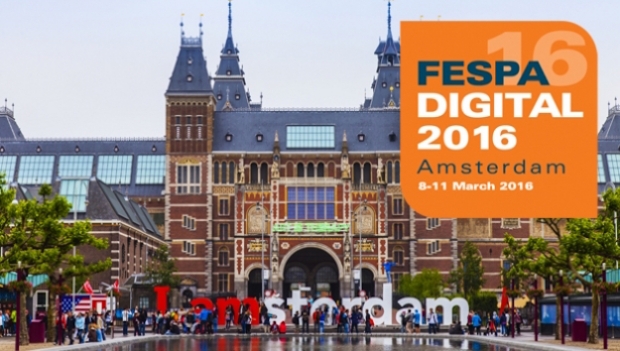 In less than a month, FESPA Digital 2016 will open its doors to invite print service providers to Become Digital Print Heros. What's new at this year's digital show?
The event, which will take place at the RAI Exhibition Centre in Amsterdam from 8 to 11 March, will cover 42,000sqm, making it the biggest digital event to date. This year marks the 10th anniversary of the exhibition since its launch in Amsterdam in 2006.
FESPA said the European Sign Expo has exceeded all expectations, and is 250% larger than the inaugural event in 2013, while FESPA Textile 2016 is the first textile event, taking up two dedicated halls as well as a digital textile conference around the exhibition.
The sold out event is set to feature more than 450 exhibitors displaying their latest products and technology across wide-format digital print, textile print, signage and printed interior decoration.With so much on display at the digital show, visitors will need to whittle what they see down to the essentials. Start planning your trip with our breakdown of what's on show on the exhibitors' stands.
Leading brands who will showcase their latest products include Corporate Partner HP, Platinum Partners EFI and Hexis, Gold Partners Mimaki and Durst, Digital Textile Partners d.gen and Kornit Digital, Wrap Partner Avery Dennison as well as manufacturers Epson, Canon, Roland DG, Orafol, MS Printing Solutions, Ricoh, Bullmer, swissQprint, Mutoh, Pongs, Muchcolours, Hollanders, MTEX, Fotoba, Menden, Vivialyte, SloanLED, Screen and Fujifilm.
With so much on display at the digital show, visitors will need to whittle what they see down to the essentials. Start planning your trip with our breakdown of what's on show on the exhibitors' stands.
Note: Here is the list of the exhibitors who have announced their product launches for FESPA Digital 2016 to date. We will keep this list updated with the new releases, so keep coming back!
Aslan, Stand T110 Hall 7
Self-adhesive films specialist Aslan will be unveiling a new matt colour film range which breaks the ground for all design-oriented applications. The colour palette incorporates ten different shades and is based upon colours trends of the year, chosen by the colour institute Pantone.
WindowClear Aslan DFP 18, a highly transparent digital printing film, is another new addition to the specialist's range. This self-adhesive PVC-film is ideally suited for the design of large-scale prints on to glass surfaces, particularly when a highly transparent finish is desired.
#substrates #films
Avery Dennison, Stand E30 Hall 1
Six new digital products will be launched by Avery Dennison at this year's FESPA Digital, under the theme 'Here for you' featuring the new MPI 1104 cast films. The company will also be showing a new digital wall film portfolio, and its latest application-trainings and workshops.
Avery Dennison will introduce, inform and inspire at Fespa Digital 2016. Avery Dennison Graphics Solutions, part of Avery Dennison's Materials Group, sets the industry standard in vinyl graphic design and automotive wrap graphics worldwide, providing imaging materials and service solutions for fleet, architecture and transportation markets, promoting creativity and delivering the highest performance for brands.
Key products featured on the stand will include Digital Print Cast Films, Supreme Wrapping™ Film and Conform Chrome for the vehicle wrap market and a new Digital Wall Film portfolio as the latest addition. Visitors to the Avery Dennison booth will also be able to experience the benefits of the company's extensive range of industry leading lines through a number of live demonstrations and interactive displays.
#wraps #vinyls #graphics
Bordeaux Digital Printink, Stand S150 Hall 7
Bordeaux Digital Printink will exhibit a range of inks, coatings and technologies for "almost every inkjet technology and application" at FESPA. Products on show will include a new water-based pigment ink for all fabrics accompanied with its longtime industry leading printer specific inks, the company informed.
According to Bordeaux, it recognised the need to simplify digital processes for textiles and developed one pigment ink that can print on all types of fabric and in a single process. Its range of varnishes on show will include UV curable coatings, water- and UV-based liquid laminates and coatings for wide-format and digital presses.
#inks #consumables #digital #textile
Brett Martin, Stand R143 Hall 7
UK-based specialist plastic sheet manufacturer
Brett Martin
will launch a new range of flat sheet products for the print and display sector. The renewed Foamalux range aims to offer versatility, high strength-to-weight ratio, workability, quality performance and highly durability, according to the company.
Other highlights include the company's latest Transparent Sheets, Marlon FS Polycarbonate and Marpet-a FS aPET, available in thicknesses of 2mm, 3mm and 4mm. Brett Martin said that while these products are more suitable for flat and cold bending applications, such as POS display stands, poster glazing and illuminated signage, it may also be thermoformed and hot-line bent within a controlled temperature range to avoid crystallisation.
#substrates #consumables #digital
Brother, Stand K80 Hall 5
For the first time in Europe,
Brother
will show the new scanning device and a new low-end pretreatment machine. The successful GT-3 Series garment printer together with new options and platens are a good combination to produce high volumes and/or unique fashion garments.
In addition, they will showcase how to print on shoes and how to combine different techniques like Embroidery and Scan&Cut solutions for textile finishing.
Brother Industrial will be demonstrating several steps of the digital garment printing process, and visitors will have the opportunity to discuss with many experts about their requirements for perfect garment printing.
#textile #embroidery #garment #printing
Canon, Stand F100/F120 Hall 1
Canon will be showing for the first time in Europe its newly launched 1200 series of Océ Arizona UV flatbed printers. The manufacturer said the new machines offer significant improvement in quality, versatility and ease of use.
The Arizona 1240, 1260 and 1280 models are said to be ideal for businesses in the sign and display industry, speciality print producers, reprographers and photo labs, and print at up 35m2/hr in express mode. The range borrows features from the 6100 series launched at FESPA2015 in Cologne and introduces a number of new features.
There are two bed sizes – 1.25x2.5m and 2.5x3.08m – and an additional roll media option for flexible media up to 2.2m-wide. The devices feature Océ VariaDot grayscale print quality, can use up to six colours and can also be equipped with white and varnish, with an added optional addition of light cyan and light magenta ink.
#digital #printing #presses
DGI, Stand N30 Hall 5
Korean manufacturer DGI will be exhibiting its latest wide-format inkjet, the Velajet VE-1904X high-speed eco-solvent printer for the first time. The VE-1904X employs 1,600-nozzle high-resolution Panasonic printheads and can output at up to 260m2/hr.
The printer produces a variable dot size of 3-11pl and is most suited to printing on flexible banner materials and vinyl. The printer accepts rolls up to 1.9m wide and uses DGI's ES210 eco solvent ink. The printer is fitted with eight printheads in a staggered configuration and can print at a max resolution of 720x1,440dpi.
#digital #printing #presses
Drytac, Stand E130 Hall 1
Self-adhesive materials manufacturer Drytac Europe will be debuting the ViziPrint Illuminate film at FESPA Digital. The 100µ translucent matte PET film has been developed for brilliant backlit window graphics and vibrant backlit displays for high-end retail advertising. With its advanced adhesion technology, ViziPrint Illuminate can be repositioned and reapplied multiple times upon installation and leaves no residue after removal.
Additionally, Drytac will be highlighting a new floor graphics application for its Polar HiGrab vinyl. Printable by eco-solvent, latex and UV inkjet technologies, Polar HiGrab is coated on one side with a high tack pressure sensitive, solvent grey opaque acrylic adhesive.
#consumables #films #vinyls
Durst, Stand H100 Hall 1
Durst's Water Technology (DWT) will take centre stage on its booth at FESPA Digital, with the Italian industrial inkjet specialist once again demonstrating the Rho WT 250 HS, which was premiered last year.
However, the Amsterdam show will also act as the springboard for the new Rhotex 500, which also uses DWT and, according to the manufacturer, is the world's first 5m-wide dye-sub printer for the industrial production of soft-signage and fabrics.
Durst will also bring its Alpha 190 to FESPA Digital. The 1.9m-wide multi-pass textile printer, which was launched last November, is targeted at fashion applications and is now available for shipping. Another highlight will be a highly automated version of the Rho 1312 flatbed printer, the Rho 1312 AF, which will be shown demonstrating "new standards" in automation.
#digital #textile #printing #presses
EFI, Stand E40 Hall 1
EFI will use FESPA Digital 2016 as the European launch pad for four machines. The highlight will no doubt be the Vutek HS125 Pro, the fastest ever Vutek.
The flagship 3.2m wide hybrid flatbed/roll-to-roll machine was premiered in the US in November along with another 3.2m wide hybrid, the Vutek 3LX Pro LED printer, and the EFI H1625-SD an entry-level, 1.65m wide UV hybrid printer running EFI SuperDraw UV ink for thermoforming applications.
Another new printer is the Vutek FabriVU 340 soft signage printer, based on Reggiani's technology. All four will have their European debuts this year's digital show. The 2016 event will also be the first FESPA where EFI will showcase Reggiani products, following EFI's acquisition of the Italian textile printer manufacturer last year.
The star attraction will no doubt be the EFI Reggiani ReNoir Next, a 200m2/hr, 1.8m-wide beltless "entry-level" version of Reggiani's ReNoir machine. EFI will also show the EFI Matan Quantum, a 3.5m roll-to-roll printer with HD image quality based thanks to its 7pl drops, three grayscale levels and LED UV-curing.
#digital #textile #printing #presses
Epson, Stand F50 Hall 1
Epson will use its appearance at this year's FESPA Digital to showcase how its range of SureColor aqueous, solvent and dye-sublimation inkjet printers can produce added-value products on a wide range of materials.
The digital event will mark the European debut of four new 64" printers in the form of the 10-colour SureColor SC-S80600, the high-speed CMYK x 2 SureColor SC-S60600, the four-colour SureColor SC-S40600, and the super-fast aqueous SureColor SC-P20000.
Meanwhile, the SureColor SC-F7200 and SC-F6200 dye sublimation printers will both be in the textile zone section of the Epson stand, with the manufacturer to showcase how the devices can produce printed textiles and how they can be used to sublimate onto a range of hard and 3D substrates.
#digital #printing #sublimation
Ergosoft, Stand P44 Hall 5
Ergosoft plans to use FESPA Digital to showcase v15 of its RIP software. The program, which will be presented in beta mode, includes nesting and hot folder tools as well as gamut mapping.
This new feature will help customers to achieve smoother gradients and more colorful results especially in very industry specific color spaces of e.g. textiles, ceramics or high-pressure laminate applications.
Another requested and long-awaited feature is the Nesting, which is now integrated into the JobComposer and the HotFolder application to benefit from the automated arrangement of multiple images per job. Besides to the new and modern appearance, there will be some exciting new features ErgoSoft is looking forward to showing to their visitors.
#prepress #software
Esko, Stand H20 Hall 1
At this year's FESPA Digital, Esko will unveil the Kongsberg C64 cutting table alongside a wide portfolio of digital finishing systems. The Kongsberg C64 is designed for 24/7 production and semi-industrial environments and is unique in its ability to handle materials up to 3.2x3.2m, says Esko.
Thanks to their carbon traverse beam, Kongsberg C Series cutting tables are designed not to decelerate when cutting demanding materials and are capable of working with substrates from paper and textiles to fluted board, plastics, aluminium composites and (unique to the Kongsberg C) corrugated up to triple-wall thickness.
Visitors will also see at FESPA Digital new Esko i-Cut software suite developments. It includes the highly flexible i-cut Production Console (iPC) which drives all functionality on Esko Kongsberg tables. Its simple-to-use interface ensures efficient, safe and high-quality operation. It also delivers operator guidance and precise machine control thanks to its ingenious design and range of logical, user-friendly features.
#postpress #finishing #cutting #software
Folex, Stand J51 Hall 1
Digital coating specialist Folex will be presenting a range of new materials for high-speed inkjet printing. The firm said its newly developed nanoporous coating can be applied to some different substrate types, including PET, PP and vinyl.
Among the new products which will be demonstrated is the 'ReproJet' series for pigment and eco-solvent inks, which offer the necessary resolution and high density for the most demanding screen, flexo and pad applications.
#consumables #inks #coating
Fujifilm, Stand H70 Hall 1
On show at the Fujifilm stand will be the new Acuity LED 1600 II roll printer. Unveiled in the Autumn of 2015, the new Acuity builds on the best features of the popular Acuity LED 1600, delivering the highest levels of productivity and versatility.
The updated machine features a new fast printing mode of 33sqm/hr, which is more than 50% faster than the previous model. Fujifilm said this addresses customer demands for quicker job turnarounds and lower output cost.
On the consumables front, Fujifilm will showcase euromedia, a range of hundreds of media products for water-based, solvent and UV printing and laminating.
#digital #printing #LED
Gandy Digital, Stand H21 Hall 1
Canadian wide-format equipment manufacturer Gandy Digital will unveil its latest machine, the 5m-wide roll-to-roll Fascin8tor, at this year's FESPA Digital.
The device, which prints at 1,200dpi and handles substrates up to 50mm thick, uses Gandy Digital's Blade technology and combines eight Ricoh Gen4 printheads per colour. The printer uses fixed dot printing, which the manufacturer said ensures cost-effective, high print quality in all printing modes and speeds.
The company will also show a range of its other machinery including the Softjet, a direct to fabric roll-to-roll sublimation printer that uses environmentally safe water-based inks, and the Sl8te, a hybrid roll-to-roll and flatbed LED printer.
#digital #printing #presses
Hollanders, Stand G150 Hall 1
At this year's FESPA Digital show, Hollanders will unveil the ColorBooster DS, a double-sided 3.2m-wide textile printer capable to print with a precision of 0.07 mm.
According to Hollanders, high quality coloured wovens can be printed/fixed in one step as with double-sided soft signage. It said these high quality, double-sided coloured fabrics are now achievable at much lower production costs and will be therefore made available for a much wider consumer group, extending creative possibilities.
Also, the company will showcase the ColorBooster 320 digital textile machine, launched at last year's FESPA 2015. A modular device that can be fitted with different features according to a customer's requirements, the 320 prints materials from 0.5m to 3.2m in width, in four, six or eight colours. It can handle a maximum media thickness of 10mm.
New at this year's show will be the possibility to upgrade, in the field, to a stacked head configuration and a speed of 120 sqm/h.
#textile #printing #wideformat
HP, Stand H40 Hall 1
HP will be bringing a vast array of machines to FESPA Digital from its Latex, Scitex PageWide and DesignJet portfolios. However, its centerpiece will arguably be the latest incarnation of its WallArt Suite, its web-to-print platform for SMEs in the decoration space.
Developed for Latex users, it's the first HP web-to-print platform to integrate everything from design to quotes to customer orders. In terms kit at the show, HP will be running four Latex machines, 310, 360, 370 and 3500 models, its flagship PageWide machine, the XL 8000, a Scitex FB750 industrial printer and a brace of DesignJets – all running a variety of applications.
#digital #printing #wideformat
Industrial Tooling, Stand T61 Hall 7
Industrial Tooling Corporation will use FESPA Digital 2016 to introduce the company's latest products, which include knife and plotting tools and a selection of balanced routing tools for high-speed machining.
ITC has communicated customer feedback with its R&D department, and the result is the extension of balanced tools across ITC's complete single flute tooling lines. It will see ITC present the most comprehensive range of balanced tools at FESPA for improving machining performance and eliminating secondary hand finishing for the end user.
Additionally, ITC will be promoting the fact that its market leading Clearcut range of routing tools has also been extended with the maximum available diameter now being 8mm as opposed to the previous 6mm diameter.
#postpress #finishing #cutting
Inktec, Stand J71 Hall 1
InkTec will be exhibiting its brand new Jetrix LX5 which is equipped with 6-picolitre Konica Minolta printheads and is available with a four, six or seven channel colour configuration.
Using InkTec's specially formulated UV inks, the Jetrix LX5 features production speeds of 39sqm/hr, while still achieving 11sqm/hr fin the best quality setting.
Furthermore, the company has developed a new version of the Jetrix General User Interface (GUI) to meet customers' increased expectations. This innovative software is designed to achieve a higher quality print with faster speeds than the previous version.
#digital #printing #presses #software
J-Teck3, Stand G50 Hall 1
At FESPA Digital, J-Teck3 will showcase the updated J-Cube range, a new series of digital inks for sublimation and direct-to-fabric printing on polyester. The series, featuring J-Teck's Cluster Technology, has been developed for digital printers equipped with Ricoh, Konica Minolta, Panasonic and Kyocera printheads.
Other digital water-based inks from J-Teck's range will be on display, including the J-Next Subly, suitable for Epson DX6 and DX7 printheads and the J-Next Print, which incorporates disperse dye for printing directly onto polyester for high fashion and display graphics.
#consumables #inks
Kiian Digital, Stand K20 Hall 5
Inkjet ink manufacturer Kiian Digital will be unveiling a new sublimation ink range formulated to meet the demand for striking, high-quality graphics across different textile applications. Comprising of 12 specially engineered inks, the range offers 81 colours, the most comprehensive gamut of high-quality colors for sublimation printers.
The company will also be showcasing the Digistar range of water-based inks, compatible with Ricoh, Kyocera and Epson printheads, and formulated for the soft signage and textile printing industry.
#consumables #inks
Kornit, Stand M20 Hall 5
Kornit Digital will be showing the Storm II industrial direct-to-garment printer at FESPA Digital 2016, as well as the 300-garment per hour Avalanche 1000, which will be running what Kornit describes as a "giant print solution" featuring a 1.4x1m printing pallet. There are also rumours that it might also be planning a launch at this year's FESPA, but Kornit is staying tight-lipped for the moment.
#textile #printing #presses
Mimaki, Stand E15 Hall 1
On the Mimaki stand, the newest member of the manufacturer's product portfolio, the TS300P-1800 wide-format printer, will be exhibited running at full speed. The new dye sublimation inkjet machine, which was unveiled last year, is designed for apparel and textile application.
Visitors will also see real-world examples of the innovative applications Mimaki systems can create in both sign & display graphics, as well as digital textile printing and garment decoration. The manufacturer says it will have other product launches, but will not release details ahead of the show.
#digital #printing #textile
Mutoh, Stand F130 Hall 1
Mutoh will be exhibiting the two new additions to its ValueJet X series. The new single-head 1.37m-wide ValueJet 1324X and the dual-head 2.6m-wide ValueJet 2638X models have replaced the VJ-1324 and VJ-2648 printers.
The machines, which are engineered and manufactured in Japan, join the 1.62m-wide ValueJet 1624X single-head and ValueJet 1638X dual-head models in the ValueJet X series.The two new printers incorporate micro piezo head technology. The 2638X incorporates two printheads mounted in a staggered configuration while the 1324X includes a single printhead.
The printhead can produce ink droplets from 3.5-35.2pl. Each variable drop printhead has eight channels with 180 nozzles per channel. The ValueJet X series printers are suitable for long-term outdoor and indoor sign and display applications such as posters, banners, backlit signage, wall coverings, POS displays, fine art reproductions, vehicle graphics and stickers.
Both printers can be used with Mutoh Eco Ultra or Universal Mild Solvent (UMS) inks to deliver sellable production speeds at 720x720dpi up to 16.4m2/hr on the 1324X and 39m2/hr on the 2638X, on both vinyl and banner.
#digital #printing #presses
Neschen, Stand E200 Hall 1
Wide-format media company Neschen is to boost its display graphic product offering with the launch of several self-produced wallpaper products at FESPA Digital.
Unlike the conventional vinyl wallpapers, the PVC-free wallpapers are breathable and compared to other PVC-free fleece wallpapers allow various textures up to a total width of 160 cm. The dimensional stable and crack-bridging processing ensures accurate fit at the joints. Wallpapers from the "Green Wall" product range are extremely durable in both wet and dry conditions and are suitable for wallpaper pasting technique.
#consumables #vinyls
Onyx, Stand J20 Hall 1
Onyx will be introducing new Onyx Thrive features and enhancements at FESPA Digital, focused on simplifying print production, optimising colour output quality and expanding software connectivity within the print production environment.
These new developments include Thrive Production Manager, Onyx Connect JDF and Onyx Textile Edition, which are designed to help achieve the client's desired results quickly and easily. A single, simple process streamlines job preparation and enables printers to run their entire shop using one RIP and print workflow product, says Onyx.
#postpress #software
Polyprint, Stand K112 Hall 5
Greek textiles printing specialist Polyprint will be exhibiting a brand new addition to its TexJet range of direct-to-garment printers, the TexJet shorTee. The company described the new printer as its most affordable and most compact device to date and it is targeted at the entry-level end of the t-shirt printing market.
The company won't reveal much in advance of the show but the new machine is likely to employ the technology used in the other machines in the range, the TexJet Plus Advanced and the TexJet Plus Long.
#digital #textile #printing
Ricoh, Stand S132 Hall 7
To address the demands of its fast-growing sign and display graphics customer base, Ricoh is launching its aqueous resin (AR) latex ink for the Ricoh Pro L4100 series of large format printers at FESPA Digital.
The new eco-friendly durable latex ink will be demonstrated on the Ricoh Pro L4160 to show how it enhances productivity and image quality. The AR ink's ability to deliver sharper, richer, colour on a wider range of substrates with faster drying times and reduced energy consumption compared to the original latex ink will be highlighted.
Print service providers will also learn how they can dramatically expand their indoor and outdoor sign and display graphics offerings.
#digital #printing #wideformat
Roland DG, Stand E120 Hall 1
Roland DG's flagship product the Versa UV LEF-300 will be on show on March 8. This printer is a larger and faster equivalent to the existing Versa UV LEF-12 and LEF-20 printers, which enable printers to customise a range of ordinary items to turn them into profitable gifts.
The vendor will demonstrate how the machine prints text and images on a variety of substrates including acrylic, wood, board, plastic, metal and glass plus fabrics and soft materials such as leather and 'eco-leather'.
The Roland booth will be divided into five exciting technology zones which will showcase devices and software from across the Roland product portfolio; including personalisation, integrated print & cut, print, textile and UV.
#digital #printing
Sun Chemical, Stand C110 Hall 3
At FESPA Digital 2016, Sun Chemical will showcase its capabilities across digital processes through its Streamline and SunJet brands. Stand highlights will include the global launch of SunTex, the company's new range of inkjet inks designed especially for textile and soft signage applications.
Central to the SunJet offering will be the presentation of Aquacure, its next generation functional aqueous inkjet ink. This ink chemistry delivers performance and production benefits and provides an all-new development platform upon which new inks can be introduced to meet the future needs of the expanding wide format graphics sector.
#consumables #inks #substrates
Screen, Stand K40 Hall 5
Screen Europe will show the latest iteration of its Truepress Jet 3200UV flatbed printer publicly for the first time at this year's FESPA. The 85sqm/hr Truepress Jet 3200UV was launched in 2013 and the 150sqm/hr HS model was released the following year. A further upgrade last year added an optional 3.2m-wide roll-to-roll system.
The new HS2 model, which replaces the HS, further enhances the machine with an additional range of speed and quality boosting features that the firm said will open up the press to a wider market and boost the capabilities of existing users.
New features include Billboard Print mode, which uses five-pass, bidirectional printing and boosts the machine's top speed to 184sqm/hr.The manufacturer will demonstrate the machine in both roll-to-roll and flatbed modes on a range of flexible and rigid substrates at FESPA Digital.
#digital #printing
SwissQprint, Stand J140 Hall 1
The SwissQprint UV inkjet systems portfolio comprises Oryx, Impala and Nyala. All models are flatbed printers with add-on features as required. Examples include the roll-to-roll option for printing on flexible materials and the board option that offers a simple method of printing on oversized formats.
In addition to the CMYK standard, the machines can be equipped with light colours, white, varnish, primer and spot colours thanks to a maximum of nine colour channels. The 9-picolitre droplet size produces a visual print resolution up to 2,160dpi. The firm will showcase new developments including a new model with a larger printbed and faster output, and new special effects print capabilities.
#digital #printing
Zünd, Stand G90 Hall 1
The primary focus of Zünd's stand at FESPA will be on increasing efficiency and automation throughout the production workflow. Stand highlights will include the new collaborative robot being shown as part of an S3 M-800 fully automated cutting configuration.
The integrated robotic off-load system automatically picks up cut parts from the machine and stacks them at predefined locations. The robot is designed to operate autonomously in production environments in which the human operator and robotic device are working together to accomplish a task.
Other highlights on the Zünd stand will be the Automatic Bit Changer (ARC) system, which comes with a freely configurable magazine that holds up to 8 router bits. During processing, the ARC automatically selects the correct bit for the material and task at hand, reducing setup times and enhancing process reliability.
#postpress #finishing #cutting
To find out more about the different companies exhibiting at the show and to view the full seminar programme for this year's event, visit www.fespadigital.com. For FREE entry don't forget to use code: ADOZ0116.
Your ticket will include access to FESPA Digital, European Sign Expo, FESPA Textile and Printeriors 2016. Online registration will close on the 7th of March and tickets on the door will be charged at €40.
Interested in joining our community?
Enquire today about joining your local FESPA Association or FESPA Direct