Industry
Ultima Displays chooses Durst to help create 'Centres of Excellence' across Europe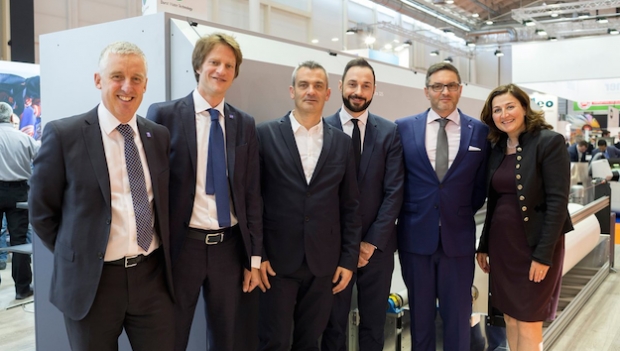 It was announced at FESPA 2017 that a Durst Rhotex 325 system was installed at Nantes, France, in the week prior to the show.
Ultima Displays is a one-stop solutions and hardware provider serving more than 6,000 dealers across 28 countries in Europe. It employs 285 people across the continent and has a £37 million (€44 million) turnover.
The first agreement in the partnership – announced during FESPA 2017 where both companies were exhibiting –involved a Durst Rhotex 325 system being installed at Nantes, France, in the week prior to the show. A roll-out involving at least three other systems will follow at sites in Corby, Northamptonshire, and in Gdansk, Poland, and Padova, Italy, from next year.
The Durst Rhotex 325 scheduled for the UK headquarters will be a focal point for the Centres of Excellences being created.
France-based Philippe Bouffant, CEO of Ultima Displays, said: "We've discussed opportunities with other players in the market, but nobody can match Durst for quality, service and its partnership approach. It's a company that's not just about trying to fit technology to production requirements, it's about fully understanding our business and requirements and demonstrating how they can help."
"Durst's approach has been not just about the technology, but they have really taken the time to understand our people and the service we want. There is a level of trust that's higher than we have ever had before – and it's reciprocal both ways."
He added: "The investment in these systems will help our 6,000 dealers across Europe get a competitive edge and improve profits. One of the key benefits is that they will be able to offer fantastic quality with industrial, low-cost production with super-fast turnaround times, with some jobs now being able to be printed and dispatched on the same day for next-day delivery."

Founded in 1970, Ultima Displays provides all kinds of other products and services including roller and tension banners, POS signage, backwalls, modular solutions, cases, lighting and counters. Its printing capabilities covers all kind of die-sublimation and UV work for dealers. It is part of the P3 Group, which has a $130million turnover for its global one-stop-shop operations.
Interested in joining our community?
Enquire today about joining your local FESPA Association or FESPA Direct