Industry
Typecraft buys Kongsberg X24 Sign Starter bundle from CMYUK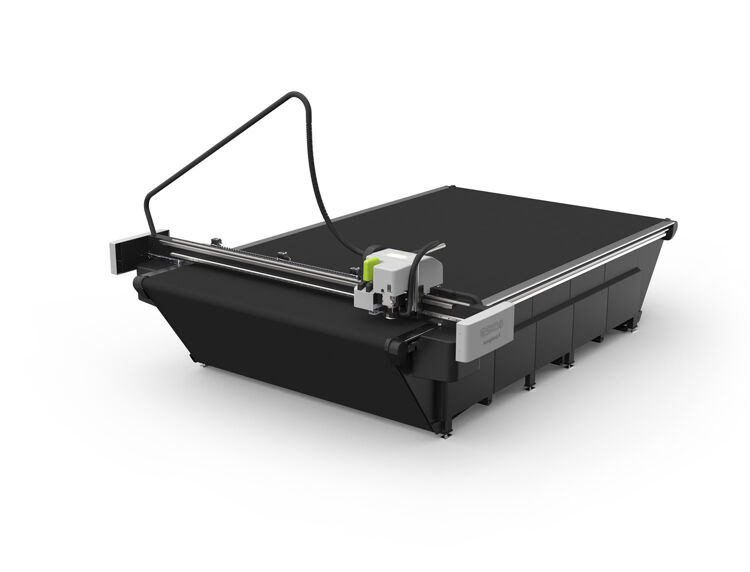 CMYUK has announced that Typecraft, the Cheltenham-based small and wide-format digital printing company will take delivery of an Esko Kongsberg X24 Sign Starter bundle comprising table top cutter with integrated i-cut software and a MultiCUT-HP tool head.
The Kongsberg X24 Sign Starter bundle is optimised for handling the wide range of materials and applications typical for the sign and display business. It will be installed at the Cheltenham-based print company's newly extended premises and replaces an existing Colex Sharpcut flatbed cutter. It will work in concert with Typecraft's stable of wide-format printers from Agfa, HP and Mimaki.
Choices, choices
An imperative to remove production bottlenecks, and the requirement for a machine with far greater versatility such as the ability to polish the edges of acrylic substrates in-house, and a broader tool set drove the need for Typecraft's latest investment.

Typecraft had three well-known vendors in its sights but finally opted for the Kongsberg X24 Sign Starter Bundle after seeing the machine in action at the Sign and Digital show in Birmingham earlier this year, and later at CMYUK's industry-leading training and demonstration facility in Shrewsbury.

"The Kongsberg was by far the best value for money. It does everything that we need it to do," said Matt Magovern, Typecraft's Operations Manager.

"It's so much quicker than the machine we've got at the moment. Changing tools is faster and easier, and there's lots more tools and options available," he added.
Yet the investment wasn't just about the machinery. Typecraft wanted to deal with a supplier that had a proven track record of rapid response, and who took customer service and support seriously.

"CMYUK has an excellent reputation. Its Shrewsbury showroom is very impressive, and it was nice to have everything under one roof – I've never been to anything similar on the wide-format side. Everyone was friendly and helpful – there certainly is a lot of knowledge in that building," said Magovern.
Packing a punch
The Kongsberg X24 Sign Starter is upgradeable so more speed can be added at a later stage, or the range of materials for cutting, demand tooling expansion.

The X24 bundle comes with integrated camera to provide vision cutting, while advanced tools enable high quality, high speed milling and cutting of a wide variety of materials. It features a steel construction table top, along with automatic sheet feeding that permits quick and accurate loading of both flexible and rigid sheets. Automated roll feeding is also available which can be integrated with sheet feeding to meet production volume needs with diverse material requirements.

The MultiCUT-HP (High Power) tool head is equipped with a super-strong, air-cooled milling spindle delivering several times higher productivity than less powerful alternatives. The combination of high power and efficient cooling makes this a great choice for PSPs that need extended milling duty cycles and/or who work extensively with heavy-duty materials (thick sheets of acrylic, wood/MDF and aluminum composite material).
Business benefits
Magovern is confident that this cutter will eliminate any workflow issues, and it will allow the company to cease any subcontracting for the cutting of certain materials.

"It gives us control back over cost and speed. Our major focus is to start to create more POS material. We have many customers in that area and we will be able to offer more services to them thanks to the additional capabilities," he said.

The X24 will be installed in October, and the three existing cutter operators will receive three full days training on-site with continued CMYUK telephone support as a given.

Nick Reed, Esko Business Manager at CMYUK said: "The Kongsberg X24 starter bundle was jointly configured by CMYUK and ESKO to appeal to the mid-range market place. The pricing was purposely sub £90K (RRP £89,995.00) to gain access to a different tier of customer who had already invested in direct-to-substrate digital print but was still finishing by hand internally or subbing out work to be finished externally.
"It appeals to a client who desires a no-compromise, quality product at an affordable price, but importantly a machine that offers upgradability in the future as the business grows. The Kongsberg X24 has proved to be a high-demand offering that lives up to its rhetoric."

Interested in joining our community?
Enquire today about joining your local FESPA Association or FESPA Direct