Industry
TwentySix01 buys Summa cutter to expand market reach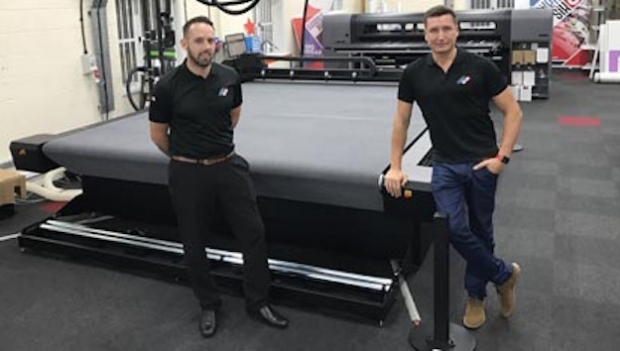 Commercial and POS printer TwentySix01 has become the first UK company to install a 2.6m-wide Summa F2630 flatbed cutter after its global launch at FESPA last year. 
Big brother' to the renowned F1612 cutter, the F2630 enables sign-makers and print providers to process even larger media. It also creates the possibility to process two media rolls at once on the roll support system.
Managing directors Paul Johnson and Steve Williamson, explain why they invested in the new machine just 15 months after their company launched at FESPA Digital in Amsterdam.
"The introduction of the cutter in conjunction with our recent investment in the latest HP Scitex FB750 flatbed printer will provide vastly increased and more automated production capacity," said Johnson.
"Complementing our existing HP and Summa equipment we will be able to offer an increased range of services to our clients. Keeping production in-house also enables us to remain more in control ensuring we continue to meet the highest standards".
With a working area of 2650mm x 3050mm, the machine also has a wide set of tools and modules, plus those already featured on the F1612.
This means high details in thin films can be cut with the kiss cutting tools. Cut-out tools are suitable for all kinds of plastics and thin cardboards.
Oscillating tools (together with creasing wheels and v-cut knifes) will handle cardboard and foamboards. On top of that a1kW router is available for hard board material up to 25mm thickness, such PVC, acrylic, wood or aluminium boards.
The F2630 has been developed in response to market demands for a larger version of the popular F1612 cutter, whilst keeping the flexibility and diversity of the unit.
The working surface of more than eight square meters is split up into 12 vacuum zones, each of which can be automatically switched on or off individually. This way small as well as big boards, sheets or rolls can be processed.
By using the front and rear zones alternating, tandem mode leads to significant increases in productivity. With the tandem mode the active working area on the flatbed can be divided into front and back processing areas.
This enables the user to load and unload material on one end of the table whilst cutting material on the other end of the table. This will avoid idle periods during the processing of material, adding significant value to the overall workflow, says the company.
"We chose the F2630 because of its large cutting bed, flexibility and ease of use. Thanks to our previous experience with Summa equipment, we knew the level of quality we could expect and we weren't disappointed," commented Williamson.
"With a working area of 2.65m x 3.05m, the F2630 cutter will enable us to process larger media, and its wider working area means we can process two media rolls at once by placing them next to each other on the roll support system."
"Efficient production, high quality and fast turnaround are very much part of the TwentySix01 ethos. We pride ourselves on being the graphic production company to turn to if you require the complete print to display package, and while our team loves working with local clientele, they also thrive on national and international challenges."
"But that couldn't happen without intelligent investment in top notch, experienced staff, and the latest technology such as the Summa F2630," Williamson concluded.
Installed two months ago at its Bristol site, the cutter was supplied by West Sussex-based wide-format reseller Papergraphics and joins an existing Summa cutter in TwentySix01's finishing department.
TwentySix01 mainly produces large-format and POS work for a variety of clients, also running an HP Latex 360, which was installed when the company was set up.
Interested in joining our community?
Enquire today about joining your local FESPA Association or FESPA Direct