Industry
Trotec to present SP2000 large-format laser cutter at FESPA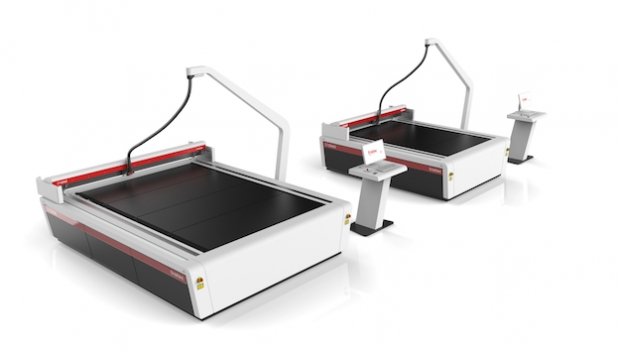 International laser manufacturer Trotec has announced that it will introduce its SP2000 large-format laser cutter to a specialist audience at FESPA 2017 in May.
With a total working area of 1,680 mm x 2,510 mm, the CO2 laser machine is a unique tool for signage and display fittings and can handle a diverse range of materials such as acrylic, wood and textiles.
The SP2000 is the latest addition to the Trotec SP series of laser machines, which also includes the larger SP3000 that has a working area of 2,200mm x 3,200mm. The firm is also launching new features for our large format lasers SP3000 and SP2000.
Alexander Jauker, head of product management at Trotec, said: "Our large-format laser cutters are easy to access from all four sides. The open design allows unloading and loading from all four sides even during processing."
Trotec will also present the popular flexx laser machines for maximum flexibility at FESPA 2017. The flatbed lasers are Equipped with a CO2 and a fibre laser, and can activate the two laser sources without manual change of the laser source, lens or focus.
Furthermore, Trotec shows its expansive range of materials, including the new TroGlass acrylic sheets in various colours and surface finishes.
Jauker added: "Unusual shapes for displays, signs or paper products make an end product more interesting and of higher quality. Print service providers and sign and display companies, who offer the contour cutting of printed materials as a service, are able to expand their business.
"The creative finishing gives a competitive advantage and leads to higher margins and additional sales. A printed acrylic sheet or a sheet of paper only becomes a polished and saleable product with proper finishing.
"Conventional cutting systems and milling machines have been established for a long time in the manufacturing technology. In recent years, more and more laser devices are used for finishing."
Jauker concluded: "With the laser, being the universal 'tool', highly filigree designs can be realised and printed materials can be cut precisely. Signage and display manufacturers using laser cutters stand out from the masses with creative display ideas or new branding approaches."
Register today to visit Trotec at FESPA 2017
Industry members that are keen to learn more about the latest printing solutions from Trotec can visit the manufacturer on the stand C65 in the Hall A1 at FESPA 2017.
Taking place from May 8-12 at the Hamburg Messe, in Hamburg, Germany, the exhibition will play host to many major brands from across the global market.
For more information on the event, the companies that will exhibit and to sign up to attend as a visitor, please visit: www.fespa2017.com
Delegates can save 70€ entry fee to the exhibition by registering via the website and quoting reference code: FESG702. Discover how a visit to FESPA 2017 can benefit your business and register today.
Interested in joining our community?
Enquire today about joining your local FESPA Association or FESPA Direct