Industry
Thermotron to modernise industry at FESPA 2017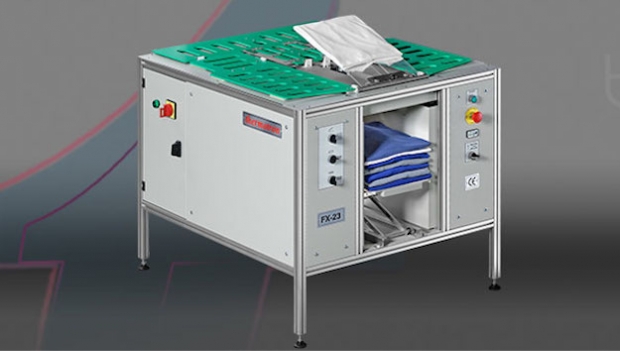 Textile technology specialist Thermotron will showcase a selection of machines at FESPA 2017 as it seeks to help visitors modernise their production process.
Based in Thessaloniki, Greece, the firm has a presence in 32 countries around the world and is active in the manufacturing of textile machines; more specifically in the manufacturing of automatic packing technology and heat presses for ready-made clothes.
The company's machines aim at making an actual contribution to the increase of the production capacity of its clients, while maintaining the high quality of their textile products.
George Paschalidis, sales manager at Thermotron, said that the company will demonstrate this at FESPA 2017 by displaying a various machines. Thermotron will be showing upgraded machines related to ready-made garment packaging.
Kit on show include the STP1000 automatic folding machine for garments, with a maximum daily capacity of 5,500 garments per eights hours; as well as the PV40 automatic bagging machine for ready-made clothing.
Also on display will be the FX23 automatic folding, stacking and packaging machine for clothing, with a maximum daily output of 3,000 garments per eight hours.
"We aim to establish partnerships with companies aiming to modernise their product packaging process in the ready-to-wear clothing sector and to standardise and maximise production at a lower cost," Paschalidis said.
"One of the reasons we included FESPA 2017 on our annual programme is because we are aware of its high traffic from companies and potential customers from around the world.
"This gives us the opportunity to present our machines to a geographically broad audience with the aim of creating new partnerships to expand our company's sales into new markets.
"We recommend that our customers, and people in our line of business in general, attend the exhibition because it is a very well organised trade show with high traffic and clear objectives, presenting the latest technology in the area of textile printing."
Register today to visit Thermotron at FESPA 2017
Industry members that are keen to learn more about the latest printing solutions from Thermotron can visit the manufacturer on the stand A41 in the Hall A1 at FESPA 2017.
Taking place from May 8-12 at the Hamburg Messe, in Hamburg, Germany, the exhibition will play host to many major brands from across the global market.
For more information on the event, the companies that will exhibit and to sign up to attend as a visitor, please visit: www.fespa2017.com.
Delegates can save 70€ entry fee to the exhibition by registering via the website and quoting reference code: FESG702. Discover how a visit to FESPA 2017 can benefit your business and register today.
Interested in joining our community?
Enquire today about joining your local FESPA Association or FESPA Direct