Industry
The Colour House lives up to its name with colour-matched Nazdar 204 inks from QPS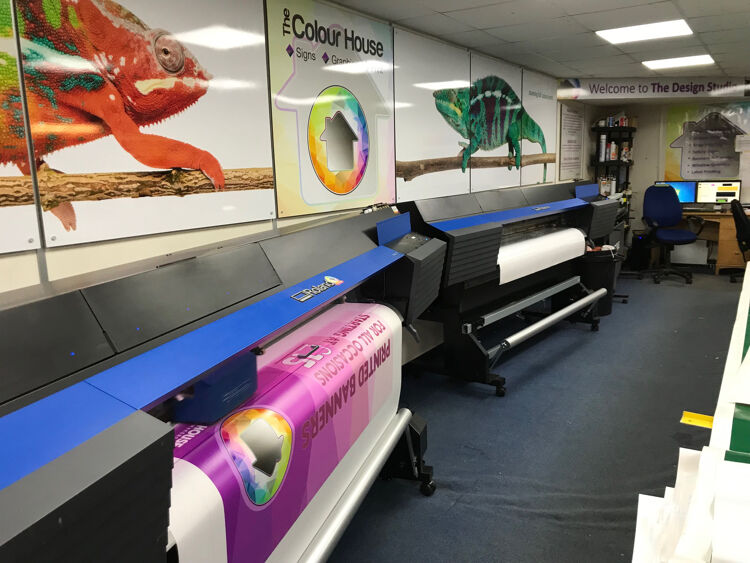 The Colour House has become one of the first UK businesses to use the new Nazdar 204 Series digital imaging inks, supplied by wide-format print specialist Quality Print Services (QPS).
Launched in May 2019, the 204 Series from Nazdar Ink Technologies has been designed as a low-odour, plug-and-play alternative ink for Roland TrueVIS SG and VG Series printer/cutters. Users can replace the OEM TrueVIS ink as it runs out with 204 Series cartridges to print reliably vibrant, colour-matched output in CMYK, Light Cyan, Light Magenta and Light Black. It is also simple to replace one colour at a time without the need for flushing or custom profiles in most situations, minimising downtime.
The Colour House is a specialist supplier of estate agent boards that is based in Merthyr Tydfil, Wales. The company has been using 204 Series inks on its new Roland TrueVIS VG-640 since it was installed by QPS in July 2019. As a leading supplier of both Roland printer equipment and Nazdar inks, QPS was perfectly placed to deliver the solution. The new printer follows the installation of a second TrueVIS in 2018, which has also been converted to Nazdar inks by QPS this summer.
"We have always used Rolands and chose to replace two older, smaller Roland printers with new TrueVIS VG Series to speed up production," explains Paul Cartwright, Head of Production at The Colour House. "Chris Bailey at QPS recommended Nazdar inks for their lower price and showed us the research to prove the colour quality too."
Paul says The Colour House team has been impressed by the Nazdar 204 Series inks since they arrived. "We haven't noticed any difference in colour or quality since switching from OEM inks - and we're making cost savings on every cartridge," he comments.
Interested in joining our community?
Enquire today about joining your local FESPA Association or FESPA Direct