Industry
Textile printing: The latest trends and opportunities in 2017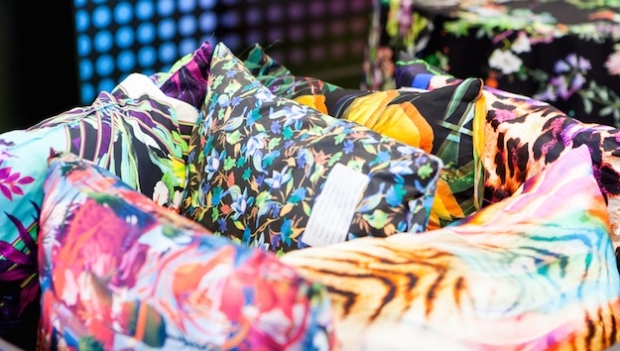 Rob Fletcher takes a closer look at the textile print market and picks out some of the technology that can help you gain an advantage. 
Print is undoubtedly one of the most varied, creative and innovative industries in the world. While the industry is split into a whole host of different markets, some of these are split into further, separate areas, thus demonstrating the amount of work that it available.
Due to the different types of work on offer, one of the most diversified markets is textile print. Ranging from t-shirts and dresses, to flags and cushion covers, those active in this sector take on all sorts of projects, and while this may be positive in that there is lots of business to be won, it can also mean print service providers (PSPs) can face heavy demand from all types of customer.
One of the most effective ways of dealing with this is by investing in new kit and in the textile print sector, there are plenty of options on offer from some of the largest manufacturers in the industry. Here, we take a look at some of the latest solutions available and examine the benefits they can offer to PSPs.
Rapid growth in a busy market
Epson is one of the most respected manufacturers in the print market and is able to offer technology solutions for various types of work, including textile print.
Heather Kendle, markets development manager for Epson Europe, says that the expansion of digital print has led to growth within the textile print market, and the company has seen a significant spike in demand for its products as a result.
"The digital textile market is very buoyant and growing," Kendle said. "The rapid growth of digital printing in the textile industry for both décor applications and fashion is very much driven by the design and business opportunities it enables."
"The trend for fast fashion and bespoke décor is well known, but it is far from established and we are really only experiencing the start of a trend that will grow significantly over the next few years."
"Sales of our SureColor SC-F2000 direct-to-garment printer have exploded across Europe – but as well as T-shirt printing being an active market, which it has been for many years, it's more because companies want a printer they can depend on to work all day, every day, that needs very little maintenance and, of course, produces superb-quality products."
Aside from the SC-F2000, Epson can also offer the SureColor SC-F9200; a 64-inch device that has been designed for high-quality production of textiles for clothing and sportswear, décor and home furnishing textiles, as well as soft signage and flags. The machine can hit speeds of 100sq m/hr in draft mode, 56sq m/hr when in production mode, and 27sq m/hr in quality mode.
Also featured in the SureColor range is the desktop Epson SureColor SC-F2000 direct-to-garment printer for the on-demand printing of a variety of garments, as well as tea towels, aprons, cushions, tote bags and other applications.
In addition, Epson has recently been working with For.Tex on the Monna Lisa, a new digital direct-to-fabric production printer available in widths of 180, 220 and 320cm.
Focusing in on areas of growth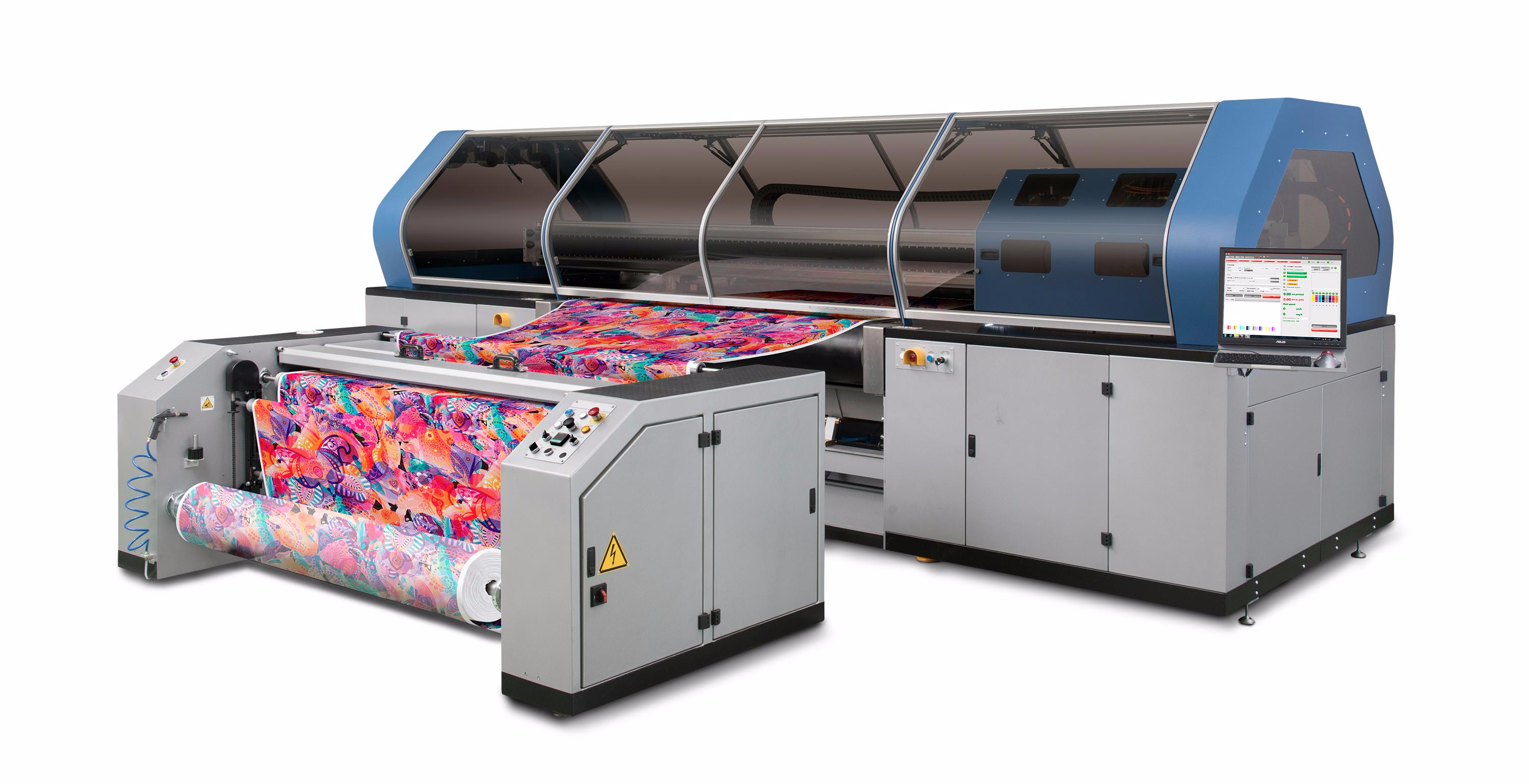 The Mimaki Tiger-1800B will be one of several digital textile print solutions showcased on the company's stand at FESPA 2017 this year
Elsewhere, Mimaki is another major manufacturer equipped with a wide range of solutions for textile printing. Yuji Ikeda, general manager of global marketing at Mimaki Engineering, said the market is growing and believes it will continue to do so at a "remarkable pace".
Ikeda added: "The biggest area of growth potential is in the digital printing of textiles, which today only accounts for about thee percent of textile printing worldwide. There are several aspects to textile printing that will drive increased demand for digital print technologies. First, there is no question that there is growing demand for shorter runs, faster deliveries, and more customised production of textile products across the board."
Focusing in on the different sectors within the wider textile print market, Ikeda picks out areas that are experiencing the most expansion: "The fastest growth would most likely come from the fashion and apparel sector. Faster time-to-market demand from the 'Fast Fashion' industry has been a key driver and will continue to contribute to the surge in the adoption of digital textile printing technology.
"Additionally, the home textiles segment seems to be quite promising, while we have noticed quite a positive growth in soft signage and flag printing in recent years."
With this in mind, Ikeda highlights some of the solutions on offer from Mimaki, such as the Tiger-1800B, which has been developed on the back of the firm's acquisition of Italian printer manufacturer La Meccanica.
Also available from Mimaki is the Tx300P-1800, which now features dual ink capability that allows users to simultaneously load textile pigment ink for cotton and hemp materials, as well as sublimation dye ink for polyester-based fabrics.
Ikeda went on to say that for industry members keen to learn more about the various machines available from Mimaki, the manufacturer plans to show off a host of solutions, including those mentioned here, at FESPA 2017 in May: "Our broad product portfolio has always been one of our strengths. For a show as important as FESPA, we will definitely bring our latest offerings."
Succeeding in a growing market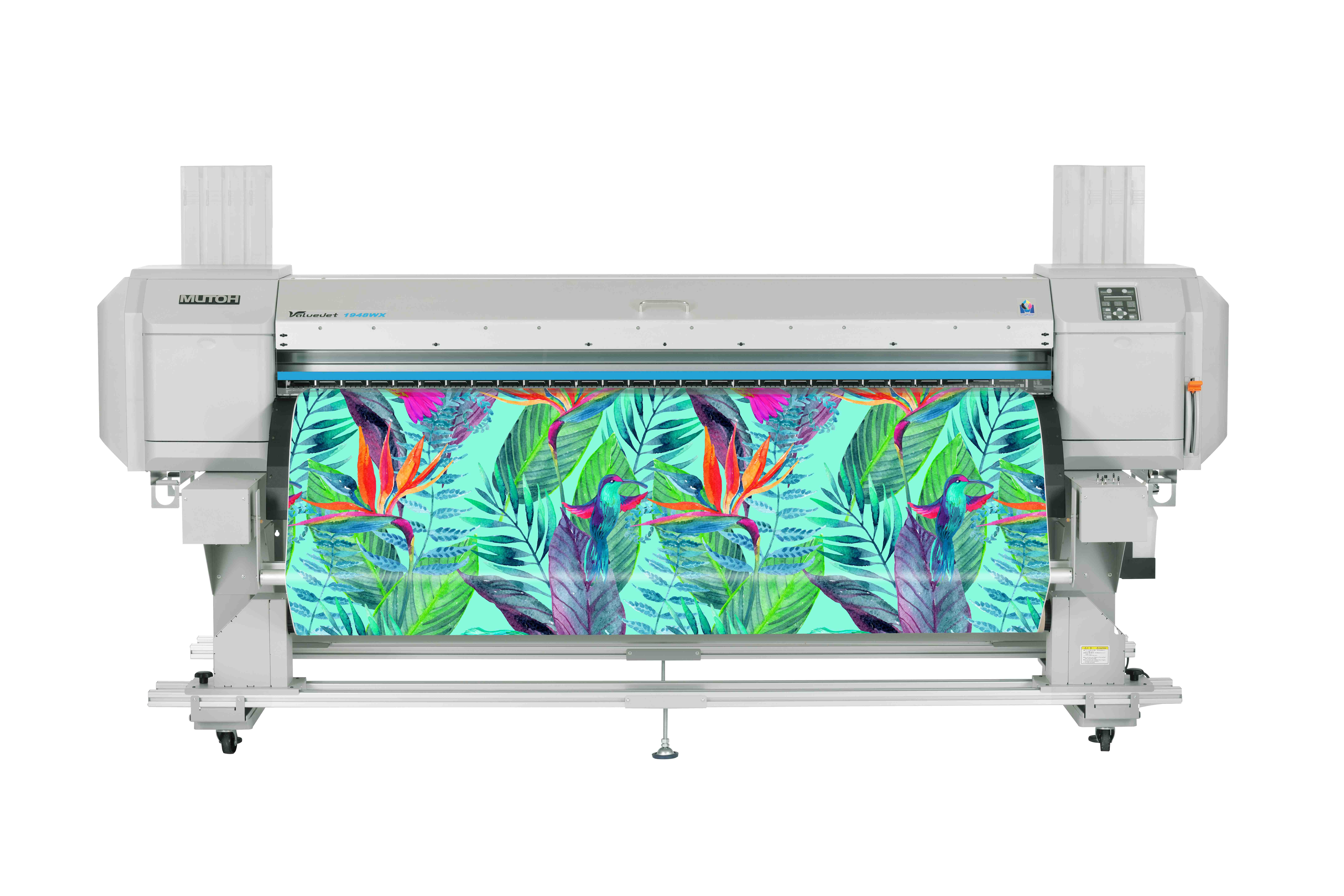 Mutoh will showcase its new ValueJet 1948WX high speed digital transfer printer at FESPA 2017
Another leading manufacturer that has noted growth in the textile print sector is Mutoh, whose commercial marketing manager, Nick Decock, identified the key areas as short run on-demand, medium production and local digital production of garments, upholstery, fashion, interior deco fabrics and home textiles. Decock added that certain technologies are suitable for different types of work.
Decock expanded: "There are two digital textile print techniques. The first one is digital transfer, which means printing an image in mirror onto transfer paper and transferring the image to polyester based textile via a calendar.
"The second technique is direct printing to textile; this can be done using direct sublimation inks for direct printing onto polyester based textiles. With water-based pigmented inks, you can print to natural fibres such as cotton, and after printing, you only need to fix the prints before using them. Digital inkjet printing on textiles is now mature technology.
"The basic speeds of wide-format digital transfer and direct textile printers has now reached an acceptable level for short run production, one offs as well as sampling. With conventional textile printing equipment, longer runs are needed. The current trend in the industry is delocalisation of production allowing local printing of short runs, often for articles that can be ordered online."
Leading on from this, Decock picked out some of the options from Mutoh, such as the ValueJet 1938TX next generation, digital piezo drop-on-demand direct-to textile printer that can print directly on a range of fabrics up to 3.5mm wide at speeds of up to 40sq m/hr.
Mutoh also offers two desktop direct-to-garment printers in the form of the VJ-404GT, which offers CMYK printing possibilities for the digital production of white or light coloured garments, and the ValueJet 405GT that both CMYK plus white printing possibilities for the digital production of dark coloured and light coloured garments.
In addition, visitors to FESPA 2017 in May will be amongst the first in the world to see the new ValueJet 1948WX high speed digital transfer printer, which will feature on its booth (Stand A15, Hall A1). The new machine can print at speeds of more than 100sq m/hr.
Getting active in the sportswear sector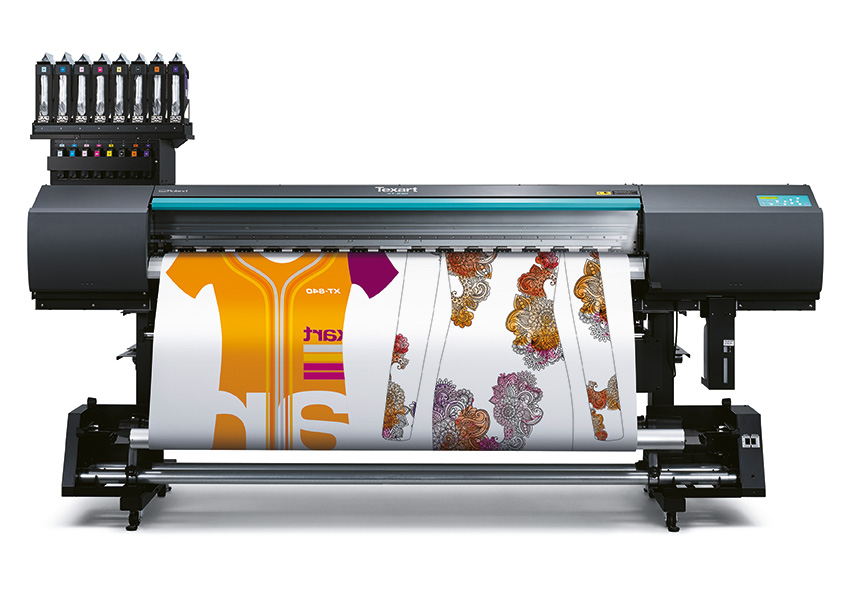 Roland DG's Texart XT-640 dye-sublimation printer is available in four- or eight-colour ink configurations.
Also active in this sector is Roland DG, and Mark Elvidge, business development manager for the manufacturer's UK arm, said the firm's Texart dye-sublimation printer and ink range of solutions can help PSPs access key work in this market.
Elvidge said: "With the trend for shortening fashion cycles and the desire for personalised and customised items, the demand for digital printers which can accommodate efficient high-mix, shorter-runs and design prototyping continues to increase. Roland's Texart range delivers exactly this.
"Looking at specific sectors, sportswear is particularly buoyant. Last year Roland launched its fluorescent Texart inks and Roland DG Fluor Color Library and these are proving hugely popular as sportswear and leisurewear manufacturers continue to embrace the craze for neon."
Elvidge went on to highlight other solutions from Roland DG, such as the updated RIP software. Included with Texart printers. ErgoSoft Roland Edition 2 has more than 40 new features and enhancements compared to the previous version, and Elvidge said has enjoyed a warm response from the market.
In terms of Roland DG hardware, visitors to FESPA 2017 will be able to see the high-production Texart XT-640 dye-sublimation printer in action on Stand E20 in Hall B7 of the show. The machine is available with a four- or eight-colour ink configuration, which the manufacturer said will allow users to take on a whole range of textile work.
While it is clear that textile print, in particular the digital side of the sector, offers a host of expansion opportunities for print companies. However, when it comes to choosing the technology to take on work, this can be a difficult process, due to the amount of options on offer.
By visiting FESPA 2017, from 8-12 May at the Hamburg Messe, you will be able to speak with all of these manufacturers and more about the solutions they have on offer and how they can help your business to blossom.
For more information on the event, the companies that will exhibit and to sign up to attend as a visitor, please visit: www.fespa2017.com
Delegates can save 70€ entry fee to the exhibition by registering via the website and quoting reference code: FESG702. Discover how a visit to FESPA 2017 can benefit your business and register today.
Interested in joining our community?
Enquire today about joining your local FESPA Association or FESPA Direct