Industry
SwissQprint to launch two new models at FESPA 2015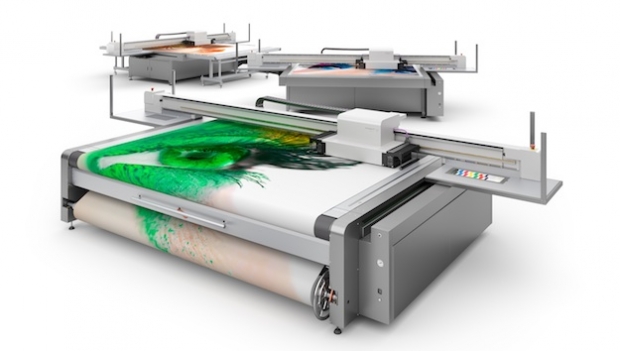 New Oryx 2 and Impala 2 large format printers from the Swiss technology provider will celebrate their world premiere at FESPA 2015.
SwissQprint will complete its line-up of second-generation machines with the official launch of the Oryx 2 and Impala 2 at FESPA 2015. The Swiss developer and manufacturer will also be showing a new workflow for 3D printing effects.
Second growth at swissQprint
The new Oryx 2 and Impala 2 UV printers are designed to enable their users to gain yet more scope in their format choices thanks to the 2.5×2 metre large flatbed featured on both printers – representing a 25% greater area than the first-generation models.
In addition, the new systems deliver considerably higher output than their predecessors.
Both devices are modular and use Konica Mikolta printheads for enhanced productivity. The Oryx 2 is the entry-level option with a print speed of 65sqm/hour, while the Impala 2 is upgradeable with additional printheads and can print at up to 180sqm/hour.
The firm said it was taking orders for the two new printers immediately. Steve Pridham, sales manager at UK distributor Spandex, said the Oryx 2 started at £135,000 and the Impala 2 at £149,000.
Both will be on show at SwissQprint's 143sqm stand in Hall 6 at FESPA 2015, which takes place from 18-22 May in Cologne, Germany.
Sister product, the larger-format Nyala 2, was launched at Fespa Digital last year. All the second-generation printers offer tandem printing where media is loaded from either side of the table for non-stop production.
Droptix – inkjet optical effects
As well as the new machines, the Swiss specialists have developed an integrated workflow for droptix, the swissQprint 3D effect. Droptix allows users to produce lenticular effects using varnish instead of expensive lensed substrates.
This workflow makes it a breeze to produce the fascinating 3D effects that blew away visitors at FESPA 2014.
Thus, swissQprint also helps practitioners to work as efficiently as possible throughout the process chain, not just at the actual printing stage.
Swiss power of innovation
SwissQprint says that with a new range plus practical tools, it intends to prove once again its capacity to innovate at FESPA 2015.
At the show the swissQprint team will speak with experts to accommodate needs and ideas for future developments. They will be at FESPA Digital at Hall 6, Stand Q27.
Register to attend FESPA 2015 today for FREE
Interested in joining our community?
Enquire today about joining your local FESPA Association or FESPA Direct