Industry
Swanline invests in robotic Kongsberg C24 cutting table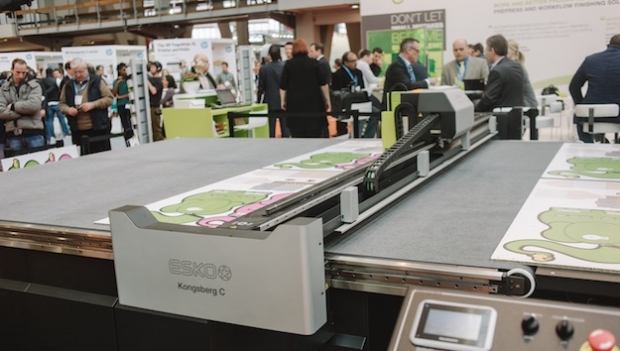 Swanline Paper and Board, the recently launched materials division of Swanline Print, has bought an Esko Kongsberg C24 cutting table featuring robotic loading and unloading.
The system will join an existing Kongsberg XP digital cutting table, enabling the company's finishing operation to keep pace with the two HP Scitex FB11000 industrial presses.
The combined solution will enhance Swanline's ability to provide a total service – from design to delivery – or to dovetail with existing production capabilities to help customers address market demands and broaden revenue opportunities.
Ross Griffin, managing director of Swanline Paper and Board, explains: "We are amazed by the versatility and precision of this new system in handling multiple files and its ability to quickly and efficiently cut any type of material."
He continues: "Swanline is always at the forefront of new technology. We provide our customers with the best available on the market, which is without a doubt the most opportune way to look to the future. Our new Kongsberg C24 cutting table will fit right in with this philosophy."
Multi-zone capability
The new Esko Kongsberg C24 is equipped with multi-zone capability, meaning zones can be independently loaded with material. Whilst the material in one zone is being processed, the robotic loading and unloading system loads and prepares the other zone for finishing. In this way, operator idle time is drastically reduced and the cutting table operates virtually non-stop.
"We are convinced that the Kongsberg C24 cutting table, with multi-zone operation and robotic loading and unloading, is the right solution to keep up with our two HP Scitex FB11000 printing systems and their upcoming upgrades," says Griffin.
"We strongly believe that the partnership between Swanline and Esko will continue to deliver optimum integration between our print and finishing production, drastically increasing throughput.
Two tables working together
Richard Towers, managing director of Swanline Print Limited, adds: "At a later stage we may also team our existing Kongsberg XP table with the new C24 table to accelerate cutting production, because the robot can be set up to serve two Kongsberg cutting tables simultaneously. This will offer us even more productivity."
Working together, the tables will be able keep up with the existing print capacity, shorten production times and handle future HP Scitex equipment upgrades.
Paul Bromley, sales account manager Sign and Display at Northern UK, says, "With a setup like this, Swanline stands to increase its throughput by up to 80%. Ensuring that the boards are meticulously placed on the table, intelligent camera technology guarantees 100% accuracy and repeatability.
With a 2.9-metre reach, the robot is able to handle substrates from multiple pallets. Infrared laser scanner technology protects the operator and reduces the need for physical safety fences. All of these capabilities bring next-generation productivity to companies like Swanline."
Explore digital print for corrugated at FESPA UK Summit
Swanline's Nick Kirby will be presenting the session 'Effective response is everything' at the Digital Print for Corrugated Packaging Summit, organised by FESPA UK Association.
The event, held on the 5th October 2016 at the Williams Conference Centre at the Oxfordshire HQ of the Williams Formula 1 racing team, brings together top industry specialists who will provide analysis, inspiration and business development advice based on their expertise in a range of relevant fields.
There will be presentations on behalf of packaging software and cutting table supplier Esko, brand agency Studio Minerva, corrugated producer Swanline Print Group and corrugated materials supplier Smurfit Kappa.
This digitally printed corrugated box has been created specially for the FESPA Digital Corrugated Summit on 5 October.
In support of the summit, Swanline Print has designed and digitally produced a presentation box for a large 1/18th scale model of a Williams race car. One of these will be given as a prize at the event for the fastest driver in the Williams F1 simulator.
The box is a clamshell design with relatively plain white exterior, printed with the FESPA UK and the Digital Corrugated Seminar logos. Inside is another matter: the box opens horizontally to push forward a tray holding the model car, with full colour images of a racetrack and grandstands on the inner surfaces. The open box forms a colourful display stand for the model.
The complex structure was designed and previewed in 3D by Swanline using Esko software, then printed on one of its pair of HP FB 10000 flatbed inkjet corrugated printers. The boxes were cut and creased on an Esko Kongsberg flatbed digital cutting table, and hand assembled to hold the model car. Finally a printed paper chequered flag sleeve was slipped over the carton to hold it shut.
Speaking to FESPA UK's Peter Kiddell, Nick Kirby said that the aim was to show delegates to the summit the complete process from design concept right the way through to short run production.
Interested in joining our community?
Enquire today about joining your local FESPA Association or FESPA Direct