Industry
Sun Chemical to launch AquaCure at FESPA Digital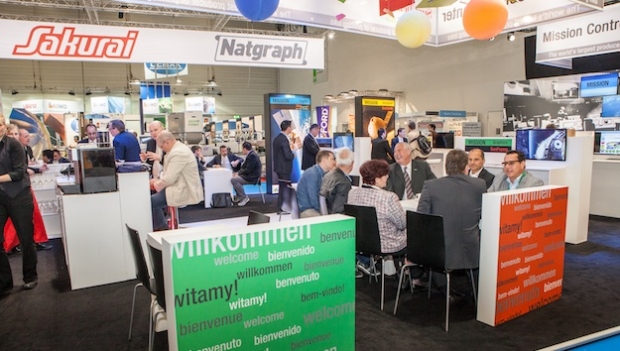 Sun Chemical is set to launch new inkjet inks developed specifically for the digital wide- and superwide-format markets at FESPA Digital 2016.
Sun Chemical's digital inkjet businesses will be presenting its portfolios of inks, solutions and ink chemistry platforms developed specifically for the digital wide and super wide format markets at FESPA Digital 2016, which will be held in Amsterdam from 8 to 11 March.
Stand highlights will include the global launch of SunTex, the company's new range of inkjet inks designed specially for textile and soft signage applications. Sun Chemical will also be showcasing its Streamline range of printer-compatible alternative solvent-based inks.
Two SunTex ink ranges will be demonstrated at the show. The first is a dye-sublimation ink for transfer print applications, which combines bright strong colours, dense black and a tough highly resistant ink film.
The second range shown will be a direct print dispersed dye ink for flag and banner applications, which the manufacturer said provides "excellent show-through" for double-sided output including flag printing, where the image is viewed from either side, and vibrant, strong colour and dense black reproduction, which is crucial for high visual impact soft signage.
Both inks should be printed onto polyester and polyester-rich textiles and materials.
Central to the SunJet offering will be the presentation of Aquacure, its next generation functional aqueous inkjet ink. This ink chemistry delivers performance and production benefits and provides an all-new development platform upon which new inks can be introduced to meet the future needs of the expanding wide format graphics sector.
Finally, Sun Chemical's Streamline range of solvent-based alternative inkjet inks, designed for wide and superwide-format printers including Epson, Vutek, Roland, Mutoh and Mimaki, will also be on show at FESPA Digital in Amsterdam.
This will include the Streamline ESL2 low odour eco-solvent ink, which combines high print quality output with ultra-low odor properties, developed for Roland Pro 4 printers using Roland Ecosol Max 2 inks. These inks are particularly suited to enclosed print shop environments where low odor is essential.
Demonstrating its ongoing commitment to the super wide format solvent print market, Sun Chemical will feature Streamline TBJ, designed for the HP TurboJet. Streamline TBJ offers significantly reduced energy consumption through improved drying performance, improved overall ink consumption and reduced overspray.
The stand will also feature the Streamline SGX eco solvent, low odor inks series, developed to work with the high performance thin film piezo printheads for the Epson SureColor 70600 printer.
SunJet will highlight the capabilities of its joint development projects with OEM partners, system integrators and printhead manufacturers in a broad range of market sectors, including graphics, décor, textile, industrial and packaging.
Visitors will be able to learn more about the benefits of Aquacure, SunJet's all-new approach to ink development based on aqueous chemistry combining the best of water-based and UV curing technology.
Come and see the latest technologies and products in action and pick up some samples during FESPA Digital 2016, from 8-11 March at Rai Amsterdam.
To register for FREE to visit the show please use the promo code ADOZ0109. Your ticket will include access to FESPA Digital, European Sign Expo, FESPA Textile and Printeriors 2016. Online registration will close on the 7th of March and tickets on the door will be charged at €40.
Interested in joining our community?
Enquire today about joining your local FESPA Association or FESPA Direct