Industry
Sun Chemical presents textile inkjet inks at FESPA 2017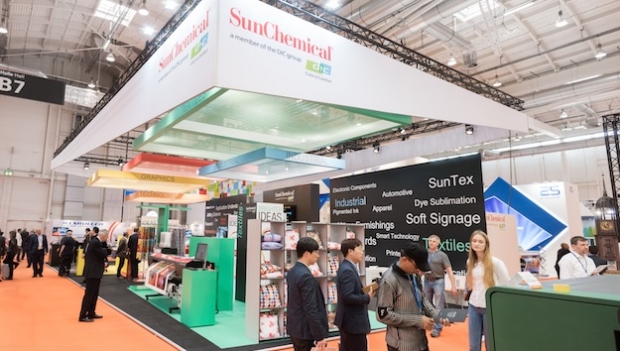 Under the umbrella theme of Brighter Ideas, Sun Chemical showcased its comprehensive portfolio of inks and innovative ink chemistry platforms at FESPA 2017.
Highlighting the depth and breadth of its solutions, Sun Chemical was demonstrating its capabilities and expertise within four zones on the stand: Digital Textiles, Graphics, Industrial and Partnerships & Technology.
In the Digital Textiles zone, Sun Chemical presented its range of four SunTex textile inkjet inks optimised for Epson print-heads. Delivering improved ink consumption when compared to leading competitors, SunTex inks are specifically formulated to enable high-speed and long print runs, the company reports.
SunTex Sonata range
Included in the product range is SunTex Sonata DTE, a transfer dye sublimation ink series for printing polyester sport garments. This ink has been awarded the Oeko-Tex EcoPass, enabling printers to achieve the Oeko-Tex 100 printed garment certification.
Also, part of the range is SunTex Sonata DDE, a dye sublimation ink developed to meet the key requirements of direct print to polyester fabrics, delivering excellent show-through properties for double-sided output such as flags and banners. SunTex Sonata DDE is also said to offer excellent wash and bleed fastness, a critical feature for outdoor printed fabric applications.
SunTex Encore PDE
Sun Chemical was also presenting its innovative SunTex Encore PDE pigment ink. Encore PDE is the result of many years of R&D and is formulated to deliver improved colour vibrancy, while maintaining excellent wash and wet-rub resistance, according to the manufacturer.
Encore PDE can be printed directly onto both natural and synthetic textile fabrics, such as cotton, viscose, silk and polycotton, which are widely used for interior decoration and home furnishing.
SunTex Concerto RDE
Completing the range is SunTex Concerto RDE, a reactive dye ink series that is said to deliver excellent colour vibrancy when printing directly to fabrics, such as silk and cotton, while maintaining the soft feel, a key requirement for clothing garments.
In addition, Sun Chemical presented an Eco Pro pouch feed system for its upgraded Streamline ESL 3 ink.
With the Eco Pro system a sealed ink pouches fit into a cradle above the printer which is plumbed to lower cartridges, which slot in as normal.
The closed system removes the risk of air bubbles from entering the system. Sun Chemical offers the 800ml ink pouches for the Streamline Ultima HPQ LO (CMYK) and the new Streamline ESL3 (CMYK, LC, LM, LK) ink ranges.
At FESPA 2017, the company was showcasing a pouch system for its upgraded Streamline ESL 3 solvent-based inkjet inks, designed for wide-format printers - colour-matched with the Roland Eco Sol Max 3 ink series.
Miss any of the action from FESPA 2017? Catch up here with full show coverage.
Interested in joining our community?
Enquire today about joining your local FESPA Association or FESPA Direct