Industry
SPGPrints forecasts digital textile print revolution in fashion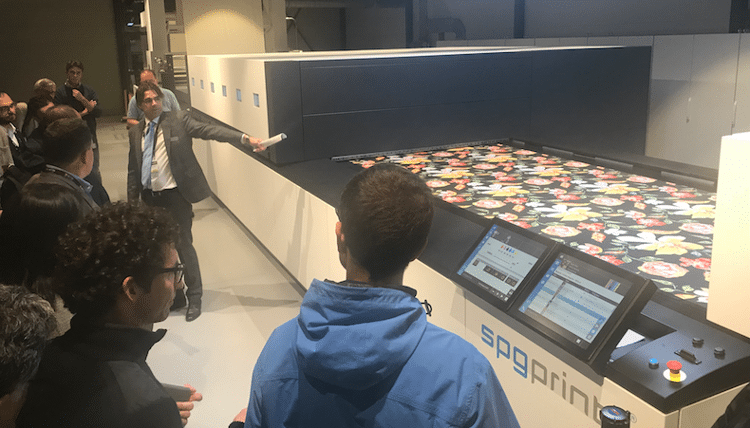 SPGPrints cites digital textile print as one of its specialist markets and is able to provide a range of solutions for companies active in this sector.
Jos Notermans, commercial manager at SPGPrints, believes digital textile print technology has now reached a point where it has the potential to "revolutionise the way the fashion market function".
Speaking to FESPA, Notermans said SPGPrints, which specialises in textile, label and industrial printing, has noted a number of developments in the digital textile print sector that place this technology in a position to change the flow in a number of markets.
Notermans has cited fashion as one of the key sectors where digital textile print can have a major impact, explaining that as production moves closer to a certain sector, it allows those in the market to become much more knowledgeable of the technology and realise its potential use.
"The potential for digital textile printing to revolutionise the way the fashion market functions is enormous," Notermans said. "This can be by moving production closer to markets, and it can mean that a designer goes to a digital textile printer and tries out variations of designs while he waits. The influence that that closer understanding of the process could have profound effects.
"As a global supplier, we are working towards the tipping point, where digital textile production becomes mainstream. We acknowledge that the place of screen printing for very long runs, especially of non-fashion, and possibly, lower-value, textiles, will continue.
"The next major development will be the adoption of digital textile printing by large producers who are more traditional; the ones who are not technology pioneers. At the same time – and we are seeing it now – mid-sized pioneers are investing in digital printing. It gives them the capacity, reliability, and cost foundation to go after business that usually only goes to the very large printers."
Notermans went on to say that while technological developments in the digital textile print are plentiful and impressive, there remains an "enormous education job" to be done if we are to use this type of print to its full potential.
"Digital textile printing is being driven by a combination of factors: first is the availability of the technology," Notermans said. "Piezoelectric print heads able to accurately print variable drop sizes are giving unparalleled control over the process to textile printers.
"Designers can capitalise on these capabilities and create geometric or micro-floral patterns, with a broader range of richer colours that would otherwise be very difficult – and expensive – to print consistently.
"Online retail is feeding the demand for fast-fashion, while social media sites push new fashions in a 24/7 global market. Yet, digital textile printers can meet that demand cost-effectively.
"For all that there remains an enormous education job to be done, and at present, digital production only accounts for around three per cent of the worldwide textile printing market.
"Even so, the latest market reports show significant growth, of around 23 per cent annually, representing an increase of nearly 300 million square metres."
It is clear to see not only the level of activity in the digital textile print market, but also the amount of enthusiasm for this growth. With the backing of some of the biggest names in print, we are only likely to see this sector of the industry continue to expand as more companies join the revolution and go digital.
To learn more about the opportunities in digital textile print and to see some of the latest technology in action, visit FESPA Eurasia 2017 next month. Taking place from December 7-10 at the CNR Expo in Istanbul, Turkey, the event will play host to the biggest and best in the print industry, showcasing innovation and developments from all around the world.
For more information on FESPA Eurasia 2017 and to pre-register to attend, visit the official website www.fespaeurasia.com and don't forget to use code EURM709 for free entry.
Interested in joining our community?
Enquire today about joining your local FESPA Association or FESPA Direct