Industry
Six new EFI Vutek printers unveiled at FESPA Digital 2016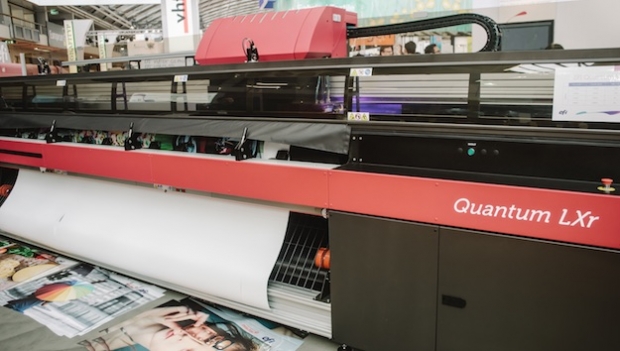 Electronics For Imaging (EFI) featured six new EFI VUTEk printers at FESPA Digital, including one of the world's fastest production-class hybrid LED printers.
The manufacturer brought a wide range of products that made their European debut in Amsterdam, alongside a worldwide launch in soft signage.
FESPA Digital 2016 marked the worldwide launch of the Vutek FabriVu printers for soft signage, which are based on devices made by Reggiani, which EFI acquired in July 2015 at the same time as it bought Matan.
According to a study from industry research firm IT Strategies, the soft signage market will grow 8% annually from 2015 to 2020. EFI is helping signage and display graphics customers capture that growth with new 1.8- and 3.4-meter EFI VUTEk FabriVU printers developed by EFI Reggiani. The printers run environmentally friendly water-based inks and open the door to new, profitable applications.
This family brings high print quality and speed that will help print providers quickly expand their range of offerings. They feature precise unwinding for smooth, reliable feeding and print direct to fabric or transfer paper. A patented ink circulation system in the printer prevents nozzles from drying out, reducing ink costs by up to 15%.
According to Frank Mallozzi, EFI's senior VP of worldwide sales and marketing, "With this product line launch, we are making EFI Reggiani's technology and know-how in textile printing available to EFI signage and display graphics customers to positioning them to grow along with – or even faster than – the soft signage market at large."
Available now, this printer family offers print speeds up to 464 sq. m./hr. at 600 dpi and ultra-high resolution up to 2,400 dpi. It also features four-level greyscale printing with 4- to 72-picolitre drop sizes. These printers and their environmentally friendly, water-based sublimation inks help users produce stunning soft signage and banner applications.
High print quality at faster print speeds
EFI also brought its fastest Vutek yet to the exhibition, with the Vutek HS125 Pro having its European debut at FESPA Digital. The hybrid roll-to-roll or rigid board UV printer has a 3.2m width and can produce up to 125 boards an hour.
Also on show for the first time in Europe was the Vutek LX3 Pro hybrid roll or flatbed printer, a 3.2m wide device that runs at up to 318m2/hr and is targeted at POS applications. The printer's unique benefits provide maximum versatility for businesses looking to profit from higher volumes and shorter lead times.
In addition, it offers high-resolution greyscale imaging and its "cool cure" LED technology is a greener solution that reduces energy usage and costs while giving users the ability to print on a wider range of media, including media that can not withstand the heat of other curing or drying methods.
"The VUTEk LX3 Pro is a terrific addition that complements our other digital presses and enhances our overall capabilities," says Nutis Visual Communications Group VP of Print Production Joey Nutis.
"With the new printer, four-color 600-dpi imaging with light smoothing is now our go-to print mode. We have seen improved quality at faster print speeds at that setting on jobs that would have run at 1,000 dpi with heavy smoothing on our previous printer."
Other new printers making their European debut at EFI's FESPA Digital 2016 stand included:
The EFI Matan Quantum LXr LED printer, a dedicated roll-to-roll printer offering a superb price/speed/quality ratio for exceptional versatility, the widest range of substrates, and the lowest total cost of ownership in its class, according to the company. This economical alternative to latex printers has 7-picoliter imaging, and print resolutions up to 1,200 dpi in four colors with optional white for high-quality printing.
The manufacturer has also entered the thermoforming market with the EFI H1625-SD, a 1.65-meter UV hybrid production printer that uses EFI SuperDraw UV ink. It is explained as producing "near-photographic imaging" and prints four colours plus white with high-quality greyscale imaging as standard.
"Thermoforming wasn't on our radar before because our ink technology couldn't serve it. Now we have the ink technology, we're expecting growth," Scott Schinlever, EFI senior vice-president and general manager of inkjet solutions added.
For the industrial textile market, including digital printing for home décor and apparel, EFI also featured the Reggiani ReNOIR NEXT 180 at FESPA Digital. This highly versatile product runs fabrics and papers with a common ink set using a 1.8-meter beltless digital printing system.
The printer offers simplified material handling, a compact footprint and lower acquisition cost, making it an ideal entry-level production device for industrial décor and apparel applications.
It can be also used with water-based dispersed, acid, pigment and reactive dye printing inks, offering users greater flexibility in production applications while providing users with high-speed throughput and some of the lowest total running costs in the market.
"The complete showcase of print workflow, Fiery technology and our broad industrial inkjet portfolio at FESPA Digital provides the innovations signage and display graphics professionals need to distance themselves from competitors using less-efficient or lower-quality technologies," explained Schinlever.
"The combination of high-end imaging, sustainability, and streamlined productivity from the products EFI is showing this year put our customers further ahead on the leading edge of business success."
At the EFI booth, Ken Hanulec, VP Inkjet Solutions at EFI, spoke to FESPA TV about the product launches being debuted at FESPA, the key benefits for the end users, on site sales and the future for the company.
Interested in joining our community?
Enquire today about joining your local FESPA Association or FESPA Direct