Industry
Sawgrass VPM gets official European launch at FESPA 2017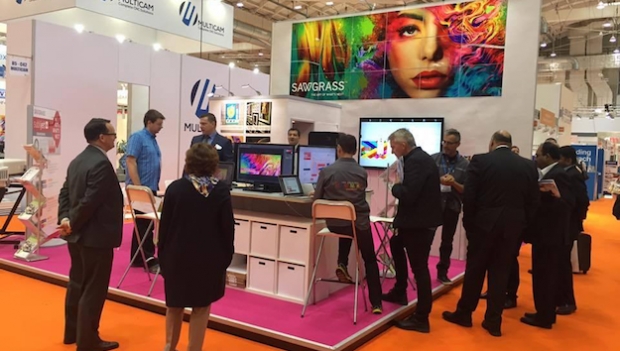 Virtuoso Print Manager, Sawgrass' first universal print management software for SG400, SG800 and VJ 628 printers was demonstrated for the first time at FESPA 2017.
"Virtuoso Print Manager is breaking new ground for Virtuoso HD Product Decorating System users," said Darcy Mauro, president of Sawgrass.
"It enables all three of the printers in our Virtuoso HD Product Decorating Systems to access one powerful, yet easy-to-use programme for the best quality prints for their printers and software. We are excited to show how this can help creative entrepreneurs develop a highly efficient and profitable production environment."
Part of Sawgrass' expanding suite of print management, colour management and online design software, Virtuoso Print Manager is the first universal print management solution of its kind for all of Sawgrass' Virtuoso HD Sublimation Printing Solutions including SG 400 (A4), SG 800 (A3) and VJ 628 (A1 / roll-fed).
VPM allows to quickly and easily produce customised products with art generated from virtually any source. VPM facilitates integration of 3rd party desktop graphics programmes like CorelDRAW or Adobe Creative Suite, Ecommerce or Web2Print Solutions like CreativeStudio and even kiosks. It is also the first highly-connective print manager to deliver RIP-like applications using both Windows and Mac operating systems.
The company's FESPA demonstration included Sawgrass workflows from CreativeStudio and Adobe Creative Suite, as well as Ecommerce/Web2Print workflows from T-ShirtMakers, Kiosk workflow from Frézal Numérique and high volume mug printing from Technotape.
Sawgrass was also showing its Virtuoso 25" eight-colour HD product decorating system featuring the VJ 628 printer and SubliJet-HD sublimation inks. The printer and inks use a colour profile that meets the G7 Master Qualification awarded to the company by Idealliance. Sawgrass is one of only a few dye sublimation companies in the world to achieve G7 Master Qualification.
"These daily live demos show how Virtuoso Print Manager improves production efficiency with sublimation printing and makes it easier than ever to achieve great colour output. It is designed to be exceptionally easy to use, yet delivers efficiencies like job and image ganging to save media, as well as Web-to-print and hot folder workflows, normally reserved for costly and complicated RIP software," commented Mauro.
Additional features include: built-in ICC profiles for a wide variety of substrates and image types; direct import of JPG, .PNG and CreativeStudio's SG or SGZ files and a multilingual user interface in English, French, Italian, Spanish and Japanese.
Interested in joining our community?
Enquire today about joining your local FESPA Association or FESPA Direct