Industry
Roland DG's new TrueVIS VG series captures the imagination at FESPA Digital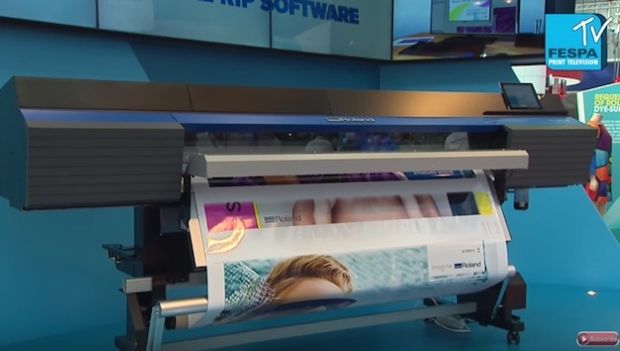 Roland DG has enjoyed a highly successful FESPA Digital with the global launch of its latest generation of integrated print and cut devices, the TrueVIS VG Series.
FESPA Digital, the largest digital wide format print exhibition in Europe, attracts delegates from across the world, and the Roland DG booth was a hub of excitement from day 1 as customers, dealers and press made a beeline to the booth to see the new TrueVIS VG Series in action.
Gillian Montanaro, Head of Marketing, EMEA: "We are delighted that delegates at FESPA Digital 2016, who are so passionate about the industry and this technology, were the first to see and experience our vision for the future of print and cut. The booth has been buzzing and the feedback on the new TrueVIS VG-640 and VG-540 has been incredible."
'We have announced the
TrueVIS VG series
to be the "future of print and cut" because it is the culmination of Roland's many years of expertise and market leadership in this area, combined with a whole host of new and innovative enhancements.'
At a packed press conference on the day of launch, Gillian and Michel Van Vliet, General Manager for the Industrial Business Development Unit at Roland DG Corporation, outlined just some of the exciting new features of the 64" and 54" machines.
Michel Van Vliet: "One of the most important developments in this new device is the introduction of our exciting new FlexFire printhead technology. Delivering precision droplet placement, a higher firing frequency and outputting 25% more print in every pass, the four newly developed printheads in the VG Series deliver truly stunning print quality at production speeds."
"Working in synergy with the printheads is the new Greenguard Gold certified TrueVIS INK. Plus the TrueVIS VG Series also includes a new, more powerful cutter."
"There are some exciting new usability features too. LED lighting illuminates the print and maintenance areas and the Roland DG Mobile Panel enables you to remotely operate the printer using your existing smartphone or tablet. It also features the new VersaWorks Dual RIP software to optimise the efficiency of your production."
"This is truly technology of the next generation, roughly 50% faster than the VersaCamm series we use today."
"For our end users, this all means they are able to deliver a new standard of print quality with a device that is really easy to use and, most importantly, keeps the total cost of ownership down."
The inks are sold in 500ml pouches and are easily changeable, even when the machine is running, the company said. Van Vliet said that cutting down on print cartridge recycling would be good for the environment.
At the Roland DG stand, Gillian Montanaro and Michel van Vliet talked to FESPA TV about the company's 35th anniversary, the advances to the TrueVIS VG series and their thoughts on FESPA Digital 2016.
Interested in joining our community?
Enquire today about joining your local FESPA Association or FESPA Direct