Industry
Ricoh supports new market moves for PSPs at FESPA 2017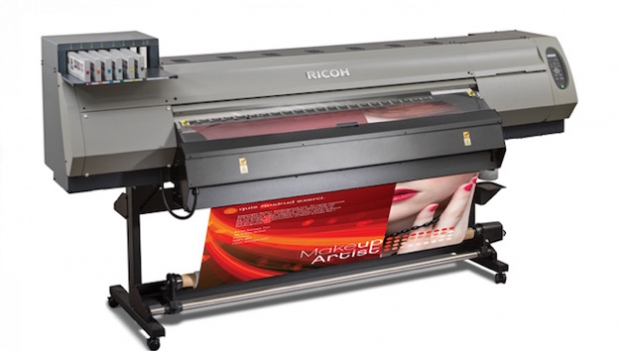 Ricoh will help print service providers (PSPs) identify new market opportunities with its broad portfolio of creative solutions at FESPA 2017 in Hamburg.
Visitors will witness ways to enhance their service offering with Ricoh's comprehensive range of wide format, large format and flatbed devices, supported by a dedicated suite of software solutions. There will also be direct-to-garment print solutions from Anajet, a company acquired last year by Ricoh.
"Ricoh has established a versatile range of hardware and software solutions to support print service providers as they seek to open new production worlds," says Ricoh vice president Benoit Chatelard.
"Ricoh has evolved to become a communication provider; offering the graphic display market roll to roll, large format, flatbed, software and digital textile printers. We aim to use our innovation-led ethos and collective expertise to enable confident choices in high quality, cost effective solutions."
Demonstrated for the first time in Europe will be the 1.65metres-wide EFI Vutek H1625 LED UV Hybrid roll/flatbed technology device. It features four colour print plus white and includes single pass and multilayer capabilities.
Variable droplet sizes provide eight levels of grayscale. It is ideally suited to backlit displays, indoor and outdoor signage, posters, point of sale, display and exhibition graphics.
Also on show will be the Ricoh Pro L4160 latex large format printer an eco-friendly green technology with Ricoh's own non-solvent based aqueous resin inks. The Pro L4100 series features the latest generation of Ricoh's own piezo variable drop print heads.
They deliver latex ink droplets as small as four picolitres offering durable printing for outdoor and indoor applications. Reduced environmental impact is another important benefit thanks to lower print heater temperature than its closest competitor models, enabling highly efficient power consumption.
The Ricoh technology will run alongside the MPC W2201SP colour wide format multifunction device. Potential buyers can choose between copier/printer or scanner functionalities and use Ricoh's highly affordable, environmentally sustainable pigment-based Liquid GelTM ink technology to print on plain paper, photo paper or onto a blue-back media range.
Capable of printing advertising and other graphic arts applications for outdoor as well as indoor environments, the MPC W2201SP is a versatile output device.
Chatelard adds: "FESPA 2017 is the perfect place for print service providers to explore with Ricoh how they can move into new markets, increasing their reach, prestige and profitability. We are proud that the Ricoh systems on show support a more environmentally responsible approach to production with lower print temperatures and lower power consumption."
In its software studio, Ricoh will demonstrate MarcomCentral software as-a-services for web to print capabilities and Marketing Asset Management and ColorGATE's menu-driven wide and large format workflow for exact feature set specification.
Also on the Arjowiggins booth in Hall 6B, stand B45, a Ricoh Pro C7110X colour cut sheet press will be running the DigiPeel HD, a new digital transfer paper suited to a wide range of textile products.
Register today to visit Ricoh at FESPA 2017
Industry members that are keen to learn more about the latest printing solutions from Ricoh can visit the manufacturer on the stand C10 in the Hall B4L at FESPA 2017.
Taking place from May 8-12 at the Hamburg Messe, in Hamburg, Germany, the exhibition will play host to many major brands from across the global market.
For more information on the event, the companies that will exhibit and to sign up to attend as a visitor, please visit: www.fespa2017.com.
Delegates can save 70€ entry fee to the exhibition by registering via the website and quoting reference code: FESG702. Discover how a visit to FESPA 2017 can benefit your business and register today.
Interested in joining our community?
Enquire today about joining your local FESPA Association or FESPA Direct