Industry
Ricoh releases first UV flatbed printer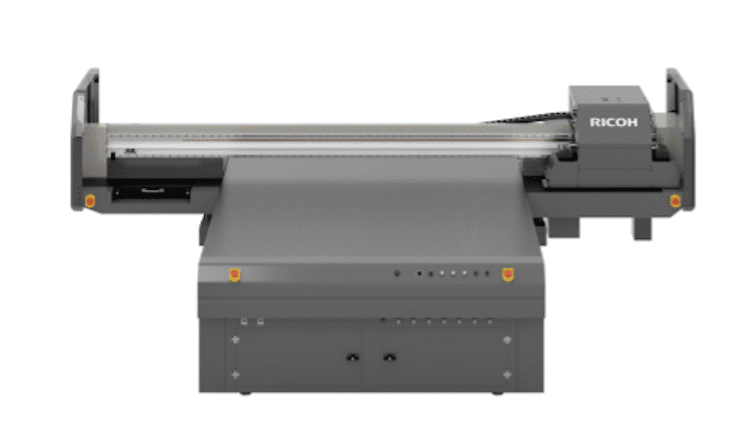 Ricoh's first UV flatbed printer has been unveiled and it is said to be optimised for industrial decoration printing
Industrial printers and manufacturers' needs for greater customisation capability, smaller lot size flexibility, and expanded materials versatility will be met by the Ricoh Pro T7210, Ricoh's first UV flatbed printer.

Optimised for industrial decoration printing, the Pro T7210 offers both excellent image quality and high productivity at 50 sq/m per hour (standard mode) or 100 sq/m per hour in high speed mode. Its broad application range focuses on the industrial sector; interior decoration and building materials, especially rigid and heavy, including glass, wood, aluminium composite and metal.

"The Ricoh Pro T7210 spearheads our expanding solutions range as Ricoh continues to drive innovation in inkjet printing technology," says Graham Kennedy head of commercial inkjet business, Commercial and Industrial Printing, Ricoh Europe.
"Incorporating Ricoh's own leading inkjet technology, it is designed to inspire user confidence. And provides new potential and value to a fast-evolving market sector."

The printer uses Ricoh's proprietary image processing technology, as well as 12 robust Ricoh MH54 series industrial print heads that deliver outstanding jetting performance and reliability, optimised for Ricoh's own UV ink, which has high adhesion properties for performance on a wide range of rigid industrial materials.

With a maximum print size of 2.1 × 3.2metres, the Pro T7210 can print on one board or a variety of pre-cut panels up to 110mm thick. This enables industrial printers and manufacturers to print directly onto a variety of materials.

The Ricoh Pro T7210 will be available from early 2018 in EMEA.
Interested in joining our community?
Enquire today about joining your local FESPA Association or FESPA Direct