Industry
Ricoh presents new feed inkjet platform VC40000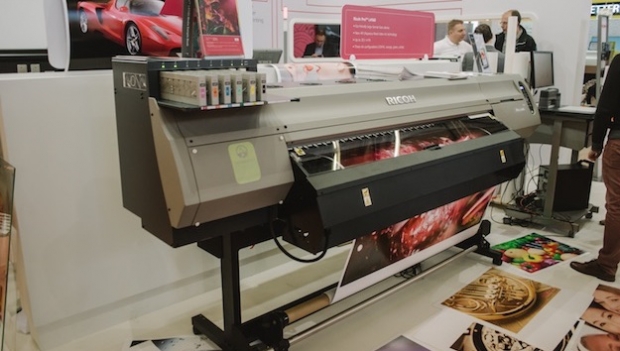 The new Ricoh Pro VC40000 is a next generation continuous feed inkjet platform designed for use by transactional and direct mail clients.
The machine will be available for purchase in Q4 2017 and will begin beta testing around three to four months prior, probably in Europe.
Ricoh production printing vice-president Benoit Chatelard said pricing had not yet been set but that it would sit somewhere between its IP5000 and its 2014-launched flagship VC60000.
Speaking to PrintWeek, Chatelard said: "We have one very robust established machine, the IP5000 for transactional and some direct marketing and now a very innovative machine, the 40000, for direct marketing and some graphic arts, while the flagship VC60000 does the most extreme jobs."
The VC40000 runs at 120m/min, meaning it is capable of producing more than 100,000 A4 images per hour. It runs at full 600dpi resolution and supports a variety of stocks, ranging from 40gsm to 250gsm.
It uses Ricoh's multiple-drop technology, three sizes of drop for any pixel, which Chatelard said give the printer a perceived resolution of 1,200dpi. Like the VC60000, the machine has CMY printhead parking, meaning users can selectively engage the printheads to run in colour or mono applications.
"Since our introduction of the InfoPrint 5000, Ricoh continues to revolutionize the high-speed, continuous feed inkjet market and lead the way to the future with production print," added John Fulena, vice president, production printing, Ricoh USA.
"It's this unmatched dedication that transactional and direct mail clients confidently rely on to support the profitable growth of their businesses. The Ricoh Pro VC40000 is the latest demonstration of our commitment to these clients and to helping them further deliver what their customers need."
The VC40000 is also integrated with Ricoh's ProcessDirector, providing transactional and direct mail workflow support, designed to maximize equipment throughput, help ensure output integrity and qualify for maximum postal discounts.
The Ricoh Consulting Group team brings practical, real-world experience to deliver ROI based assessments focusing on color management, workflow automation and strategic business systems consulting.
Additionally, the Ricoh TotalFlow Print Server R600A provides native support for PDF, PDF/VT and AFP together with JDF and advanced colour management support.
This advanced controller offers an easy-to-use operator interface and advanced workflow management capabilities that benefit from Ricoh's extensive experience in mission-critical variable data processing.
Ricoh will be exhibiting at stand B4L-C10 during FESPA 2017, from 8-12 May in Hamburg, and will be using the show to present its latest developments and innovations.
Interested in joining our community?
Enquire today about joining your local FESPA Association or FESPA Direct