Industry
Ricoh and ColorGATE to set the colour standard at FESPA 2019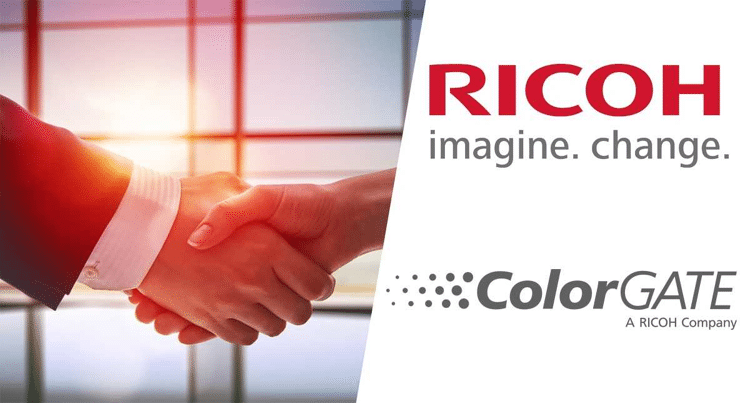 Graham Kennedy, Head of Commercial Ink Jet Business, Industrial Printing Group, Ricoh Europe discusses Ricoh's acquisition of ColorGATE and their product portfolio at FESPA 2019.
Ricoh's acquisition of ColorGATE strengthened an already successful long-standing relationship. And we look forward to demonstrating the synergies and the client benefits at FESPA later this month.

The move has added ColorGATE's market leading software and colour management solutions to complete Ricoh's industrial printing technology portfolio that includes print heads, inks, print modules and printing systems. The ColorGATE operation and its team will remain a separate entity and is continuing to serve its clients, channel partners and OEMs as before.

Their software solutions will enable us to further support clients with industry leading software that standardises front-end control.

The acquisition was perfectly timed to address a growing demand in all major markets for standardised production solutions that deliver the best possible output quality and defined productivity.

In all digital print and digital decoration segments, encompassing large format, Direct to Garment, packaging and Direct to Object, the fastest growing technology adopters lead their field thanks to their ability to standardise, or even automate, more and more steps of their production workflow. The Industry 4.0 spirit has arrived in digital printing.

As a result, clients are looking for consultation, assistance, training as well as a reliable service and support with global reach. They need expertise in all relevant digital print related areas beyond the hardware. They need access to knowledge and product offerings from print head technology, to printing modules and complete systems and automated production lines.

Ricoh will show FESPA visitors how all these elements can be combined to deliver a complete end to end solution. They will see for themselves how Ricoh's continually evolving portfolio now includes ColorGATE´s Productionserver platform.

During FESPA we will demonstrate the impact standardised front-end control can have on production results and control a variety of applications created by Ricoh´s latest inkjet production systems.

It will manage creative results, in a standardised and even automated way, from the new roll-to-roll Ricoh Pro™ L5160 latex printer in two different ink combinations, the new Ricoh Ri 1000 DTG printer and the Ricoh Pro™ T6250 UV flatbed printer.

Visitors will see how ease of use and error minimisation is ensured via a single user interface that can operate all the systems. They will also learn more about ColorGATE´s Campaign Printing feature which outputs visually colour matched jobs to different systems, using different ink and substrate types. This eliminates the need for individual colour corrections or retouching.

FESPA Global Print Expo 2019 is Europe's largest speciality print exhibition for screen and digital wide format print, textile printing and signage solutions. Visit Ricoh at stand K26 in hall B4 at the Messe Munich between the 14-17 May 2019 and discover the available features. Please use promo code FESG902 to register for free.

Interested in joining our community?
Enquire today about joining your local FESPA Association or FESPA Direct