Industry
Printful introduces high-quality printing on 100% Polyester with Kornit Poly Pro Printer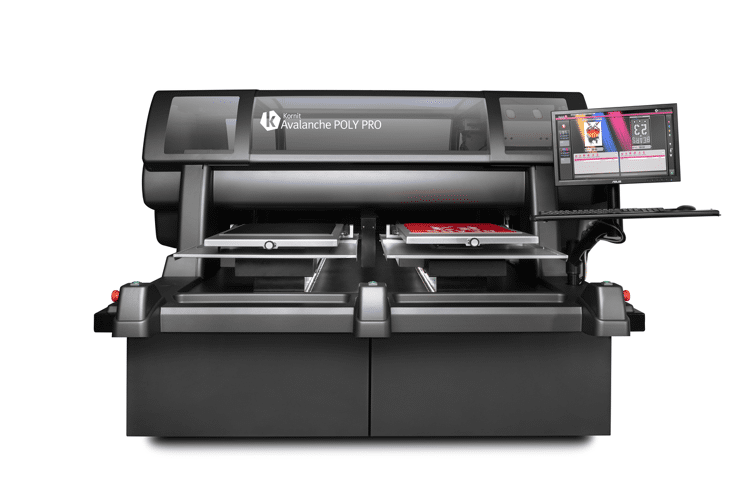 Printful has started beta testing the new Kornit Avalanche Poly Pro printer with a select group of customers.
The printer produces high-quality direct-to-garment (DTG) prints on 100% polyester, helping Printful enter new apparel niches such as activewear. Printful has invested $600,000 to acquire the new printer and plan to launch printing for all customers in the coming months.

In 2019 the global activewear market generated around $181 billion in revenue and is only anticipated to grow, with the latest forecasts predicting $208 billion in revenue by 2025. Since the majority of sports and active apparel is made from polyester, the new Kornit Poly Pro printer is a game-changer in DTG apparel printing.

Until now printing on 100% polyester was most frequently done through sublimation and screen printing. While not impossible, DTG printing on this material would often result in discoloration. Kornit's Poly Pro printer is the first to deliver high-quality DTG prints on 100% polyester. By introducing the next generation of printers, Kornit opens the doors to on-demand printing on apparel categories like activewear.

"Kornit has been Printful's #1 choice for a long time now. Their printers are, in our view, the highest quality option in the market, and we're excited for the new product opportunities the Poly Pro printer will bring," says Davis Siksnans, CEO of Printful.

Printing apparel on demand means there's no minimum order volume. This reduces the chances of unsold product stock and risky investments into large bulk orders. Setting up an online store with high-demand items like activewear will help accelerate the store's success in sales and brand popularity.

"In addition to being an industry leader in on-demand textile printing, Printful has long been a terrific bellwether of what Kornit is capable of delivering; they've built their direct-to-garment business in tandem with Kornit's technology innovations," says Kornit Representative. "Adding Avalanche Poly Pro to the mix empowers Printful to give its customers the most brilliant, durable, responsibly-produced sports and athleisure apparel, now the market's fastest-growing sector. They're consistently mastering the business of retail-ready, eco-friendly, cost-effective fulfillment on-demand, and Kornit is proud to stand behind them at every stage of that endeavor," says Omer Kulka, CMO of Kornit Digital.


Interested in joining our community?
Enquire today about joining your local FESPA Association or FESPA Direct