Industry
Polyprint launches new direct-to-garment printer at FESPA Digital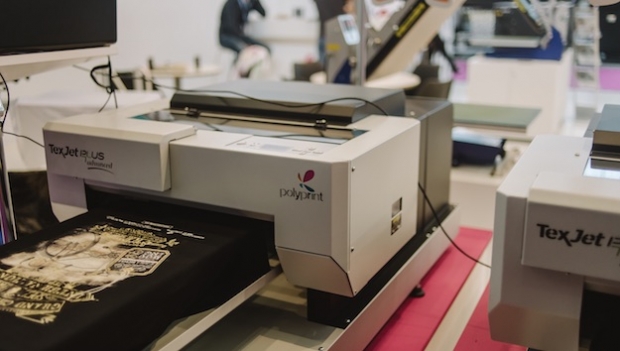 Greek manufacturer Polyprint debuted a compact direct-to-garment printer in Amsterdam that can produce 80 white or 28 dark t-shirts per hour.
Celebrating 10 years of experience and dedication in the field of direct-to-garment (DTG) printing, ranking among the major DTG manufacturers worldwide, Polyprint announced the launch of its brand new TexJet shorTee DTG printer at FESPA Digital 2016 in Amsterdam.
The TexJet shorTee, which was presented for the first time at the show and will be commercially available from next month, can print on textiles including cotton, polyester, cotton/polyester blends, linen, viscose and leather.
The machine, which will cost around €9,000, offers print resolutions of up to 1,440dpi and has a maximum print size of 320x450mm.
It incorporates Epson DX7 printheads in a combination offering eight ink channels with 180 nozzles per channel.
The manufacturer said the device has been designed to offer the lowest running cost for entry-level users, featuring a single-pass printing CMYK and white as well as easily exchangeable plates.
The large plate (320x450mm) is frameless and has a removable part for printing polo shirts. There are also medium (270x400mm) and sleeve (140x 300mm) plates, which have frames included, as well as a frameless baby plate (150x150mm).
Polyprint technical support manager Dimitris Stavrakidis said: "We have already seen a lot of interest in this machine, it's a good opportunity for customers entering the DTG market for the first time because it's very affordable and has the same reliability as the larger format TexJet Plus."
Later this year the business will also launch another larger model, which it expects to have a maximum print size of around 420x1,000mm.
"There is a demand for both smaller and bigger formats, and this is why we're going in both directions," said Stavrakidis.
With this new addition to the TexJet DTG printers family, Polyprint increases its product gamut to three models, including the "TexJet PLUS Advanced" and "TexJetPLUS Long", catering to a wider spectrum of needs for customers ranging from start-up t-shirt printers up to medium production print houses.
Polyprint CEO & General Manager George Benglopoulos comments live from FESPA Digital 2016, announcing the introduction of the new gament machine and the key benefits for the end users.
Interested in joining our community?
Enquire today about joining your local FESPA Association or FESPA Direct