Industry
Onyx launches Hub software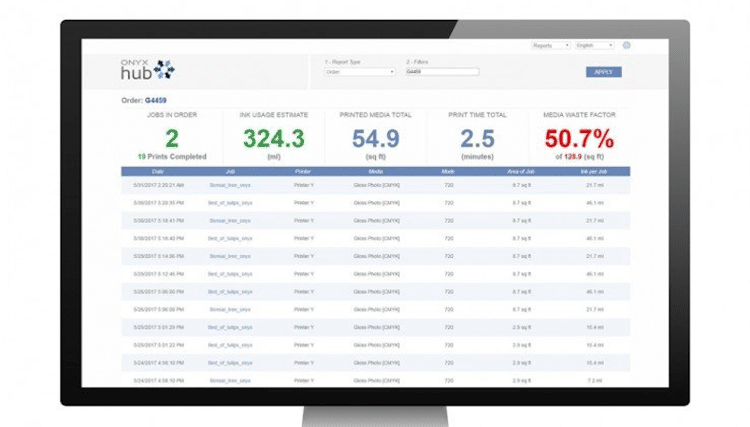 US-based software developer Onyx Graphics has released a new "business intelligence" product, the newest addition to the Onyx SiteSolutions family.
Onyx Hub software is aimed at small to medium-sized businesses with multiple sites and/or multiple fleets and brings real time, historic and trend data to business owners and production managers, enabling them to make better business decisions.
The product, which can be installed on any mobile, laptop or desktop device, can access historic, real-time and trend data from all sites, jobs, stations and printers within a business.
Licensed through any Onyx Thrive workflow software key, customers can use the browser based dashboard and reporting features to gain visibility into their entire production environment.
It collects data by job, station and printer, and presents it in real time for immediate visibility into the shop's production environment. With up to the minute and historic ink usage and media waste reporting, users can better understand their costs, improve profitability and diagnose areas to increase efficiency. With the Hub software, users can also gain insight through trend reporting to optimise workflow and better manage their business.
The product works in conjuction with Onyx Thive workflow software so users need Thrive to be able to use Hub. Pricing is dependent on what package of software each user has. Hub is available immediately.
Earlier this month the software developer released the latest version to its wide-format print workflow and RIP product. Onyx 12.2, an update to version 12.1 that was released in January, features a new multi-roll user interface with an interactive workflow, enhanced media and page-size handling and improved cutting workflow updates and is said to reduced production times.
Interested in joining our community?
Enquire today about joining your local FESPA Association or FESPA Direct