Industry
Onyx Graphics to show Onyx 12.2 at FESPA Africa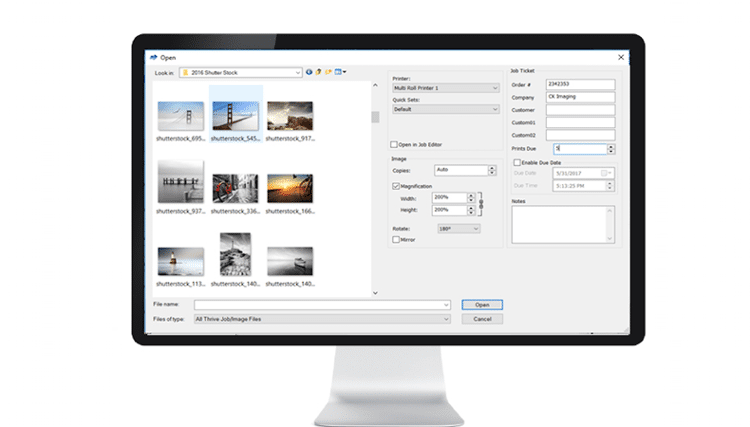 US-headquartered software developer Onyx Graphics will be showcasing the latest version of its wide-format print workflow and RIP product at this year's FESPA Africa.
FESPA Africa 2017 is set to be the biggest show to date when it opens its doors at the Gallagher Convention Centre in Johannesburg on 13 September.
Throughout the three days of the exhibition, hundreds of visitors will discover the latest technology and products from over 150 brands across digital, textile, signage and printed interior décor markets.
Printers looking to invest in new software and RIP innovations should check the latest Onyx SiteSolutions at the Onyx Graphics stand, a family of products focused on bringing business and production together in wide-format and grand-format print environments.
The manufacturer will also be previewing Onyx 12.2, the newest version of its market-leading RIP and print workflow software.
Highlights of the updated software, which builds on Onyx 12.1, include a new multi-roll user interface that delivers an interactive workflow showing a live view of loaded media with automated roll selection between jobs in the RIP-queue.
Enhanced media and page size handling streamlines printer configurations and job setup while a new user interface shows device specific information based on bi-directional data, including easily visible ink levels, printer status and media information.
"Onyx Graphics recognizes that modern print shops need solutions that will increase their production and revenue, lower their costs, and increase shop efficiency in order to compete, commented Onyx marketing manager Jonathan Rogers.
"Onyx SiteSolutions is a portfolio of products that take a unique approach to giving business owners accurate information about their print jobs, costs and productivity across their entire site. It addresses the areas of print production, connected workflows, and leveraging real-time data to make better business decisions."
Cutting workflow updates include the ability to handle multiple cut-path prefixes and duplication of cutter device settings, for greater automation, while there are also faster RIP and data transfer speeds with optimised colour calculations across all applications.
Furthermore, Onyx 12.2 is said to offer reduced time in production and streamlined workflows, with job scaling and rotation directly from the file-open dialogue before sending jobs to the RIP-queue.
"We are dedicated to continued innovation in wide format and grand format print. Since bringing the first wide format RIP to market in 1989, our staff of color scientists and in-house development teams continually strive for excellence. Onyx 12.2 earmarks a new direction to provide end-to-end print solutions, not just a RIP," Rogers added.
"As one of the most important exhibitions of the printing industry each year, FESPA Africa will be an unmissable event for printers and signmakers to see all the new technology and solutions that will soon be made available to them, and also to see what Onyx Graphics is doing to further shape the wide format print industry."
As a pan-African event, FESPA Africa is drawing considerable interest not only from the South African market, but from neighbouring countries too. For more information about the event, the list of exhibitors, and to register for free entry visit www.fespaafrica.com.
Discover how a visit to FESPA Africa can boost your business and register today.
Interested in joining our community?
Enquire today about joining your local FESPA Association or FESPA Direct