Industry
OmniPrint International Inc. Launches the new Cheetah, a high quality industrial DTG printer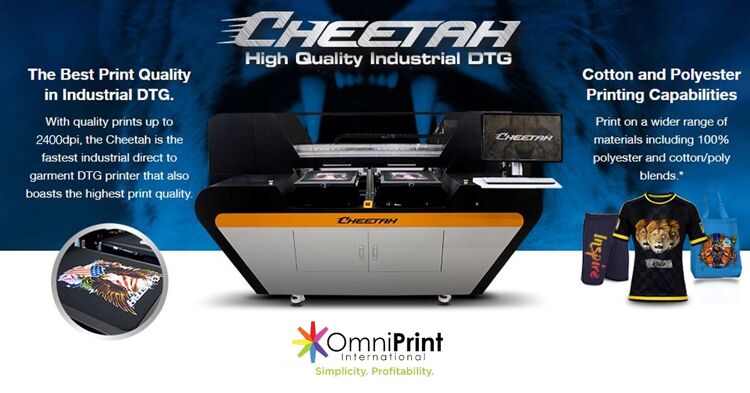 OmniPrint International Inc will be debuting their products for the first time in Europe at the upcoming FESPA Global Print Expo international trade show from May 14th - 17th in Munich, Germany.
One of the new products which has been buzzing online and throughout the industry is the brand new Cheetah Industrial Direct to Garment (DTG) printer, designed by OmniPrint International from the ground up for high-volume and high-quality direct to garment printing. This new industrial DTG print technology was developed and engineered for fulfillment centers and other large volume facilities with their high demand for speed and quality. OmniPrint International Inc is internationally known for their quality prints and they have not disappointed with the Cheetah printing at a maximum of 2400 DPI, delivering a retail-ready, high-quality prints at amazing speeds.

In addition, the new Cheetah Industrial DTG printer showcases true one-pass printing technology. Traditionally, a DTG print on dark garments requires two passes (one for a white underbase & one for the color layer). The Cheetah's print engine has been engineered to work together in printing both a white underbase and a color/highlight layer simultaneously without the need for a 2nd print pass; contributing to the fast printing speeds. Print times on the Cheetah are 30 seconds average for a dark garment print and under 10 seconds average for a white/light garment print, a remarkable improvement on what used to take at least 3-5 minutes for a print to complete.

The Cheetah's design features dual independent platen technology to maximize productivity. The dual independent platens allow the printer to keep printing a garment while an operator is loading and unloading the other. OmniPrint International Inc has taken their famous bulk ink delivery system and has engineered a new industrial bulk ink delivery system that maintains the ink at exact conditions while keeping operational and production costs low. The orange and green inks enable an increased color gamut to increase the "pop" in printed colors and setting a new standard of print vibrancy in the industrial DTG world. The Cheetah comes standard with Wurk, an advanced workflow suite for print shop management, and Color iOS, a revolutionary RIP software technology designed to both increase efficiency and save money.

Following the success of the FreeJet 330TX Plus line of direct to garment printers, OmniPrint is committed to bringing value in the marketplace to our customers. "We not only delivery the highest quality print. We develop leverage for our customers to earn more with their products" said Victor Pena, OmniPrint International Inc's Founder & CEO.

OmniPrint International Inc will also showcase the multiple award-winning FreeJet 330TX line of direct to garment printers at the FESPA Global Print Expo. "The FreeJet 330TX Plus Series delivers a cost-effective bulk ink delivery system and a wet cap system to prevent head clogs. The FreeJet DTG can also print on 100% dark polyester and 100% cotton with GamutPlus inks, a feat which has won us Product of the Year awards 3 years back-to-back.
Introductory Promotion - Cheetah Industrial DTG
OmniPrint International Inc also decided to make pricing simple and easy to get. The pricing is below and for a limited time the cheetah includes a conveyor oven, and all the accessories below to start production.
● $260,000 MSRP (USD)
○ Introductory promo Includes Cheetah Industrial DTG Printer, BBC Aeolus Industrial Conveyor Dryer, Pretreatment Machine, On-Site Installation, Training, Inks & Supplies Starter Kit, Warranties, and Dedicated Technical Support.
FESPA Global Print Expo 2019 is Europe's largest speciality print exhibition for screen and digital wide format print, textile printing and signage solutions. Visit OmniPrint International Inc.at stand D40 in hall A6 at the Messe Munich between the 14-17 May 2019 and discover the available features. Please use promo code FESG902 to register for free.
Interested in joining our community?
Enquire today about joining your local FESPA Association or FESPA Direct