Industry
OKI urges new investment in digital print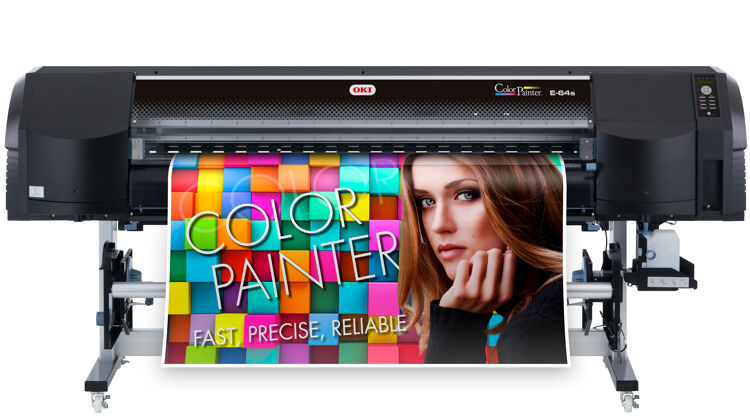 OKI to show its ColorPainter E-64s and ColorPainter M-64s printers at the Global Print Expo 2018
OKI has issued a call for start-up businesses in the print industry carefully invest in the right technology if they are to succeed with their venture.

Citing a recent GEM national report, OKI said that more than 100-million start-up companies are launched every year, which equates to approximately three start-ups every second.

Pamela Ghosal, general manager, marketing communications at OKI Europe, said with a growing influx of new companies, new markets are constantly emerging, and in order to take advantage of this expansion, proper investment is critical.

"There are increasing opportunities for print businesses and investing in digital print is the obvious route to profiting from these opportunities," Ghosal told FESPA.com

"Often, existing and long-established businesses are vulnerable to start-ups stepping into their markets and taking their business. For print businesses however, this means that there is a constantly growing pool of potential customers from both new and existing businesses pushing strong marketing activity in order to compete.

"The ability to print high quality, eye-catching materials affordably means print businesses can attract customers with impactful marketing collateral. This is only achievable through the adoption of new innovations in digital print."

Ghosal also spoke about the importance of personalisation with customers and how ongoing development in the digital print sector is allowing companies to take on work they perhaps would not have been able to in the past, which in turn is enabling them to meet challenging client demands.

"Gone are the days of huge volume printing or generic content," Ghosal said. "Customers expect a more personalised approach when we communicate with them. Continuous development in digital printing means new investments are inevitable as businesses strive to do more with less.

"OKI's digital LED printers are capable of handling a huge variety of media types, sizes, weights and formats with a minimum volume of one, the opportunities for personalisation are endless."

OKI will showcase some of its latest technology at the FESPA Global Print Expo 2018. This includes the new Pro9000 Series Envelope Print System, alongside its range of ColorPainter large-format printers such as the ColorPainter E-64s and the ColorPainter M-64s.

Ghosal added: "We see FESPA 2018 as an opportunity to showcase the many ways in which print businesses can increase their profitability.

"The key focus for OKI this year will be demonstrating how greater profitability can be achieved through the multitude of new revenue streams that print businesses can explore for the first time with our unique portfolio of affordable, reliable printers that have been specifically designed for businesses in the graphic arts sector."

To find out more about the Global Print Expo 2018 and register to attend, visit the official event website: https://www.fespaglobalprintexpo.com

For free entry use code FESJ801 when registering.

Interested in joining our community?
Enquire today about joining your local FESPA Association or FESPA Direct