Industry
OKI unveils two new wide-format printers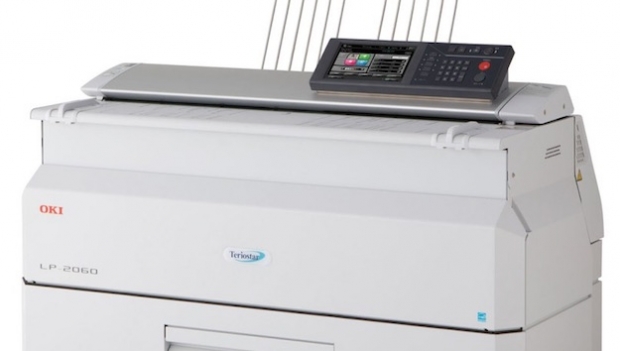 OKI Europe has launched two new wide format Teriostar multifunction printers which are said to be "faster, easier and better".
The latest in the Teriostar multifunction range, the two roll-to-roll machines can print A1 sheets up to 7ppm and 9ppm respectively, making them the fastest in their class according to OKI.
The twin-roll LP-1040 will be released next month, whilst the LP-2060 will be available in May. The two reel-to-reel machines print at a resolution of 600dpi and take substrates up to 60gsm paper and 122gsm film.
New features for ease-of-use include a clear 220mm touchscreen panel to improve user interface. The interface has a Print Data Converter to fix regulation errors and there are also new security features, with smart card identification to prevent unauthorised use.
These new models also enable the complete deletion of data on the hard disk drive (HDD) if the printer is sold or, if leased, or returned to owner.
The machines also come with enhanced Teriostation2 integrated software as standard, which delivers network access to the copiers and allows users to send jobs with multiple files to the machine from anywhere on the network, using most common file formats TIFF, PDF and more.
OKI wide-format general marketing manager Frank Jänschke said: "With the new LP-1040MF and the LP-2060MF, we've retained the best of the legacy Teriostar features such as the unique photoconductor drum which is actually a cartridge that can be replaced by the user."
"As this is the part mainly involved when there are print defects, this can save significant time and expense for example waiting for an engineer and a replacement. To this we have added a host of new features, updating these models and creating fast, efficient and intuitive multifunction devices."
Jänschke added that he believed the paper the machines can print on is the thinnest in the market. Both machines can also be attached to a folder, to speed up the finishing process.
The launch follows OKI's release of an addition to the ColorPainter wide-format family in October last year, after it acquired wide-format manufacturer Seiko I Infotech in October 2015.
Register for free to visit FESPA 2017
Industry members that are keen to learn more about the latest printing solutions and technologies from OKI can visit the manufacturer on the stand A52 in the Hall B5 at FESPA 2017.
Taking place from May 8-12 at the Hamburg Messe, in Hamburg, Germany, the exhibition will play host to many major brands from across the global market.
For more information on the event, the companies that will exhibit and to sign up to attend as a visitor, please visit: www.fespa2017.com
Delegates can save 70€ entry fee to the exhibition by registering via the website and quoting reference code: FESG702. Discover how a visit to FESPA 2017 can benefit your business and register today.
Interested in joining our community?
Enquire today about joining your local FESPA Association or FESPA Direct