Industry
OKI Europe to Showcase Innovative Envelope Print System at FESPA 2018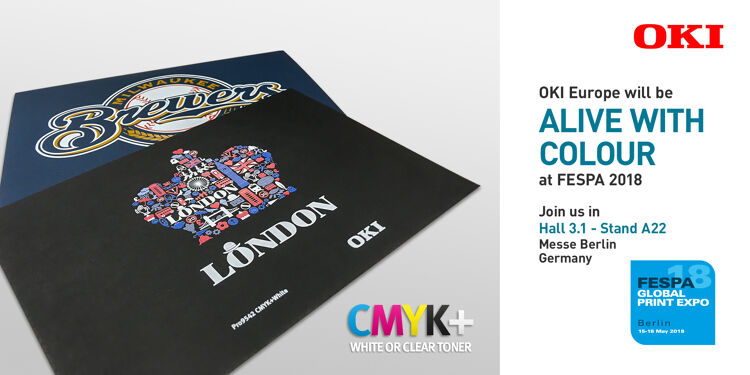 OKI Europe will focus on the creative potential that can be achieved with their innovative printing technologies at FESPA 2018 and will showcase their new Pro9000 Series Envelope Print System
OKI Europe will showcase their new Pro9000 Series Envelope Print System at FESPA 2018, which makes short-run envelope printing both viable and profitable. The new envelope print system offers print houses and print shops the opportunity to profit from new direct marketing trends and leads the way in the printing of high quality mailed products and additional printing innovations.

The Pro9000E Series drastically increases the effectiveness of envelope printing and allows variable data envelope printing in short runs, getting rid of the long and costly traditional process of producing printing plates and inking up a press. Vibrant results can be gained with the fantastic white and striking colour results provided by the Pro9542E which offers quick and easy printing on dark envelopes in a single pass.

Senior Marketing Manager of Small Format Printer at OKI Europe, Shun Mochizuki says "Direct Marketing Association research has shown that consumers find direct mail more personal and trustworthy versus email marketing. Businesses often focus on digital marketing however the research shows that 75% of consumers remember a brand after receiving direct mail versus only 44% do so after receiving email campaigns. Since email marketing is easy and affordable this means that 51% of businesses will choose hybrid campaigns that target consumers via email and direct mail. These statistics demonstrates an evident need for short runs of eye-catching envelopes."

The Pro9000E Series offers print shops and print houses the ability to achieve unrivalled vibrancy that competitors will not be able to match through the ability to print CMKY and white, and in regard to the Pro9542, CMKY over white in one pass."

The Envelope Print System is easy to set up and features an Envelope Fuser to lower wrinkle and guarantee uniform print across a diverse range of designs. To help drive productivity, OKI has developed an envelope feeder and conveyor in the system which prints a large range of envelope sizes, standard sizes and custom sizes (2.5"by 3.5" to 13" by 15") at remarkable speeds (up to 500 DL envelopes in under 12 minutes).

You can visit OKI Europe at the Global Print Expo 201 at hall 3.1 stand A22. To find out more about the Global Print Expo, see the full exhibitor list and to see information about how you can register to attend, visit the event's official website: www.fespaglobalprintexpo.com

For free entry use code FESJ801 when registering.
Interested in joining our community?
Enquire today about joining your local FESPA Association or FESPA Direct