Industry
OKI Europe to exhibit revenue boosting technologies at FESPA 2018 as Gold Sponsor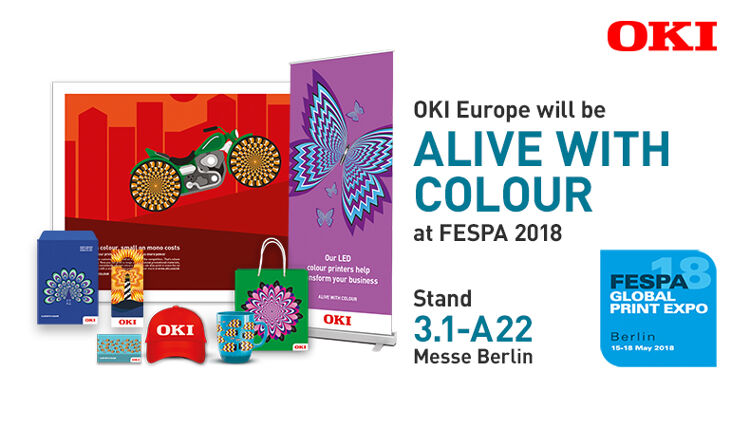 OKI Europe will demonstrate its large portfolio of Graphic Arts printers at FESPA 2018 which will include a special preview of their latest innovation
OKI Europe Ltd have been confirmed as a Gold Sponsor at FESPA 2018 where they will be exhibiting revenue boosting solutions for businesses across several sectors including the graphic arts, retail, signage and more. OKI Europe will display a wide range of award-winning products suitable for indoor and outdoor applications from labels and price tags to interior and exterior banners, vehicle wrapping, wallpaper and highly robust billboards.

OKI Europe will display their market shifting technologies that will include the new Pro9000 Series Envelope Print System for lucrative short-run envelope printing. On top of their full range of innovations there will be an exhilarating preview of the latest addition to OKI's professional print portfolio.

A key focus for OKI Europe at FESPA 2018 will be increasing profitability for print businesses. OKI Europe representatives will be available to illustrate how greater profitability can be accomplished and how new creative measures can be attained with OKI's printers.

OKI Europe will demonstrate their unique technology innovations and applications that will feature their pioneering 5 colour, white toner and neon capabilities due to a fusion of digital LED with award-winning white toner / 5 colour (CMYK+1) technology. OKI Europe's well-known range of ColorPainter large format printers will be featured including the ColorPainter E-64s for large format printing and the award-winning ColorPainter M-64s for high quality at unparalleled speeds for indoor and outdoor use.

These solutions have been designed to be quick and affordable and achieves high performance levels that were historically reached via the procurement of expensive production equipment. Now it is easier and more cost effective to print intricate and interesting designs on nearly any type of material in a limitless range of formats. Businesses are able to attain their desired printing results while guaranteeing a positive influence on the bottom line.

Pamela Ghosal, the General Manger of Marketing Communications at OKI Europe Ltd said: "We are delighted to attend once again at FESPA 2018 as a Gold Partner. This year OKI Europe' stand will be 'Alive With Colour', providing new inspiration for print businesses of all types on how to access new revenue opportunities. We are particularly excited to preview our new innovative addition to our professional print portfolio and to demonstrate the advanced capabilities of our Pro9000 Series Envelope Print System."

You can find OKI Europe Ltd at stand 3.1 – A22 at the Global Print Expo 2018.To find out more about the Global Print Expo, see the full exhibitor list and to see information about how you can register to attend, visit the event's official website: www.fespaglobalprintexpo.com

For free entry use code FESJ801 when registering.

Interested in joining our community?
Enquire today about joining your local FESPA Association or FESPA Direct