Industry
OKI Europe celebrates 30 Years of LED technology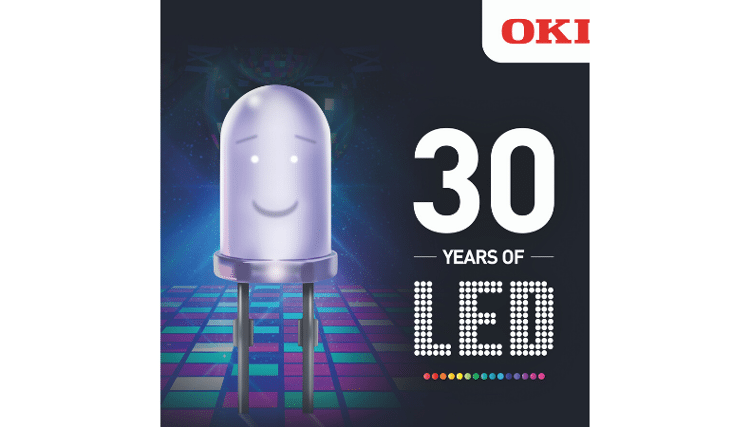 At the heart of its innovations for more than three decades, OKI has pioneered the use of LED for its speed, reliability, precision, media-flexibility and colour intensity.
Three decades on from the release of its first LED printers, OKI Europe is celebrating its history as a founder and champion of LED printer technology, which it continues to refine and use in its award-winning devices.

From easy maintenance to superior speed, accuracy, unrivalled media handing capabilities and print quality, OKI Europe is passionate about the benefits OKI's LED printer technology delivers.

As part of its 30-year celebration of LED innovation, OKI is inviting its customers and partners to share their experiences with OKI's LED technology through a series of fun customer-generated videos. OKI is also challenging customers to test the accuracy and precision of OKI LED printers and multifunction printers (MFPs) by printing Daniel Defoe's entire novel, Robinson Crusoe, on a single-page PDF and viewing the printout with a magnifying glass to see just how clear the tiny text appears.

"At OKI Europe, we are incredibly proud of our heritage in LED and pioneering use of it as a printer technology," said Pamela Ghosal, General Manager Marketing Communications EMEA, OKI Europe Ltd. "Over the past three decades, we have championed LED over alternative printer technologies. It has been used in millions of OKI products and remains an important part of our pipeline of product innovation."

OKI Europe – innovating with LED

OKI pioneered LED technology within printers in 1989 with the launch of the OL400 and OL800, Europe's first LED printers. In 1998, it launched the OKIPAGE 8c, OKI's first digital colour printer with speeds that were twice as fast as its competitors.

Further innovation with LED printer technology followed; in 2005, OKI launched the C5500 MFP, the world's first A4 colour multifunction printer in the LED/laser market. It went on to use the technology as part of a series of innovations in size, speed and colour, launching ground-breaking printers that were faster, smaller and more affordable than competitor models, making colour printing on a range of different media accessible to all. And as a testament to this strategy, earlier this year, OKI launched the multi-award winning C800 Series, the smallest A3 colour printer on the market.

Functioning on the same principles of electro-photography – using light to inscribe the page image on a photosensitive drum – the key difference between LED printer technology and laser printer technology lies in the image writing process.

Unlike laser print heads, LED print heads write directly to the drum, with no moving parts or mirrors. This simple, straight paper path increases the reliability, as well as the media handling capabilities of LED printers compared with laser alternatives. This makes OKI's LED printers perfect for any business type, whether that is an office printing business-critical documents, or a retailer looking to increase customer loyalty by improving in-store customer experience through visual communications printed on-site.

Today, OKI is building on the benefits of LED technology, particularly the unrivalled media handling capabilities which can help businesses print more in-house without having to rely on lengthy and costly print processes. From shelf signage, including price-tags, labels and almost any pre-cut media formats, to self-adhesive floor stickers, eye-catching posters, promotional displays, gondolas, double-sided banners, and waterproof media application, all this and more can be done using OKI's compact LED devices.

Furthermore, LED technology is proving to be a real game changer in the 'print for profit' market by helping creative businesses and print shops to offer new services and access new revenue streams through unique LED powered printer technology. This includes a host of devices, from the world's first digital LED white toner printers, to the world's first 5 colour printers (CMYK+White and CMYK+Clear Gloss), as well as the world's first desktop 5 colour (CMYK+White) digital label printer. OKI's portfolio of Industry Print devices offers cost-effective alternatives to direct to garment printing, merchandise personalisation, label printing and envelope printing on a wide range of media types and weights. This includes dark media, pushing the boundaries of creativity and personalisation with a minimum volume of just one.

"OKI Europe strongly believes in the incredible capabilities of LED printing and the many advantages it offers compared to laser printing," said Lee Webster, General Manager, Product and Propositions, EMEA, OKI Europe Ltd. "Looking to the future, we will continue to improve, develop and pioneer LED as part of our ongoing drive to deliver choice, reliability and superior quality on an unrivalled range of media for our customers in the office and beyond."


Interested in joining our community?
Enquire today about joining your local FESPA Association or FESPA Direct