Industry
Nazdar launches new 730-series UV ink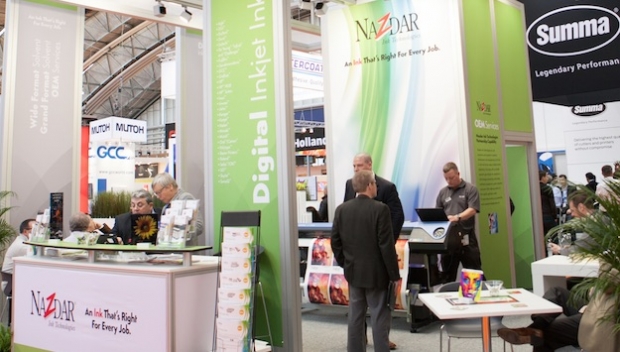 Ink manufacturer Nazdar has released the 730 Series, a flexible UV inkjet ink with great adhesion on a wide range of flexible and rigid substrates. 
Thanks to its high levels of flexibility and durability on a wide range of substrates, Nazdar 730 Series is suitable for both outdoor and indoor applications such as banners, window graphics, pressure-sensitive vinyl, POP displays and backlit acrylic signage.
It's said to have good edge-chipping resistance properties that's suitable for substrates that require router, knife- or die-cutting.
The 730 Series offers proven long-term performance against the effects of UV degradation and colour fade, and shows consistent colour density values and high-intensity colours, according the manufacturer.
The 730 inkset includes CMYK, Lc, Lm, white and clear colour and is available in 1 litre, 5 litre and 8 litre containers. Nazdar 730 Series is designed and packaged for use in a wide variety of printer models.
It is suitable for acrylics, Lexan, reinforced vinyl banner, pressure-sensitive vinyl, window cling, styrene, Sintra, rigid polyethylene, fluted polypropylene, foam board, polycarbonate, Teslin synthetic paper and Dibond, demonstrating the manufacturer's message that there's a Nazdar ink that's right for every job.
"The new Nazdar 730 Series ink features outstanding adhesion to a wide range of substrates, including flexible materials and acrylics of all grades and qualities," says Rich Dunklee, global market manager for Nazdar's UV Inkjet Inks.
"It's just one of our inks specially formulated to make sure signage and display businesses produce the highest quality output without the high overheads of OEM products."
Whether you are looking for the best UV-LED curing ink recommendation or answers to pressing print production problems, Nazdar has all your answers at FESPA 2017, taking place from 8-12 May at the Hamburg Messe in Hamburg, Germany.
The company and its key representatives will be present in Hall B5 on Stand B60 throughout the event showcasing Nazdar's latest innovations to current and prospective customers, distributors and OEM business partners.
The new FESPA 2017 website is now live at www.fespa2017.com, and visitors can register immediately online to obtain entry free of charge to the event, and ensure that they are kept updated as the full event programme develops.
Interested in joining our community?
Enquire today about joining your local FESPA Association or FESPA Direct