Industry
Nazdar Ink Technologies to reveal latest ink innovations at FESPA 2018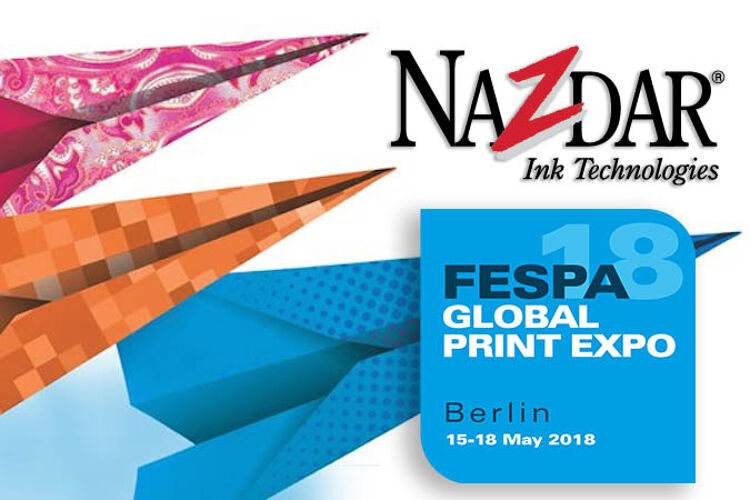 Nazdar Ink Technologies will exhibit their latest and newest screen, inkjet and flexo inks and examples of its special effects portfolio at the upcoming FESPA 2018 exhibition.
FESPA 2018 will be taking place from 15th – 18th May in Berlin, Germany and is widely acknowledged as the leading event for wide format, textile printing and signage markets that usually attracts more than 23,000 global visitors. FESPA 2018 will feature co-located events including the Euorpean Sign Expo and Printeriors.
At this year's event, Nazdar will exhibit their range of leading wide format "plug and play" alternatives to OEM inks. These products enable end-users to lower costs without having to compromise on quality when running their Roland and Mimaki wide-format digital printer. The Nazdar range provides excellent colour and chemistry compatibility, cost effectiveness and quality combined with an easy conversion process that enables users to change one colour at a time to save money and time.
Nazdar solutions for Roland printers include the 203 Series Inkjet Imaging Inks which are designed to go with the 2002 and 202 Series as quality alternatives to Roland ECO Max 2 original inks. The Nazdar 203 Series is specifically designed to be easy to use and to meet the demands of faster print speeds. It not only provides high performance and convenience but also fantastic value.
For Mimaki printers, Nazdar's 183 Series inks are designed to be used in Mimakis JV33, JV5, JV3 and CJV Inkject Printers. Users of Mimaki SS21/BS3/BS4/ES3 inks on these specific printers are now able to change to Nazdar ink without the necessity to flush by using Nazdar 'plug and play' ink capabilities. Due to the colour and chemical compatibility of the two ink sets, OEM inks can be substituted with Nazdar inks when they run out instead of all colours at the initial install, which saves both money and time since there is no need to perform wasteful ink fill procedures or to dispose of unused ink.
Nazdar 730 Series UV inkjet ink will also be featured at FESPA 2018, the main uses of this product includes POP displays, durable banners and graphics where adhesion and colour fidelity are of key importance. Examples of substrates for this type of graphic ink include styrene, acrylics, foam boards, Dibond, rigid and flexible vinyl, Sintra, rigid PVC, pressure sensitive banner and window cling.
Nazdar is renowned for being an expert in screen printing inks and will be debuting the new Nazdar 2800 Series Durable Graphic Screen ink. The 2800 Series is one of the first dual-cure UV/UV-LED inks precisely formulated for the durable decal market. It provides exceptional adhesion on vinyl and print treated polyesters and increases 4-year outdoor durability without an overprint. The 2800 Series displays outstanding chemical resistance and accepts premask and thermal die-cuts without edge chipping. 5-year outdoor durability can be accomplished by overprinting with Nazdar 2829 Durable Overprint Clear.
Nazdar will also be displaying its 2300 UV LED Screen Inks which has been developed for the container market. These inks are perfect for printing on numerous plastic and glass bottles used in the packaging of household chemicals, cosmetics and similar applications while providing energy savings and a reduced environment footprint. Nazdar 3500 Series and 3529/3539 Screen Inks will be displayed and are designed for long-term outdoor durability on premium pressure sensitive vinyl films.
Also, being exhibited will be Nazdar's new Special Effects Inks binder which will show customers innovative ways to use its speciality inks' capabilities such as phosphorescence, metallic finishes, various textures and more.
Ink experts will be available to respond to visitors' printing issues. Whether printing outdoor or indoor applications on textiles, metal, paper, plastics, glass or containers and packaging, there is a Nazdar ink that is right for any job.
You can find Nazdar Ink Technologies at FESPA 2018 in Hall 1.2, Stand B35.
To find out more about the Global Print Expo, see the full exhibitor list and to see information about how you can register to attend, visit the event's official website: www.fespaglobalprintexpo.com
For free entry use code FESJ801 when registering.
Interested in joining our community?
Enquire today about joining your local FESPA Association or FESPA Direct