Industry
Nazdar EMEA Sales Manager estimates growth of UV LED in flexographic industry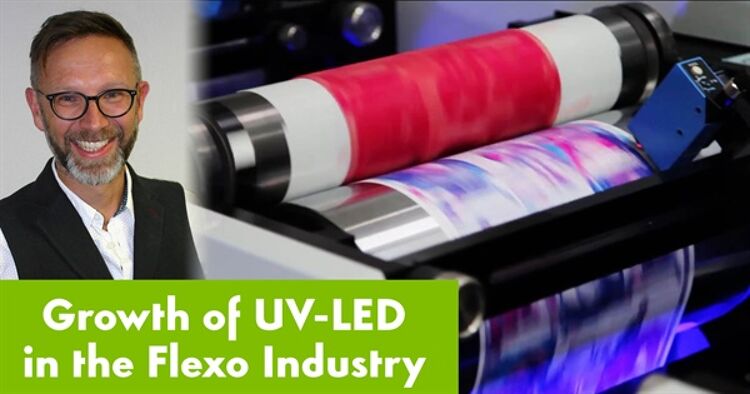 Nazdar EMEA Sales Manager, Jim Whitehead has evaluated, established and maintained profitable channels throughout the EMEA region. Whitehead foresees UV LED technology being more prevalent in Europe and the USA.
Nazdar Ink Technologies have appointed Jim Whitehead as its Sales Manager EMEA. Whitehead is responsible for the sales management of Nazdar's product offerings in the flexo technology sector to the UK and other European markets.
Whitehead previously worked for companies including Fujifilm and Sericol and is responsible for the sales management of Nazdar branded and OEM private labelled screen, digital and narrow web products.
Since his appointment earlier this year, he has evaluated, established and maintained profitable channels for Nazdar products throughout the EMEA region. A key focus for Whitehead and his team is the growing UV LED market. He comments: "Today, UV LED technology has been more readily adopted in Europe and the USA. This is partly due to grants from energy providers to change to low consumption manufacturing processes. The US bias is unusual as the EU has usually been the early adopter of new flexo technologies in past years."
Whitehead is eager to educate the UK and other European markets about the offerings that Nazdar provide. He continues: "Some press manufacturers and label convertors don't appreciate the breadth of UV LED curing ink products that Nazdar offers. It is not merely a case of white and colours being available, the whole portfolio which includes thermal vanishes, foiling and laminating adhesives, peel and reseal packages to name a few are available in UV LED curing technology."
So, why would label convertors even contemplate UV LED curing? It's a fantastic way of saving energy which in turn, minimises costs. Similarly, in the home, UV LED lamps use much less energy than conventional mercury lamps.
Whitehead continues: "Furthermore, there is no ozone production, therefore less extraction is necessary. Lower heat output from lamps means it is easier to manage temperature-sensitive substrates and less heat extraction is needed. Additional benefits include a longer lamp life and an improved print consistency since peak output is more efficiently maintained with UV LED technology. Finally, there are increased time efficiencies as UV LED lamps are ready to function in minutes compared to the extended heat up time of mercury lamps."
With over 20 years' experience in the printing ink industry, Whitehead is perfectly positioned to lead the growth of Nazdar in the flexographic print industry. In 2006, Nazdar entered the USA flexo market and offered a full range of water-based, UV, and UV LED technology. The company has grown organically and now Nazdar has its sights set on the EMEA marketplace.
The company provides its high-quality flexo ink solutions to support most end-user segments. This includes prime label (home care, food and beverage, personal care), pressure sensitive, in-mould, packaging (film, folding carton, paper), thermal imprintable, and much more.
The Nazdar inks portfolio is vast and encompasses opaque white, CMYK and base colours, metallic, fade resistant, a diverse range of varnishes, peel and reseal varnish and adhesives. With dedicated UK technical, service and support teams based in Cheshire, Nazdar is well positioned to take advantage of the growing UV LED market.
Interested in joining our community?
Enquire today about joining your local FESPA Association or FESPA Direct