Industry
Mutoh to show new sublimation inkjet printer at FESPA 2017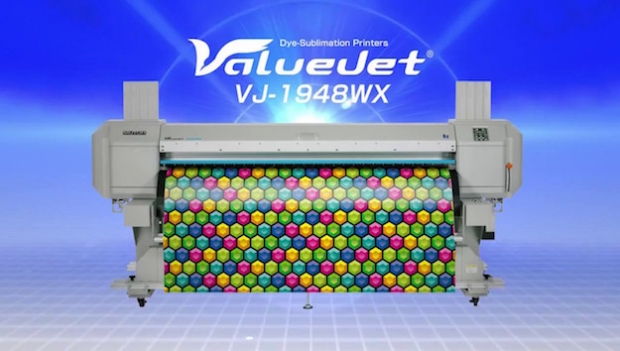 At FESPA 2017 in Hamburg, Mutoh will present the latest enhancements of its extensive range of wide format digital piezo drop on demand printers. 
Wide format equipment manufacturer Mutoh will mark its participation at FESPA 2017 by showcasing a new dye-sublimation transfer printer suitable for home textile and interior decor printing.
The 1.9m-wide ValueJet 1948WX will be showcased in May at the global print trade fair in Hamburg, Germany, although is expected to be commercially available by April.
The machine integrates a staggered four printheads setup and a large built-in dual heater, which the manufacturer said enables high speed printing and improved productivity, delivering a top speed of 117sqm/hr.
Mutoh said the device, which uses its new high-density and medium-density dye-sublimation inks, is suitable for businesses looking for a high-volume production printer for roll-to-roll digital transfer prints.
Roll holders for lightweight roll media up to 30kg come as standard while an optional heavy-duty media feed and take-up system maintains stable media transportation on roll media up to 100kg.
The ValueJet 1948WX can print onto fabrics or dye-sublimation paper, which can be transferred to polyester for applications including upholstery, curtains or cushion fabrics. The machine can also be used for fast fashion, soft signage and textile banners.
Mutoh commercial marketing manager Nick Decock said: "We already have dual-head printers which are micro staggered but if you double the amount of heads – as we have done with this machine – then you can go even faster."
"Typical production speed for sellable production quality on this machine will be above 80sqm/hr, which is doubling up the speed we currently have with the 1638WX."
Mutoh will also be showing a range of its other printers for wallpaper and interior decor printing, decorative fabrics, furniture fabrics and upholstery, cushions and curtains at FESPA 2017.
These include the ValueJet 1938TX, a 1.9m-wide direct-to-textile printer, and the ValueJet 1638X, a 1.63m-wide high-quality sign and display printer.
ValueJet 1938TX direct Textile printer
The ValueJet 1938TX is a 75" (1910 mm) wide dual staggered head printer specifically targeted at sampling of short run on-demand digital production of home textiles, upholstery, interior deco fabrics, fast fashion, swimwear, flags, etc.
Utilising pigmented textile inks or direct sublimation inks and integrating a sophisticated fabric feeding, front & back tensioning and motorised take-up system for media rolls up to 100 kg, the printer delivers typical high quality production print speeds up to 40 m²/h.
ValueJet 1638X printer for interior decoration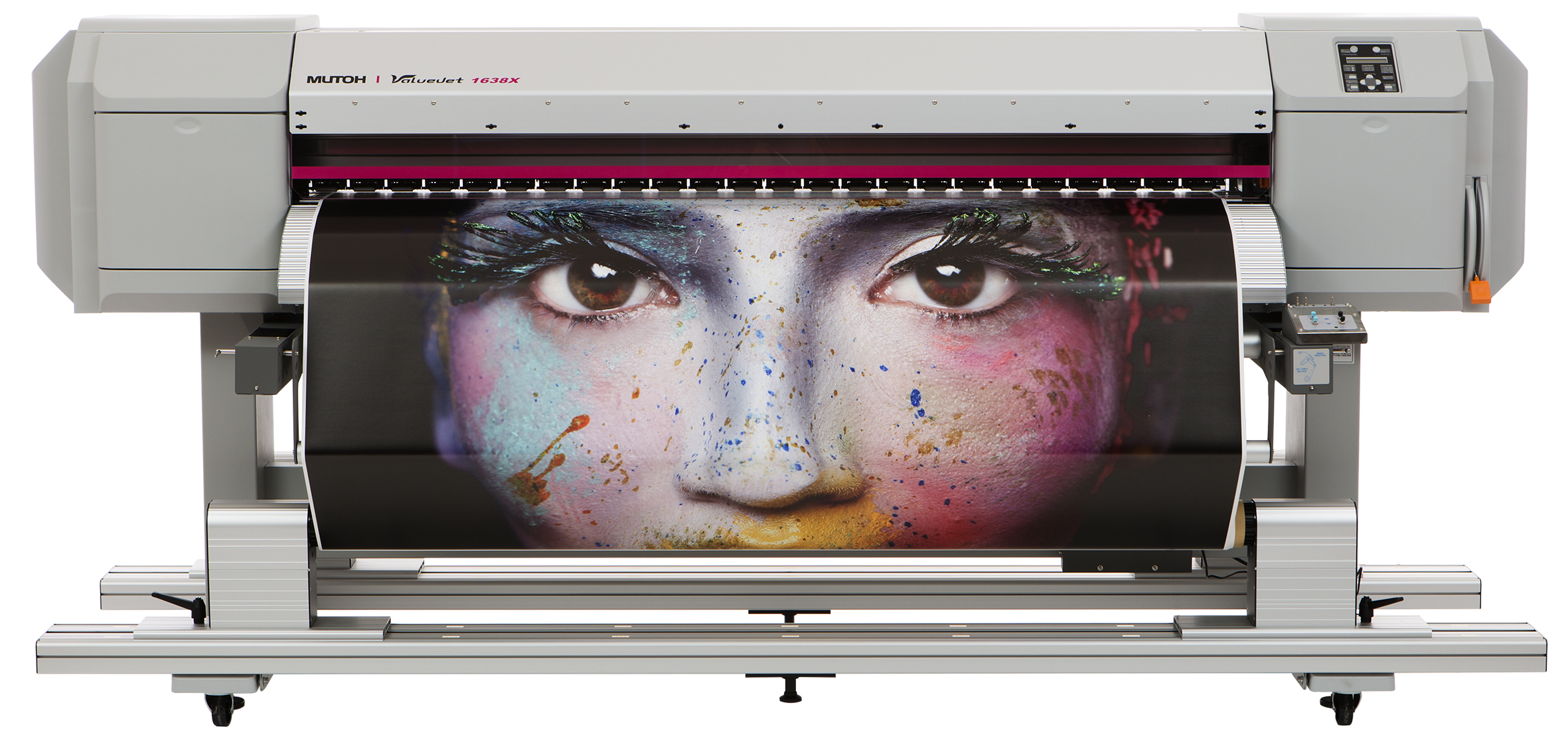 The ValueJet 1638X is designed for high-quality volume production of sign and display graphics for long-term outdoor applications as well as durable indoor prints.
Applications include posters, backlit signage, wall coverings, point-of-sale displays, fine art reproduction and vehicle graphics. The device can be configured with Mutoh's Eco Ultra or its Universal Mild Solvent inks, while production printing speeds start at 10sqm/hr at 1,080x1,440dpi and go up to 20sqm/hr at 720x1,080dpi and 29 and 36sqm/hr at 720dpi.
Other improvements on their predecessors, which were launched in 2012, include the incorporation of an upgraded mainboard, which includes a 64-bit RISC processor that will help to deliver faster data transfer and processing and new firmware that starts the devices more efficiently.
Register for free to visit Mutoh at FESPA 2017
Industry member that are keen to learn more about these innovations and the latest print solutions from Mutoh, can visit the manufacturer on the stand A15 in Hall A1 at FESPA 2017.
Taking place from May 8-12 at the Hamburg Messe, in Hamburg, Germany, the exhibition will play host to many major brands from across the global market.
For more information on the event, the companies that will exhibit and to sign up to attend as a visitor, please visit: www.fespa2017.com
Delegates can save 70€ entry fee to the exhibition by registering via the website and quoting reference code: FESG702. Discover how a visit to FESPA 2017 can benefit your business and register today.
Interested in joining our community?
Enquire today about joining your local FESPA Association or FESPA Direct