Industry
Mutoh presents the latest generation of its ValueJet series at FESPA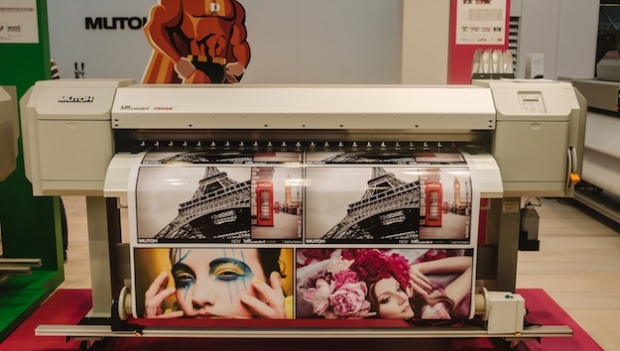 Mutoh unveiled the new ValueJet 1604X, a budget option to its ValueJet X roll-to-roll sign and display printer series, which debuted for the first time at FESPA.
The new single-head 1.62m ValueJet 1604X, which is available with immediate effect through Mutoh's reseller network, features high print quality and precision, productivity, simple operation and a standard configuration including a motorised take-up system for rolls up to 30kg.
The device is targeted at entry-level signmakers as well as companies looking for a wider machine that need extra versatility for frequent material switches or for volume production of full colour stickers.
The machine, which is engineered and manufactured in Japan, incorporates a piezo drop-on-demand printhead that can produce ink droplets of 3.5-21pl.
Mutoh said it is suitable for producing long-term outdoor and indoor sign and display prints, such as billboards, posters, general signage, exhibition stand graphics, wall coverings, full colour stickers, vehicle graphics and POS displays.
Outdoor durable and indoor sign and display graphics can be produced at sellable quality at speeds of up to 11.5m2/hr. The machine's top speed is 15m2/hr for banner production while it can be operated at 2.8m2/hr to produce high-quality vinyl.
The device can be loaded with either the Mutoh Eco Ultra inks in 220ml cassettes or litre packs as well as the Mutoh Universal Mild solvent (UMS) inks in litre packs.
The litre pack ink is said to provide the functionality of ink cassettes, combined with the advantages of a bulk ink system. Running costs using Mutoh UMS inks are said to start from €0.79/m2, according to Mutoh commercial marketing manager Nick Decock.
"This machine brings ValueJet quality to a threshold for start-up sign makers. It's an economical solution with a very nice return on investment point," he said.
Mutoh recently obtained a pan European Indoor Air Comfort Certificate, which makes the UMS inks suitable for the production of certified indoor decorative prints.
Decock said: "These machines bring even more reliable quality compared to the previous generation and we've integrated more comfort."
The ValueJet 426UF A3+ desktop CMYK + white + varnish LED UV printer, awarded as "best multi-purpose object printer 2015" by the European Digital Press association.
The new ValueJet X-series 54" and 64" single head & 64" and 102" dual head sign & display printers, incorporating Mutoh's Intelligent Interweaving (i²) and DropMaster print automation technology.
The new ValueJet 1938TX, a 1910 mm (75") wide dual staggered head high quality direct-to-textile printer.
The new ValueJet 405GT CMYK + White desktop direct-to-garment printer.
New ValueJet X-series sign & display printers
The ValueJet X-series are Mutoh's fourth generation ValueJet piezo drop-on-demand sign & display printers, developed for indoor & outdoor applications such as posters, banners, backlit signage, wall coverings, point of sale displays, fine art reproductions, vehicle graphics, stickers and much more.
The X-series deliver unmatched print quality and the highest level of print automation available on today's sign & display market.
Integrating Mutoh's Intelligent Interweaving (i²) and new DropMaster print automation technology, new printer cosmetics and professional RIP software, the printers can be loaded with Mutoh Eco Ultra or Universal Mild Solvent (UMS) inks to deliver sellable production speeds at 720x720 dpi up to 16.4 m²/h (VJ-1324X), 20.5 m²/h (VJ- 1624X), 36 m²/h (VJ-1638X) and 39 m²/h (VJ-2638X), no matter whether you are printing on vinyl or banner.
For the UMS inks, Mutoh recently also obtained a pan European "Indoor Air Comfort Certificate" issued by Eurofins, which makes the inks ideally suited for the production of certified indoor deco prints.
New ValueJet 1938TX direct-to-textile printer
The company was also showing its recently launched ValueJet 1938TX direct-to-textile printer on its FESPA Digital stand.
The 1.9m-wide dual staggered-head printer is targeted at sampling of short run on-demand and local digital production of garments, upholstery, fashion, swimwear, home textiles and flags.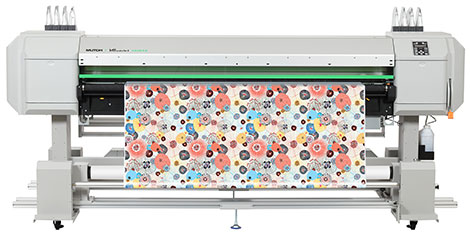 Mutoh presented the new direct-to-textile wide-format printer at FESPA Digital 2016.
Delivering typical high quality production print speeds up to 40 m²/h, the printer incorporates a sophisticated newly engineered fabric feeding, front & back tensioning and motorised take-up system for media weights up to 100 kg.
The VJ-1938TX can utilise Mutoh direct sublimation and direct disperse inks for printing onto open and closed polyester-based fabrics, as well as Mutoh pigmented textile inks for direct printing onto cotton fabrics, rayon or mixed fibre fabrics.
New ValueJet 405GT
The ValueJet 405GT is a high-quality 5 colour (CMYK + white) direct-to-garment printer specifically targeted at printing directly on dark coloured and light coloured garments such as t-shirts.
The printer offers a maximum print area of 420 mm x 576 mm and can be easily equipped with different sizes of interchangeable print platens (S, M & L).
The VJ-405GT utilises Mutoh's textile pigmented inks and delivers print resolutions up to 1200 x 1200 dpi. The printer is specifically targeted at fashion designers, promotional garment printers, online web shop businesses as well as screen printers and is suited for sampling, customised one-off prints as well as short run production.
FESPA TV caught up with Nick Decock on the Mutoh stand at FESPA Digital 2016 to find out more about the new ValueJet 1604X, its applications and where the company sits within the market.
Interested in joining our community?
Enquire today about joining your local FESPA Association or FESPA Direct