Industry
MTEX launches Blue K digital printer at FESPA Digital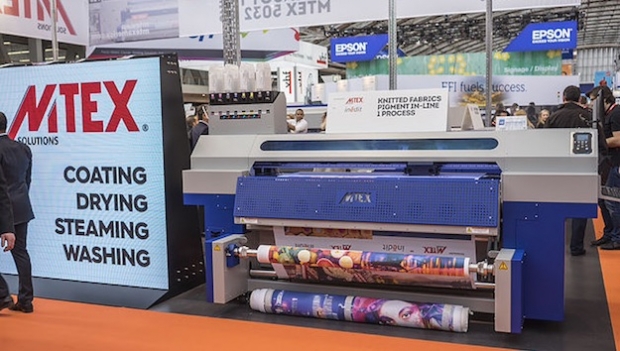 Digital textile printing manufacturer MTEX launched its MTEX Blue K machine, specially designed for printing onto knitted at this year's FESPA Digital.
The Blue K is the newest addition to the company's range of digital textile print solutions, which also includes pre-coating and finishing for a range of textile materials and markets.
The Blue K has a unique and innovative roll-to-roll system that allows it to print onto four-way stretch material such as jersey fabrics which can then be turned into a huge range of products for interior design, fashion, printwear and promotional items.
Examples include fabrics for cushions, throws, bedding and promotional items as well as clothing like leggings, T-shirts and leisurewear.
The MTEX Blue K was shown alongside the MTEX Pad for pre-treatment and top coating of fabrics in house. It can be operated in-line or stand alone and is ideal for short preparations of fabrics and for finishing fabrics with a protective top coating for durability and to reduce piling.
Eloi Ferreira, CEO of MTEX said: "As an innovator in direct-to-textile printing we're extremely proud of the new MTEX Blue K.
"It's unique at its price point and incredibly versatile, as customers can use it to print with either Reactive or Pigment ink, giving access to just about any kind of stretch fabric including those containing cotton or synthetic fibres, with stunning colours and fixation."
The 1.8m wide MTEX Blue K is a direct-to-textile fabric printer for Pigment or Reactive inks, with inline heat fixation and four CMYK Panasonic heads with variable drop and adjustable head height to accommodate different thicknesses and types of fabrics, and prints up to 1080dpi. A separate MTEX Steamer is also available for the fixing of Reactive inks.
Eloi added: "Visitors to the show can see the MTEX Blue K in action on our stand, as well as find out more about the other elements of our turnkey solutions and how they can help grow and diversify your businesses, with direct-to-textile print solutions up to 3.2m wide."
"Powered by Mimaki, and built to industrial standards in our manufacturing facility in Europe, the MTEX family of printers & textile finishing equipments are unique to both the Sign and Textile industries."
"No other company offers this much choice when it comes to digital textile printing - a fact that keeps us inventing, moving forward and innovating to bring digital to the fore and offer the customer the best choice in the market."
"Our machines are precision engineered and backed by local service and support with trained engineers, direct from the manufacturer," Eloi concludes.
Other MTEX printers on show at FESPA Digital this year included the 3.2m wide direct-to-textile printer, the MTEX 5032Pro and the high-speed version, the MTEX 5032HS.
Interested in joining our community?
Enquire today about joining your local FESPA Association or FESPA Direct