Industry
MS to show new soft signage series at FESPA Mexico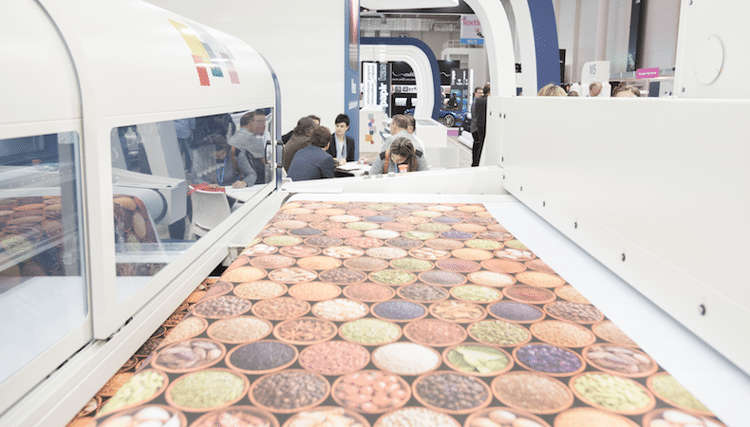 Italian manufacturer MS Printing Solutions will be showcasing the new 3.2m-wide Impres 4320 soft signage printer at FESPA Mexico, from 16-18 November in Mexico City.
The machine, which was launched at FESPA 2017 in Hamburg, is the first collaboration for MS with JK Group for inks and Caldera for RIPs. All three companies are part of the Dover Corporation.
The 4320 runs at a top speed, in high speed mode, of 289sqm/hr, with the 4180 at 202sqm/hr and 3180 at 124sqm/hr in the same mode. The machines' dye-sublimation JK Group inks are uniquely formulated for their Kyocera print heads, with the 4180 and 4320 running either four or eight channels, and the 3180 running four.
The machines are suitable for a number of products, including flags, banners, wraps, POS displays and backlit signage. Printing can be carried out direct-to-fabric or onto paper transfer.
MS Printing Solutions vice president of sales and marketing Joseph Dawson said: "This is the first collaboration of the three companies to bring a soft signage solution to the market. It's extremely fast and has some really interesting colours so we are very excited to see this go to market."
Dawson added that he was impressed with the new Caldera RIP feature, which can rip files directly to the computer and store them there, significantly boosting productivity.
Also on display at FESPA Mexico 2017, will be the latest entry-level plotter, the MS-JP4, for digital textile printing. This system is capable of up to 335 linear feet per minute (102m/min) system for paper printing. With up to 16 printheads this system prints at 600 dpi x 600 dpi resolution with 16 Gray levels and variable drop size from 4pcl to 72pcl at 1.8 metre wide.
MS Italy marketing director Ivan Carrozzo commented: "Our focus at FESPA Mexico 2017 is to meet new and existing customers, discover their needs and so better understand the market. The show is also a great opportunity for us to present our portfolio of machines."
"The textile printing and equipment manufacturing industry in Italy has provided significant leadership in applying digital printing for textile applications. Key equipment developments at Italian manufacturing companies such as MS Printing Solutions underscore the major Italian contribution to the adoption of digital printing to textile printing."
Taking place from September 16-18 at the Centro Citibanamex in Mexico City, Mexico, FESPA Mexico 2017 will play host to many major brands from across the national and global markets.
MS Printing Solutions is just one of over 150 industry firms that will be in attendance at the show, with visitors able to find the company at booth C10, alongside the likes of HP, Celupal, Caldera, Grupo Lozano, Epson, Multicam or Mutoh.
For more information on FESPA Mexico 2017, the companies that will exhibit and to sign up to attend as a visitor, visit: www.fespamexico.com
Delegates can get FREE entry by registering via the website and quoting reference code: MEXH718. Discover how a visit to FESPA Mexico can benefit your business and register today.
Interested in joining our community?
Enquire today about joining your local FESPA Association or FESPA Direct