Industry
MS Italy presents the digital textile printer JP4 at FESPA Mexico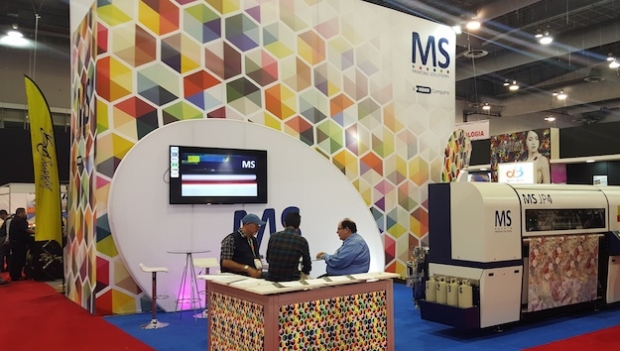 MS Printing Solutions, known for their solutions in textile manufacturing, showcased its latest entry-level plotter, the MS-JP4, at FESPA Mexico.
Visitors to the MS Italy stand, at the Centro Banamex of Mexico City, were able to see how the firm continue to lead the way as a total systems solutions provider for the textile printing industry.
On display were the new digital textile printer MS-JP4, alongside its bigger siblings, the MS-JP3 and MS-JP7, aimed at paper printing.
This system is capable of up to 335 linear feet per minute (102m/min) system for paper printing. With up to 16 printheads this system prints at 600 dpi x 600 dpi resolution with 16 Gray levels and variable drop size from 4pcl to 72pcl at 1.8 metre wide.
The system has an open ink system that can support custom color inks and open architecture print management software that supports high volume production and tracking. Again another example of a production ready digital printer that enables manufacturing capacity in a solution that can become an integral part of a production line for wall coverings or laminate core patterns.
FESPA TV caught up with Ivan Carrozzo, MS Italy's Marketing Director, to find out what was new for the company at FESPA Mexico 2015.
Ivan starts by talking through the new MS-JP4, where it sits within the market, it's applications and new benefits for the end user. He goes on to discuss his main focus at the show and the importance of the Latin American market for MS Printing Solutions and the industry at large.
"Our focus at FESPA Mexico is to meet new and existing customers, discover their needs and so better understand the market. The show is also a great opportunity for us to present our portfolio of machines."
The textile printing and equipment manufacturing industry in Italy has provided significant leadership in applying digital printing for textile applications. Key equipment developments at Italian manufacturing companies such as MS Printing Solutions underscore the major Italian contribution to the adoption of digital printing to textile printing.
"Our area, digital print machines for industrial production, is growing a lot. There is a very important change in the market, from the first generation of plotters to industrial machine."
"I'm seeing an important growth in local production of digital print. It will be very important to be closer to the customers with good service and quick delivery."
Driven by the great success of the previous edition, MS Italy will be also exhibiting at FESPA Eurasia, Dec 10-13, in Istanbul, Turkey, recognising the importance of the Turkish market and the quality audience FESPA Eurasia delivers.
"FESPA Mexico 2015 is being great. The level of visitors is high and with keen interest in new technology. We hope to have the same success at FESPA Eurasia with the goals that have set for this current year", Carrozzo concluded.
Interested in joining our community?
Enquire today about joining your local FESPA Association or FESPA Direct