Industry
Mimaki to unlock its latest innovations at FESPA Africa 2019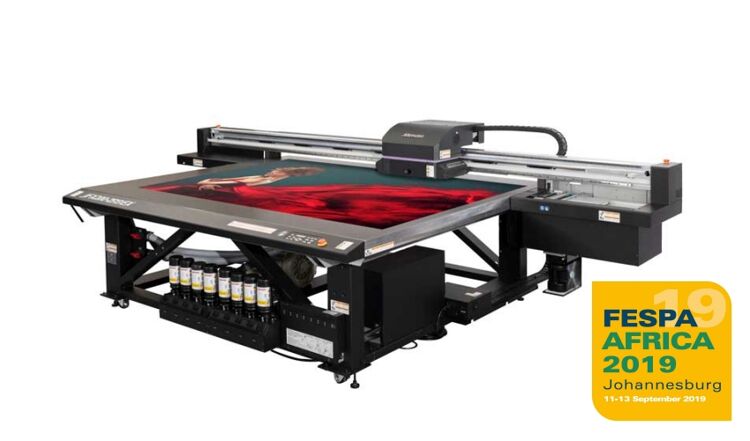 Under the theme 'Imagine the Future of Print', Mimaki Europe will take visitors to FESPA Africa 2019 through its cost-effective and profit-generating printing solutions.
FESPA Africa 2019 will take place at the Gallagher Convention Centre in Johannesburg, South Africa from 11th – 13th September. Represented by its established distributor in Africa, Graphix Supply World, the leading manufacturer of inkjet printers and cutting systems will demonstrate how businesses can use Mimaki technology to support increased revenues, address new markets and drive pioneering application possibilities.

Mimaki's brand new JFX200-2513 EX large flatbed UV inkjet printer will be exhibited in Africa for the first time at the exhibition. With a new print mode and an extra printhead, the JFX200-2513 EX boasts substantial productivity increases on previous JFX models – when printing in four colours plus white it reaches a 280% speed increase in draft mode and is 100% faster in all other print modes. Its predecessor, the JFX200-2513, however will not be replaced by the new model, but offered to the market at a new attractive price point.

Also equipped with Mimaki's cutting-edge 2.5D Texture Maker, the JFX200-2513 EX uniquely enables smooth embossed print with enticing-to-touch dimensional textured effects at the touch of a button. Designed for supreme simplicity and ease of use, as well as for increased productivity, the Mimaki layering technology opens up new and valuable application opportunities for customers. Eliminating the previous time-consuming and skilled process of creating multiple Photoshop files featuring stacked stepped layers for smooth expression, Mimaki's genuine RIP software 'RaterLink6Plus' completes the process in seconds. Ideal for demanding production workflows, the JFX200-2513 EX prints on substrates up to 2,500mm x 1,300mm (98.4″ x 51.2″), in a wide variety of materials including white board, transparent/coloured board, wood, cardboard and metal.

Mimaki will also expound the benefits of its latest 3D printing solution, the 3DFF-222, at FESPA Africa. Based on Fused Filament Fabrication (FFF) and using PLA material, the 3DFF-222 is designed to enable sign and display printers to produce jigs used in direct-to-object printing in-house. The 3D printer will be combined with the Mimaki UJF MkII series in Johannesburg to illustrate to visitors how production costs can be reduced and new profitable markets reached by introducing the 3D printer to their businesses and employing it to its full capacity. Full colour and fine detail models produced by the Mimaki 3DUJ-553 3D printer will also be exhibited on the stand.

GSW executives will furthermore reveal details of an upcoming product release at the show. As part of this, FESPA Africa visitors will get exclusive insights on the SWJ-320EA solvent printer and how it will build on the legacy of Mimaki innovation.

"We are delighted to share some of our latest innovations at FESPA Africa and we strongly believe that our technology enables printers from the region to stand out from the crowd. Epitomising our show theme 'Imagine the Future of Print' and building on our industry-acclaimed printing platforms, we will empower our visitors to become forward-thinkers, boost productivity and ensure healthy margins," concludes Benckhuysen.

FESPA Africa, South Africa's largest dedicated print and signage exhibition returns to the Gallagher Convention Centre during the 11-13 September 2019. Conveniently co-located with Sign Africa, Africa Print, Africa LED and the Modern Marketing Expo's you can reach hundreds of leading exhibitors showcasing the latest developments in technology, equipment, consumables, solutions, software and more. Register now for your chance to be inspired and discover an explosion of possibilities.

Interested in joining our community?
Enquire today about joining your local FESPA Association or FESPA Direct